Australian GP: Lewis Hamilton's natural ability hides F1 cracks

By Andrew Benson
Chief F1 writer
Last updated on .From the section Formula 1585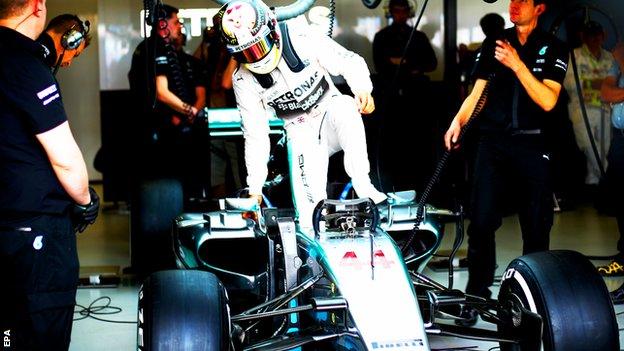 From the moment he took to the track on Saturday morning, Lewis Hamilton never looked like being beaten at the Australian Grand Prix, the first race of a new Formula 1 season.
The first day of practice on Friday had not been that great for Hamilton. The set-up he had decided on for Melbourne did not work, and it could only be changed overnight.
Once that was done, though, Hamilton was on a separate level from team-mate Nico Rosberg - and by extension, considering the continuing superiority of the Mercedes car, from the rest of the field.
Fastest in final practice on Saturday morning. Fastest in all three sessions of qualifying. Breathtakingly quick through the sweeps of Turn 11 and 12, he was on pole by more than half a second from Rosberg. And in the race he was in control from the moment he made the best start.
Rosberg knows what he is up against with Hamilton, arguably the fastest and most naturally talented driver of his generation. And he is the first to admit when he has been beaten fair and square - as he was most weekends last season.
"Lewis has done a fantastic job this weekend," Rosberg said. "He drove like a world champion. He is a world champion."
A champion is what Rosberg also wants to be, and he talked a good game about his determination to "give Lewis a big run for his money and hopefully beat him". Saying it is one thing, though; doing it quite another.
Hamilton's championship victory last season was ultimately pretty comfortable - and that was despite the hit he took both mathematically and psychologically by starting with a 25-point deficit after retiring from the first race.
The requirement to constantly have to make up lost ground took its toll on Hamilton in 2014 - he always felt on the back foot, and it undoubtedly played its part in the run of mistakes he made in qualifying in the early part of the summer.
That pressure is not there this year; at least not yet. So Hamilton can afford to relax and let his ability breathe, rather than force it as he did last year at times.
When that is the case, he often has weekends like this, when his innate ability makes him untouchable.
That is what happened on Saturday afternoon, when he took pole position, the foundation for his victory.
The strong blustery wind, which had changed direction after final practice, made qualifying a journey into the unknown.
Hamilton's greater adaptability than Rosberg is his great strength in such conditions. Rosberg, the team will explain privately, is less comfortable with changing circumstances, needs more consistent conditions to fully access the potential of the car and threaten Hamilton. That is why the gap was as big as it was.
Now Hamilton is up and running, with an advantage after the first race even if it is a small one, it makes Rosberg's task all the harder, especially as it seems already as if the victories will largely be shared out between the two Mercedes drivers this year.
The world champions' advantage at the first race was awe-inspiring - at about a second a lap clear of the rest in terms of ultimate performance, they are arguably even further ahead than they were last year.
This superiority - and the dreadful performance of Red Bull - is already applying pressure behind the scenes of the sport.
Red Bull's engine manufacturer Renault had an awful start to the season. It took to Australia an engine that not only had no more power than at the end of last year but also had worse drivability, and which - remarkably - was somehow a step backwards from the engine they had used in the final pre-season test, which ended only two weeks ago.
Red Bull team principal Christian Horner did not even try to disguise his fury at Renault during the weekend, and he used his post-race news conference to make a public call to governing body the FIA to use its powers to equalise engine performance across the grid, one he was already making in private last year.
Mercedes F1 boss Toto Wolff responded to that with withering impatience, but the pressure behind the scenes to do something about his team's advantage is only likely to increase as what already looks likely to be a bad-tempered season unfolds.
The Australian Grand Prix weekend was a sobering event in many ways, one in which the cracks that all within the sport were well aware of began to become clear in public.
The legal dispute between Sauber and their former reserve driver Giedo van der Garde threw an unfortunate spotlight on the money troubles of the smaller teams - Sauber are in that position because they needed to sign drivers who can bring as much as money as possible to the team to ease their financial concerns.
The Sauber story has more to it than it appeared over the weekend - pulling the strings is said to be former Caterham and HRT boss Colin Kolles, who is using the Van der Garde situation to try to take over the team.
The lack of money in the lower part of the grid was also emphasised by Manor Marussia's failure to get their cars out of the garage at all.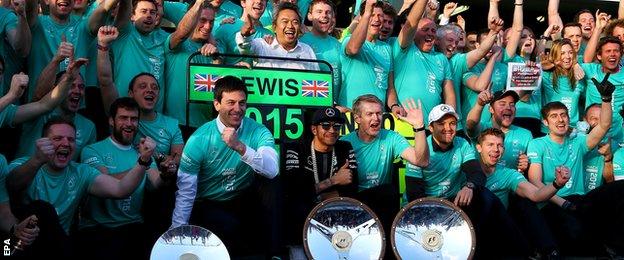 The struggles of Honda in their first race with McLaren emphasised why new manufacturers will always think very hard before committing to spend their millions trying to succeed in F1, and backs up the argument that the sport made several errors in the way it formulated the well-intentioned rules for the new turbo hybrid engines.
And the future of the German Grand Prix - one of the sport's classic and most historic events - remains uncertain because the organisers cannot afford to pay the fee demanded by F1 boss Bernie Ecclestone, and he is not prepared to compromise. The chances of a solution are said to be no better than 50-50.
It was suggested to Wolff after the race that it was already obvious this was going to be a tough season politically, to which he responded: "It is always a political season. It was last year and it is this year. There is a wall in Jerusalem where you can go and complain. Maybe I should go there."
F1's propensity for shooting itself in the foot remains alive and well and it is a feature of the sport that will be at the forefront this season.
These concerns are not for Hamilton, though. For him, a first win under his belt, his personal troubles over the winter apparently behind him, the world could hardly be a better place right now. No wailing wall is necessary for him.