Formula 1 gossip: Alonso, Bottas, Mercedes, Kvyat, Maldonado
Last updated on .From the section Formula 1
Sunday, 22 March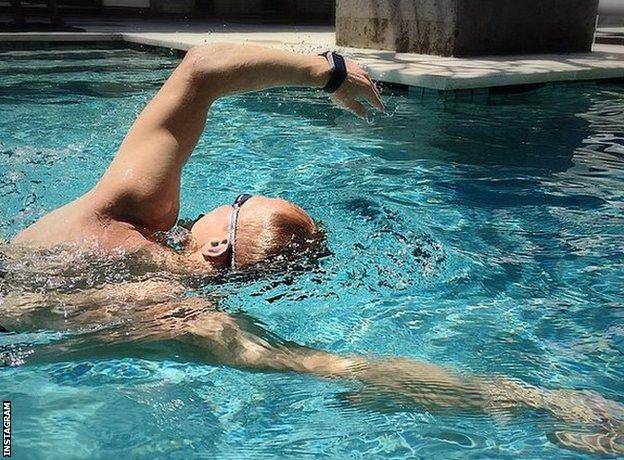 McLaren driver Fernando Alonso will be assessed by three medical experts at Cambridge University on Sunday to see if he is able to return to Formula 1 following his crash in testing at Barcelona. The tests are being carried out at the request of the FIA, motorsport's governing body. (Mail on Sunday)
Mercedes offered to pay 50% of any potential loss in an attempt to save the German Grand Prix. (Observer)
New Red Bull driver Daniil Kvyat says he "learned many things" from a disappointing opening race in Australia, when a gearbox problem prevented him from making the start. (Crash)
Lotus driver Pastor Maldonado believes that hot and humid conditions at next weekend's Malaysian Grand Prix will play into his team's hands and help them bounce back from Australia, where both he and team-mate Romain Grosjean were forced to retire after a single lap. (NBC Sports)
Tyre manufacturer Pirelli says it is prepared to adapt to whatever new regulations Formula 1 bosses introduce, including producing a set of tyres capable of lasting the whole race. (ESPN)
Saturday, 21 March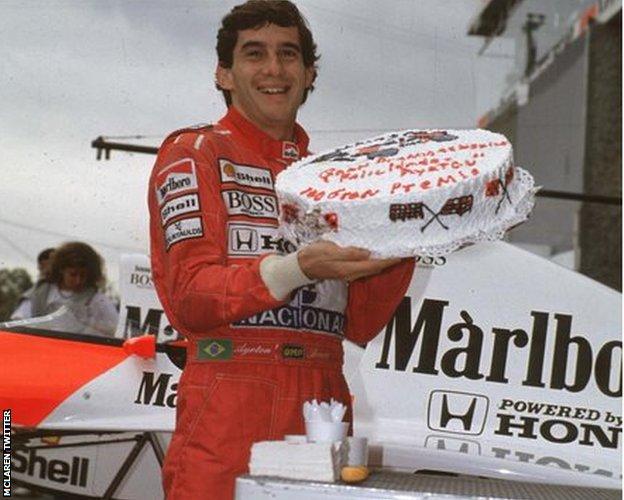 Reigning MotoGP champion Marc Marquez has backed Honda and their new Formula 1 partnership with McLaren to succeed. (Marca - in Spanish)
Ferrari team principal Maurizio Arrivabene has outlined how he intends to keep a positive mood at the team this season - and how he will ensure drivers Sebastian Vettel and Kimi Raikkonen stay on good terms. (ESPN)
Fernando Alonso's Barcelona testing crash has cost insurers £1.8m so far, with the Spanish driver and McLaren forced to follow doctors' advice or risk not receiving the payout. (La Gazzetta dello Sport - in Italian)
Red Bull consultant Helmut Marko says the engine on the Mercedes car is far superior to any other in Formula 1 and none of the other teams can hope to catch up anytime soon. (Sports Week - in German)
Friday, 20 March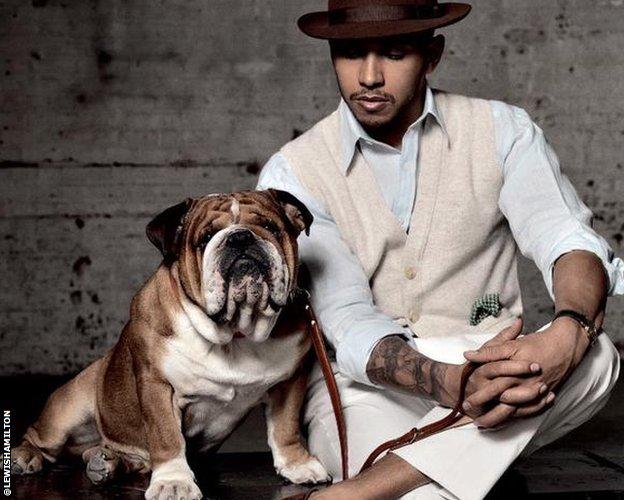 Renault has no intention of leaving Formula 1 as it focuses on improving performance for teams including Red Bull and Toro Rosso. (Autosport.com)
Renault's power unit is believed to have been 100bhp down on Mercedes's during the season-opening Australian Grand Prix. (Skysports.com)
Germany's Nurburgring has joined Hockenheim in pulling out of the running to host the scheduled 19 July race. (F1Today.net)
Lewis Hamilton took in the sights of Sydney Harbour before leaving Australia, but one couple seemed unaware of his identity as he stopped to take a picture for them in front of the Opera House. (Daily Mirror)
Meanwhile, the World Champion and his dog Roscoe have taken time out to pose for pictures on the front cover of Man of the World magazine. (Daily Mail)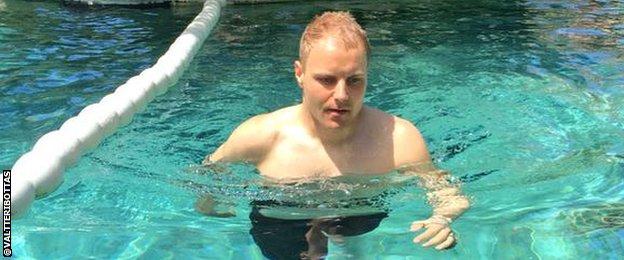 Thursday, 19 March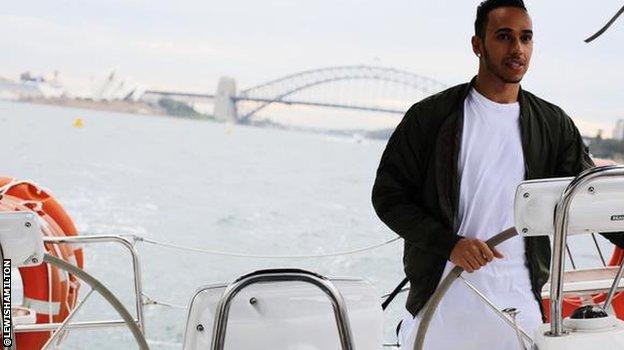 Manor Marussia will pay unsecured creditors, including Ferrari and McLaren, 1.262p for every pound they were owed when the team entered administration. (Skysports.com)
Michael Schumacher's 15-year-old son Mick is recovering after he crashed a Formula 4 car at more than 100mph in east Germany. (Daily Mail)
Kamui Kobayashi's manager has played down reports the Japanese former Caterham driver is on the verge of a return to Formula 1. (Motorsport.com)
Taking a break before the Malaysia Grand Prix, Lewis Hamilton tweeted a picture of him taking the helm of a sailing boat in Sydney Harbour.
McLaren race director Eric Boullier says he understands suspicions surrounding Fernando Alonso's pre-season testing crash, but "only up to a point".(Planet-F1.com)
Giedo van der Garde has tweeted following his settlement with Sauber: "Thanks so much for all your messages and support. I read all of them, it brings a smile to my face. I'll keep you posted as much as I can."
Wednesday, 18 March
Lewis Hamilton says because of the dangers of his job, he lives every day as if it was his last. (New York Post)
Sauber team principal Monisha Kaltenborn admitted her relief at the performance of drivers Felipe Nasr and Marcus Ericsson at the Australian Grand Prix following "one of the most difficult weeks of my life".(Guardian)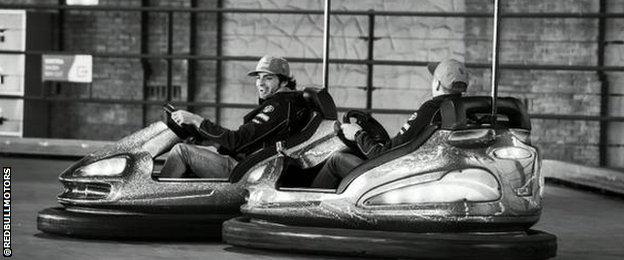 Mercedes driver Nico Rosberg officially invited Ferrari rival Sebastian Vettel to attend the team's debrief in Malaysia following a disagreement between the pair after Mercedes dominated the Australian Grand Prix. (Fox Sports Australia)
Force India's Nico Hulkenburg was among a number of drivers to react to the news there will be no German Grand Prix in 2015. He tweeted: Very sad to hear no more home GP this year! #GermanGP #history
Toro Rosso drivers Carlos Sainz and Max Verstappen took time out from preparations for the Malaysian Grand Prix for a ride on the dodgems. Red Bull tweeted the above picture: "Boys will be boys!"
Tuesday, 17 March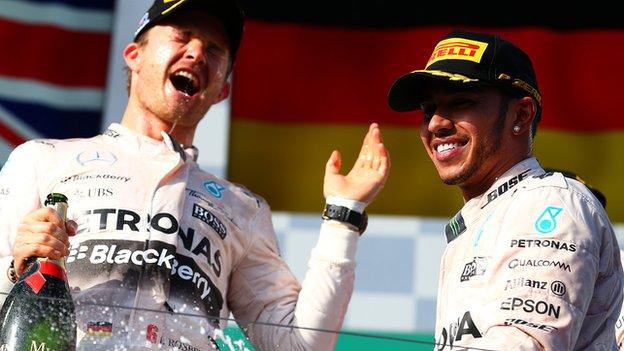 World champion Lewis Hamilton has reminded Red Bull of their four years of domination of the sport following the team's protests over the advantage the Briton's Mercedes team currently enjoy. (Guardian)
Hamilton is also confident that if everybody had the same car he would still be leading the way. "There is no doubt in my mind of where I would be finishing," he said. (Daily Telegraph)
F1 supremo Bernie Ecclestone says the Manor team will have to pay the price for missing the Australian Grand Prix. The British-based team missed all three practice sessions and Saturday qualifying, blaming software problems. Ecclestone said: "They had no intention of racing in Australia. Zero." (Daily Mail)
Williams driver Felipe Massa has questioned whether Mercedes are supplying his team with an inferior engine. (Sun - subscription required)
McLaren racer Jenson Button was last of the 11 cars which finished the Australian Grand Prix and the team's racing director Eric Boullier has refused to put a time frame for when they will start to be competitive. (Autosport)
Button's team-mate Fernando Alonso was absent from Melbourne after a crash in pre-season testing but is set to be back for the next race in Malaysia. the Spaniard tweeted #CountdownMalaysia with a picture of him swimming.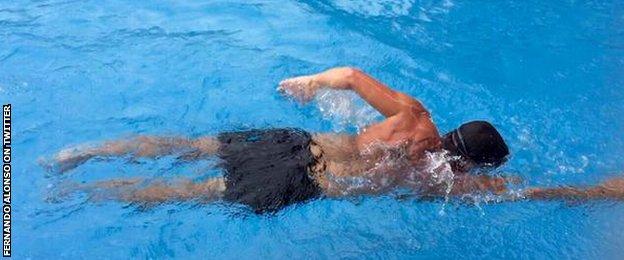 Monday, 16 March
Red Bull's motor sport advisor Helmut Marko says the team could pull out of Formula 1 unless changes are made to the regulations that saw Mercedes dominate the season-opening Australian Grand Prix in Melbourne. (Guardian)
But Mercedes team boss Toto Wolff says their rivals need to work harder to keep up. He said: "I think, 'just get your head down, work hard and try to sort it out'." (Daily Mirror)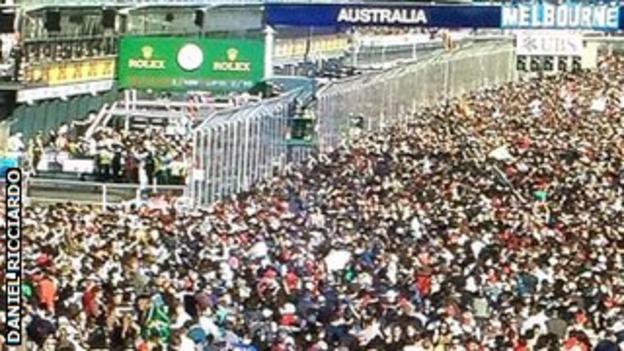 Red Bull's Australian driver Daniel Ricciardo was impressed by the turnout for his home grand prix in Melbourne, tweeting the picture left, and said he would have liked to have done better than sixth place.
Three-times F1 world champion Niki Lauda says the sport's chief Bernie Ecclestone is not to blame for the problems surrounding the German Grand Prix. A venue is still to be confirmed for the race due to take place in mid-July and Lauda said: "If the host is not able to organise a race, then this is not the fault of Bernie Ecclestone." (Inautonews.com)
Creditors of Formula 1 team Marussia, which came out of administration last month with total debts of £63.6m, will receive just 1.3p in the pound. (Daily Telegraph)
British F1 driver Jenson Button insists his team McLaren have made progress despite finishing last in the Australian Grand Prix. "We've learned a massive amount by completing a race distance", he said while admitting a lot of hard work still needs doing. (Western Daily Press)