David Coulthard: Lewis Hamilton in total control in Australia

By David Coulthard
BBC F1 co-commentator and former F1 driver
Last updated on .From the section Formula 1
Lewis Hamilton looked the most complete, happy and centred I have ever seen him over the weekend of the Australian Grand Prix.
He has played a very good game of poker during the winter, when he looked as if something was bothering him, and he has played us all because he has gone out at the first race of the season and just delivered. In style.
He drove a brilliant qualifying session and a masterfully controlled race. He said afterwards that he thought his team-mate Nico Rosberg had done a great job and pushed him hard, but I'm not sure I'm buying that. I think Hamilton had more in hand.
It was very interesting to hear Rosberg describe Hamilton's performance as a "world champion's drive". It was almost as if he was putting Lewis on a pedestal.
It's surprising and confusing that a driver in his position would do that - he has to go out at the next race in Malaysia and try to beat Hamilton, and do the same for another 18 weekends after that. Praising your rival in that way cannot help that aim.
Mercedes in control
It looks very much like we will have another season of Hamilton and Rosberg fighting among themselves for the title.
There is such a difference between Mercedes and the rest that it's hard to imagine anyone closing that gap.
Ferrari and Williams might snatch a win this year but if Mercedes are bulletproof in terms of reliability and operations I can't see anyone catching them this year.
Although Hamilton and Rosberg may well put on a great fight, just as they did last year, that's not good news for F1. I don't think it enhances a sport's global reach if the big, iconic brands such as Ferrari and McLaren are not winning races as well.
Mercedes have done a great all-round job and are reaping the rewards of more effective work than anyone else, particularly on the engine. But if the current engine performances were locked in for the next 10 years, then people using another engine would have no chance of winning.
Because Mercedes have more horsepower they can run more aerodynamic load on the car without being too concerned about drag, so the car goes faster in the corners. It's a virtuous circle for them.
Despite Ferrari's progress, they are still more than a second slower than Mercedes, and that gap is not all in the chassis, so the power difference is still significant. And Renault and Honda are nowhere.
Not everyone will agree with Red Bull team principal Christian Horner's call for the engines to be equalised to allow more teams to be competitive, but if you do nothing, nothing changes.
That's not good for the business and, through the history of F1, something has tended to be done to level the playing field in such situations. That's because dominance by one team is not good for the business or the health of the sport.
This issue is clearly going to be one that exercises the sport's bosses - and creates friction - throughout the season.
Ferrari on the up
Although they are still a long way behind Mercedes, Ferrari have clearly made huge steps forward since last season, so it was an inspired decision by Sebastian Vettel to exercise his option to leave Red Bull and join them over the winter.
The changes they have made at senior management level at Maranello - as well as the lower-profile things that will have been done behind the scenes at Ferrari - have worked and they are seeing signs of significant progress.
Further good news for the Italian team was the apparent step forward made by Kimi Raikkonen. We lost Kimi last year, but he was back again in Melbourne.
He had a tough race day, with a lot of problems and an eventual retirement with a loose wheel, but in general his performance in Australia was the Kimi of old, rather than the forlorn figure we saw last year.
Of course, there will always be question marks about how much of that was to do with the fact that Fernando Alonso is no longer at the team.
Had Raikkonen made a step forward, helped by a car that behaves more in the way he likes? Or would Alonso still have been as far ahead as he was last year if he had stayed? That's one of those questions that it is never going to be possible to answer.
What we can say, though, is that Raikkonen was back in the mix again and it should be an interesting fight between him and Vettel this season.
Renault and Honda in trouble
For Honda to come in for their first race and be four seconds off the pace is no less than shocking, while Renault have somehow managed to lose their way while developing their engine, leaving Red Bull helpless and off the pace.
McLaren-Honda cannot have believed or predicted they would be that slow. That margin is a lifetime in F1, and it will take a very long time for that gap to be closed.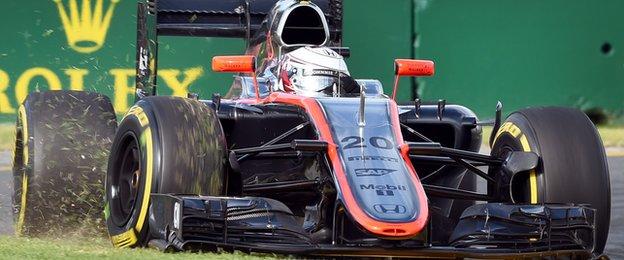 It's all very well to point out that Honda had been developing its engine for half the time Mercedes did before their first race, but that was their decision. And within the restrictions of a set of rules that restricts engine development, it's not going to be easy to catch up.
There were other worrying aspects of the weekend too.
The teams and drivers did noticeably less running in practice than last year, which is a direct result of the reduction in permitted engines from five to four for this season - the teams are worried about mileage and getting through the year without penalties.
Even so, Red Bull and Toro Rosso each look like they have lost an engine already, which is going to make their seasons that bit more difficult than they already were.
Add in the contract row between Sauber and their former reserve driver Giedo van der Garde, and Manor Marussia not even managing to start their car and, all in all, it was not a positive weekend for F1.
David Coulthard was talking to BBC Sport's Andrew Benson