Van der Garde says F1 dream over as Sauber contract cancelled
Last updated on .From the section Formula 1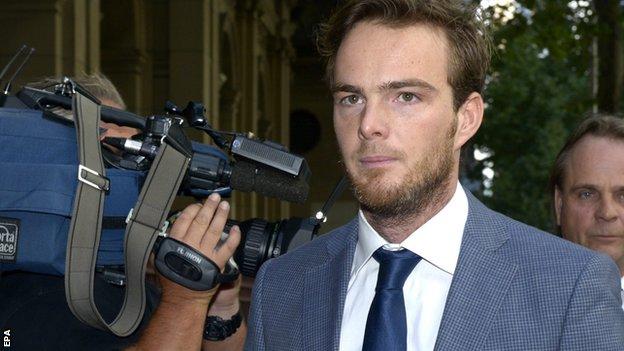 Giedo van der Garde says his dream of driving in Formula 1 has been "taken away" after agreeing to cancel his contract with Sauber.
The Dutch driver has reached a settlement following a legal dispute ahead of the new season.
Van der Garde, 29, issued a statement saying his contract with Sauber has been "ended by mutual consent".
Sauber responded by saying their focus is on the next grand prix in Malaysia and hoped the matter was now closed.
The settlement comes after a court in Australia backed Van der Garde's claim he had a valid contract before his dismissal last season.
"This dream has been taken away from me and I know that my future in Formula 1 is probably over," he said.
Van der Garde dropped his legal action last week to allow Sauber to race at the season-opening Australian Grand Prix with drivers Marcus Ericsson and Felipe Nasr.
"I had a valid driver contract for the entire 2015 season and enforceable rights to it," the former Sauber test driver added.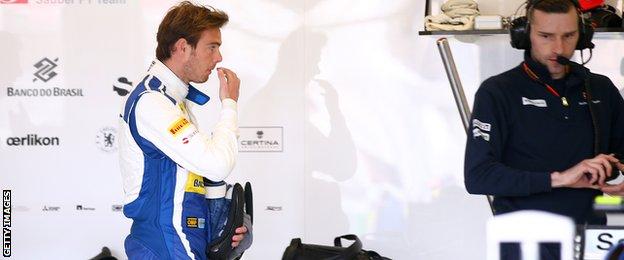 In an open letter to Sauber's fans on Facebook, the team said: "We don't know about Giedo's intentions.
"He may try to present himself as a winner, while we had actually hoped to come to rest after our agreement. Giedo decided to take a different approach - the reasoning behind we cannot understand.
"We'd have very good answers to the many statements and accusations in Giedo's post. But to expand on this wouldn't help our race team nor our fans and partners.
"It would only encourage a mud fight via the media and we will not lend ourselves to that.
"We'd like to encourage you to form your own opinion about what happened, however critical it may be."
The dispute between Sauber and Van der Garde, which played out in the Victorian Supreme Court last week, saw the team fail to overturn a ruling the Dutchman should race at the start of the season.
Sauber risked having its assets seized before Van der Garde dropped his legal action, while team principal Monisha Kaltenborn had faced the prospect of being arrested.
How do you sign five drivers for two race seats? Andrew Benson explains...
"Sauber do not come out of the Giedo Van der Garde contract row well, but they ended up in this situation because they are struggling to cope with financial problems.
The Swiss team actually ended up with five drivers contracted for this season - Van der Garde, last year's race drivers, Adrian Sutil and Esteban Gutierrez, and the two current drivers, Felipe Nasr and Marcus Ericsson.
They have not talked publicly about why that was, but the answer seems straightforward. In desperate financial straits, they did what they needed to do at each stage to keep the company on its feet.
Although Sauber have ended up paying Van Der Garde a reputed 15m euros to go away, the team still appear to be up, financially speaking. That's because Nasr and Ericsson brought 40m euros between them - and paid it up front.
Van Der Garde's deal presumably includes a return of the reputed 8m euros he paid the team last summer to seal his deal.
It's not hard to see why Sauber wanted rid of Sutil and Gutierrez. Last year was Sauber's worst ever, but they still could have scored points if the two drivers had not spun away their chances each time they came up.
Gutierrez is now Ferrari's reserve driver. Sutil, though, is still in the wings, waiting for his own chance to claim compensation. This story is not over yet."