Formula 1 gossip: Vettel, Alonso, Wolff, Verstappen, Malaysian GP
Last updated on .From the section Formula 1
Monday, 30 March
Sebastian Vettel's first win for Ferrari was "the wake-up call" that Mercedes needed, says the British team's boss Toto Wolff. (Motorsport.com)
Vettel's victory left his old Red Bull mentor Dr Helmut Marko 400 euros richer - after the Austrian bet on the four-time world champion winning his first race for Ferrari in Sepang. (grandprix.com)
Toro Rosso driver Max Verstappen, 17, says finishing seventh at the Malaysian GP and becoming F1's youngest points scorer was "fun". (Independent)

Force India drivers Sergio Perez and Nico Hulkenberg both felt their penalties for collisions in Sepang were undeserved. (Autosport)
The Malaysian GP will stay on the F1 calendar until 2018 after the Sepang International Circuit signed a new contract with the FIA. (Planet F1)
The Lotus team cheekily suggested McLaren driver Fernando Alonso would not be able to watch the podium celebration of Sebastian Vettel, who replaced the Spaniard at Ferrari. (Twitter)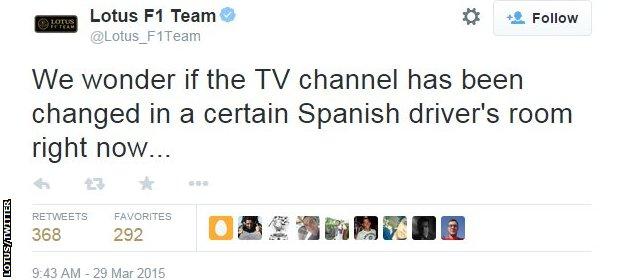 Sunday, 29 March
Speaking before Sebastian Vettel's Malaysian GP victory on Sunday, three-time world champion Niki Lauda, who won two of his titles with Ferrari and is now an adviser to Mercedes, says of his old team: "Ferrari are coming! They have improved more than any other team since last season."(Guardian)
Lewis Hamilton used a drivers' briefing ahead of the Malaysian Grand Prix to demand more information from Formula 1's authorities about Fernando Alonso's testing accident, with the exact circumstances of the crash still unknown. (Telegraph)
Formula 1 supremo Bernie Ecclestone says the sport is 'sick', and has criticised the teams for being too egoistic. (Motorsport.com)
Williams test driver Susie Wolff has criticised calls for an all-female version of Formula 1 to be launched.(GrandPrix.com)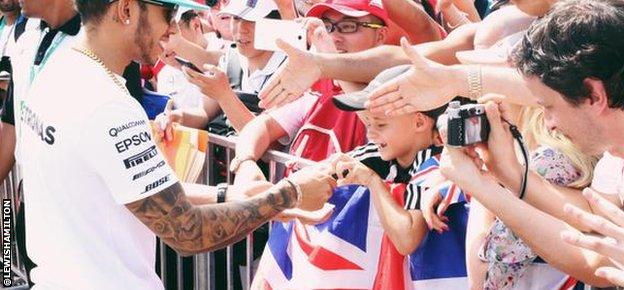 Former F1 driver Franck Montagny has been suspended for two years by the FIA, after failing an anti-doping test last year.(The Checkered flag)
Lewis Hamilton hails his fans, posts a picture and writes on Twitter: "#TeamLH representing for me today at Sepang!! #MalaysiaGP #LoveMyTeam."
Jenson Button tweets his condolences after a spectator died following a crash at the VLN Endurance Championship in Germany on Saturday. "Terrible news from the Nurburgring, motor racing is a great sport but can be so cruel. Thoughts with everyone effected by the incident."
Saturday, 28 March
Bernie Ecclestone has hailed Lewis Hamilton as the "best champion we've had" while adding four-time world champion Sebastian Vettel should have done more under his reign. (PlanetF1)
Ecclestone also says F1 needs to be a lot better at facing its problems and admits: "The trouble is we've got an old house and we keep repairing it. It's not really the way to go." (ESPN)
Sauber have produced a detailed picture of their car cut in half, with each section carefully labelled and available as a PDF download on Twitter.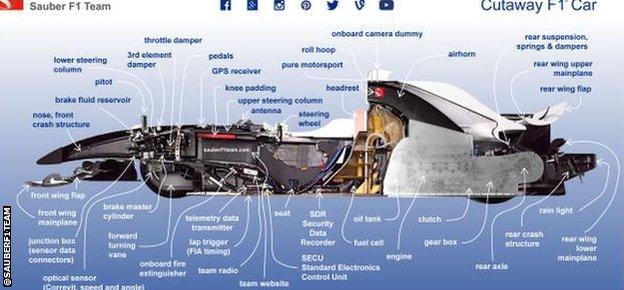 Michael Schumacher's step-brother, former A1GP racer Sebastian Stahl, took a Germanwings flight from Barcelona the day before the tragic 9525 crashed in the Alps - and considered delaying his departure and rebooking on the doomed flight.(Motorsport.com)
McLaren's Kevin Magnussen has admitted he let an opportunity to race in Indycar this year slide when Fernando Alonso crashed in Barcelona testing and he deputised for the Spaniard at the Australian GP. (GrandPrix.com)
ChemChina's takeover of Pirelli will not affect the Italian tyre maker's involvement in Formula 1. (Reuters)
Friday, 27 March
The FIA's ban on drivers changing helmet designs has claimed its first victim, as Lewis Hamilton explains:"I had a special helmet made to celebrate Petronas & Malaysia. Due to the FIA's new rule, I can't wear it."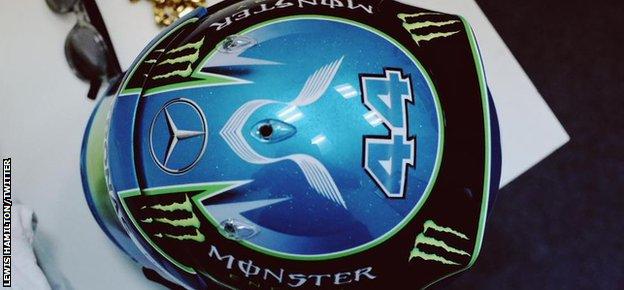 Valtteri Bottas is still in some discomfort from the back pain that had ruled the Williams driver out of the Australian Grand Prix, but the Finn says it is now manageable as he returns to the track in Malaysia this weekend. (Autosport)
Mercedes driver Nico Rosberg might have his mind on other things, with German newspaper Bild claiming that his pregnant wife Vivian is struggling with hyperemesis gravidarum - a rare and extreme form of morning sickness.(Grandprix.com)
Romain Grosjean remains positive despite his Lotus engine suffering a loss of power in the afternoon session of first practice in Malaysia after finishing fourth in the morning. He tweeted:"Always see the glass half full :-) happy with the car this morning #Keepsmiling."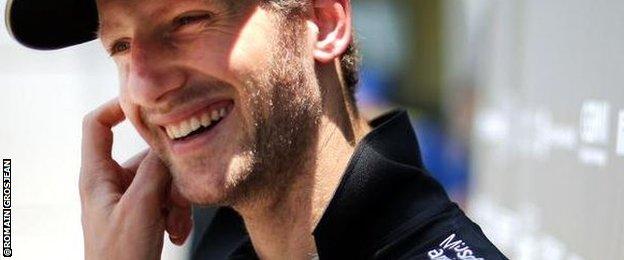 Red Bull team principal Christian Horner has admitted he was wrong to ask the FIA to put in place measures to negate Mercedes' advantage after their one-two in Melbourne. (Planet F1)
Ferrari's Sebastian Vettel had dismissed as a publicity stunt an offer from rival Mercedes to visit their garage at the Malaysian Grand Prix. (Gulf Daily News)
Force India's deputy team principal Bob Fernley believes F1's monetary problems has its roots in the collapse of the Formula 1 Teams' Association, which was caused by Red Bull. (F1 Fanatic)
Thursday, 26 March
Silverstone's managing director says Governments must start underwriting the costs of staging grands prix to stop the drift of races from Europe to the Far East and Arabian Gulf. (Independent)
Honda does not believe that its bid to catch up to its rivals in Formula 1 would be boosted if it supplied more than one team for its comeback. (Autosport)
Rain is predicted at Sepang this weekend and the Lotus team have posted a picture on Twitter suggesting the forecasters are on the money.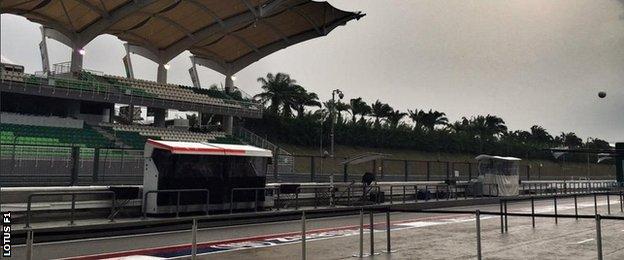 Nico Rosberg has revealed that he wears a woman's sanitary towel inside his crash helmet to absorb sweat. (Sky Sports)
Sebastian Vettel says he is much happier with this year's Ferrari than he was with the 2014 Red Bull. (Motorsport.com)
McLaren-Honda will be quicker during the second event of the Formula 1 season in Malaysia than it was in the Australian Grand Prix two weeks ago, according to Jenson Button. (Autosport)
Wednesday, 25 March
Lewis Hamilton hopes to put pen to paper on a new contract with Mercedes - which could be worth as much as £40 million a year - before this Sunday's Malaysian Grand Prix. (Daily Telegraph)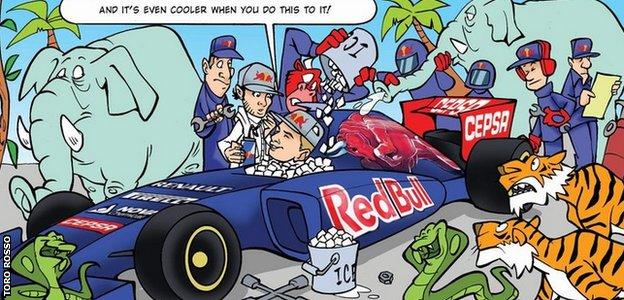 Hamilton made a surprise appearance at the launch of a youth project in the Malaysian state of Malacca on Tuesday. He posted on Instagram: "Got to visit two groups of amazing kids today. These are just a few out of a huge bunch, but it was a pleasure to meet such outgoing, positive and bright young people!"
McLaren will restrict questions about Fernando Alonso's return from concussion to a press conference on Thursday - in an attempt to allow him the following two days to focus on Sunday's race in Sepang. (Pitpass)
Renault managing director Cyril Abiteboul has dismissed as "lies" Red Bull chief technical officer Adrian Newey's criticism of the team's engine. (Auto Hebdo - in French)
But Abiteboul says the Renault engine will not win a race for Red Bull or Toro Rosso this season. (Autosport.com)
Nico Rosberg hopes Mercedes' rivals will provide increased competition in Formula 1 this season. (ESPN)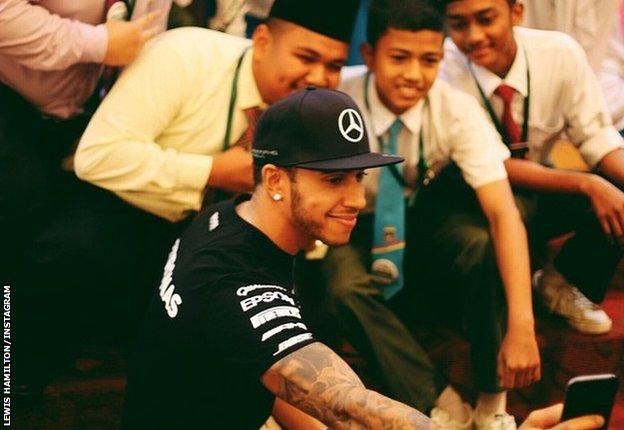 Lotus F1 driver Pastor Maldonado has been pleasantly surprised by his car's performance in the early stages of the season.(Autosport.com)
Hong Kong's Adderly Fong - who has completed in Formula 3 and at the Le Mans 24 Hours - has joined Lotus F1 as a development driver. (Crash.net)
Toro Rosso tweeted a cartoon showing how drivers Carlos Sainz Jr and Max Verstappen might try to keep cool at Sunday's Malaysian Grand Prix.
Formula 1 is in a mess but has not even acknowledged it has a problem, according to former driver John Watson. (Guardian)
Tuesday, 24 March
McLaren driver Fernando Alonso tweeted a reminder of his three wins in the Malaysian Grand Prix following the announcement that he will return to action at this weekend's race in Sepang after recovering from concussion.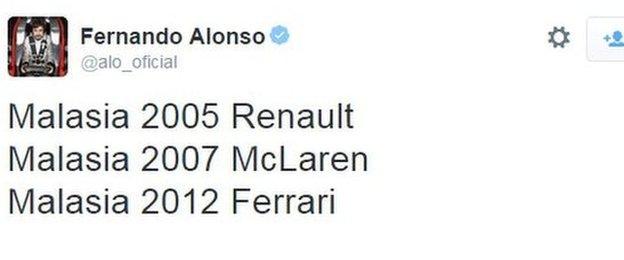 Mercedes boss Toto Wolff has praised his team for a "faultless" opening weekend in Australia but warns that their rivals will be looking to hit back in Sepang. (Motorsport.com)
Sauber's Felipe Nasr is excited about the season's second race as he feels the Sepang circuit, with its long straights and fast corners, will suit his C34. (Crash.net)
Ferrari junior driver Raffaele Marciello is relishing the prospect of his first competitive F1 outing when he sits in for Nasr at Sauber in first practice on Friday. (Planet F1)
Williams test driver Susie Wolff posted a video on Twitter of what looks like a fairly intensive kickboxing session. "Nobody got hurt in the making of this video..." she wrote.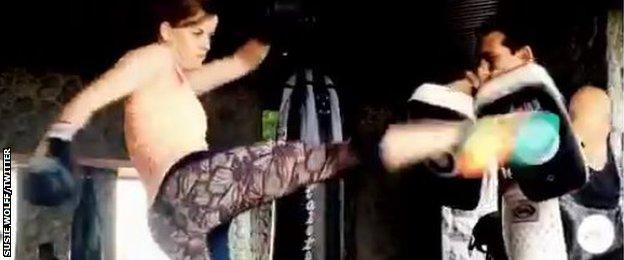 Force India boss Vijay Mallya is urging his team to build on their good start to the season following the seven points earned by drivers Nico Hulkenberg and and Sergio Perez in Melbourne. (Formula 1.com)
Sepang chairman Mokhzani Mahathir says there is still much negotiation to be done over a three-year extension to the circuit's contract, which is due to expire after 17 years. (Grand Prix.com)
Monday, 23 March
Mercedes driver Nico Rosberg has posted a video of his fitness preparations for the Malaysia Grand Prix - walking up all 2,170 steps inside one of the Petronas Towers in Kuala Lumpur.
Jenson Button warmed up for the Malaysian Grand Prix with a finishing time of one hour, two minutes and 35 seconds in a 10-mile run at Thanyapura in Thailand. "Great 10 mile run @Thanyapura1 yesterday, happy with the result," tweeted the McLaren driver.
Williams' performance chief Rob Smedley is confident his team can "outdevelop" their rivals this season. (Autosport)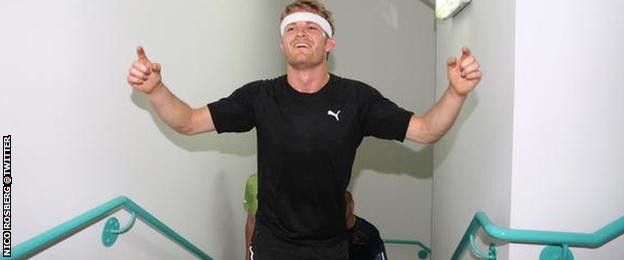 Claire Williams, deputy team principal at Williams, feels that F1 should listen to fans a lot more regarding changes and improvements to the sport. (Crash.net)
Nico Hulkenberg wants his Force India team to build on their good start to the season but has warned against complacency at next weekend's grand prix at Sepang. (The Checkered Flag)
McLaren racing director Eric Boullier says that Jenson Button's finish in Australia gave the team and Honda a huge boost as they try to find a way forward. (Motorsport.com)