Fernando Alonso and Valtteri Bottas cleared for Malaysia return

By Andrew Benson
Chief F1 writer in Sepang
Last updated on .From the section Formula 1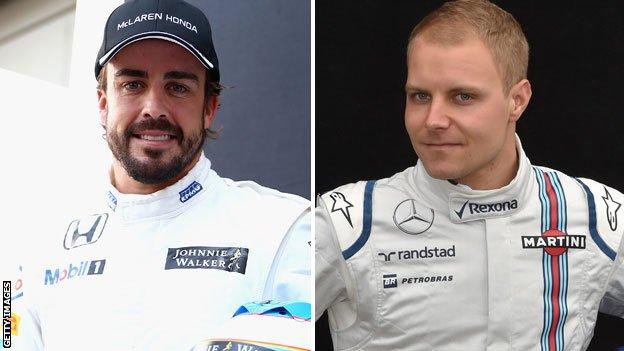 Fernando Alonso and Valtteri Bottas have been passed fit to race in this weekend's Malaysian Grand Prix.
McLaren's Alonso, 33, missed the season opener to recover from concussion sustained in a crash in testing.
He was examined by doctors at Sepang on Thursday and the FIA said he had "passed all mandatory fitness tests".
Williams driver Bottas, 25, who missed the Australian Grand Prix after injuring his back during qualifying, was also passed fit.
Bottas suffered a small tear in an annular disc in his lower back during qualifying at Albert Park.
He was prevented from racing by doctors after displaying discomfort during an extrication test, in which a driver has to be able to get out of the car within five seconds.
Bottas has been warned by the FIA he must stop driving if he suffers a repeat of the back pain, which he described as being "like someone putting a knife in there, with the pain ramping up through to midnight".
He added: "I've never had any problems before with the lower back. That kind of thing normally takes a bit of time to build up.
"But there was no warning, it went suddenly under maximum braking."
On his current fitness, he said: "The back is good, no pain. We've done everything we can in this short period of time. I feel confident of getting back in the car."
Bottas added the injury was due to his brake and seat position inside his car, which have now been corrected.
Meanwhile, the Williams team have announced Adrian Sutil as reserve driver to provide experienced cover for Bottas and team-mate Felipe Massa.
Two-time world champion Alonso spoke publicly for the first time since his Barcelona accident in a news conference on Thursday.
He said he remembered everything about the accident, which he claims was caused by a steering problem, and debunked some of the wilder reports that had emerged in the days after the crash.