Formula 1: Renault engine chief hits back at Red Bull's Newey
Last updated on .From the section Formula 1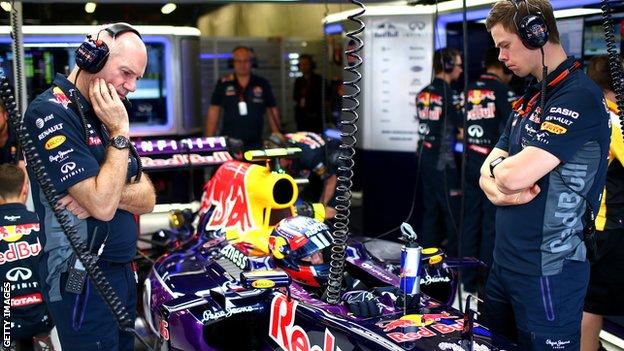 Renault chief Cyril Abiteboul has accused Red Bull's Adrian Newey of lying after he blamed the car's problems on the engine.
Recent four-time constructors champions Red Bull finished a lap down on Lewis Hamilton's Mercedes in the opening race of the 2015 season.
Technical boss Newey stated "we've got an engine which is quite a long way behind".
But Renault's engine chief said: "It's hard to have a partner who lies."
He added on French site Autohebdo: "Adrian is a charming man and an engineer without equal but he has spent his life criticising engine partners."
Red Bull have been contacted by BBC Sport for a response to Abiteboul's quotes.
The Austrian team dominated Formula 1 for four seasons between 2010 and 2013, winning the constructors' championship while Sebastian Vettel collected successive drivers' championships.
However, that dominance was ended by Mercedes and Lewis Hamilton last year.
Abiteboul added: "In addition to our problems, Red Bull has some chassis problems which don't help the situation.
"In particular, the lack of rear stability. These two problems combine to ensure the car is difficult to drive."
Chief F1 writer Andrew Benson
"The relationship between Red Bull and engine supplier Renault is clearly at its lowest ebb and it's hard to believe it's only a little over a year since they were celebrating their fourth consecutive title double together.
"Both sides have valid points. Renault have been left behind by Mercedes and Ferrari on engine performance. But equally the latest Red Bull seems not to be the team's best-ever product and Adrian Newey does have a history of being dissatisfied with engine partners, whoever they are.
"But it's hard to see the endgame here.
"Renault are scouting around with one eye on buying a team and running one themselves again. But where would Red Bull go for an engine if not Renault? Mercedes have already said no and Ferrari would probably not be keen either.
"It's not impossible that the threats made after Australia that Red Bull might quit the sport are less empty than initially believed, although they, like all teams, are contracted to F1 until 2020."