Malaysian GP: Nico Rosberg wears sanitary towel inside helmet
Last updated on .From the section Formula 1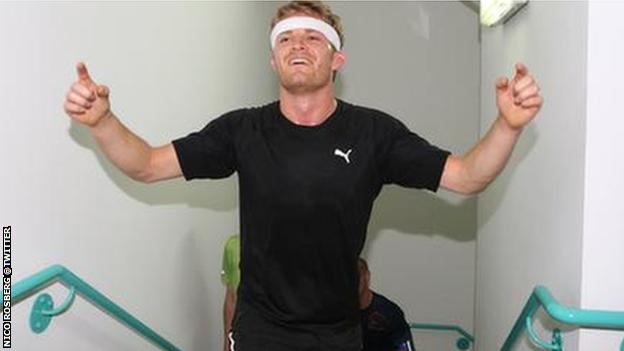 Nico Rosberg has come up with a novel solution to the heat of a Formula 1 cockpit - he's taken to wearing a sanitary towel on his forehead.
The German Mercedes driver made the admission ahead of the hottest race of the season in Malaysia this weekend, when temperatures are set to soar well beyond 30 degrees Celsius.
Rosberg wants to avoid sweat trickling into his eyes in the humid conditions.
"I put [a sanitary towel] on my head to take up the sweat," he said.
Cockpit temperatures can reach around 50 degrees Celsius during the Malaysian race in Sepang, where drivers on average can lose up to 4kg in fluid.
Formula 1's financial extremes

F1's total annual revenues
£1.1bn

Ferrari annual budget

£250m

Sebastian Vettel's basic annual salary

£37m

Nico Rosberg's basic annual salary

£8m

Pack of 12 sanitary towels
£1.79 (or 14.9p per towel)

*all figures approximate
Rosberg was pictured donning a regular headband when climbing one of Kuala Lumpur's Petronas Towers earlier this week.
Asked about the sweatband by Sky Sports, he said: "I have an issue with my eye when I sweat a lot so that is what the headband is for."
He then went on to admit he uses a "sort of" headband in his helmet.
"It is my trick, but I can tell you..." he added, before making his eye-opening admission.