Lewis Hamilton hits trouble in Malaysian GP first practice

By Andrew Benson
Chief F1 writer in Sepang
Last updated on .From the section Formula 1
Nico Rosberg set the pace in first practice at the Malaysian Grand Prix as Mercedes team-mate Lewis Hamilton hit car trouble.
An engine problem stopped Hamilton on track before he had set a time.
Ferrari's Kimi Raikkonen was second, improving by half a second at the very end of the session to move to just 0.373secs behind the Mercedes.
McLaren's Fernando Alonso was 14th on his first race appearance this year, with team-mate Jenson Button 17th.
Alonso missed the first race of the season in Australia two weeks ago on medical advice after suffering concussion in an crash in pre-season testing.
The two-time world champion has been the centre of attention at hot and humid Sepang, and electrified the paddock by saying in a news conference on Thursday that the crash had been caused by a steering problem.
McLaren have said that following a thorough analysis of the data they can find no evidence of any problem with the car.
Despite the internal tensions, Alonso was 0.215secs quicker than Button out on track.
There was some evidence that McLaren might be a little closer to the pace than they were at a disappointing first race of the season - Alonso was 2.761secs off Rosberg and ahead of both Force India cars.
But McLaren are a long way from their ambition of challenging Mercedes for race wins, which they said last month they hoped to be able to do by the end of the season.
Andrew Benson's Malaysian GP view
"Malaysia vies with nearby Singapore as the toughest grand prix on the calendar.
Both take place in crippling tropical heat and humidity. Singapore is longer and bumpier, but takes place in the slightly cooler conditions of night and does not have the demanding high-speed corners of Sepang.
Carved out of former jungle, the first and arguably best of the new generation of Formula 1 tracks designed by in-house architect Hermann Tilke has pretty much got it all.
Long straights for overtaking, demanding high-speed corners, especially the sweeps of Turns Five and Six and the tricky 12-13-14 section.
It would be a track that tested drivers to the limits of their abilities even without conditions that take them physically out there, too."
Mercedes remain unchallenged at the front, with the data suggesting that the world champions' belief that Ferrari have caught them up on engine performance is accurate.
BBC F1 analyst Allan McNish said he thought "Rosberg would have been able to go quicker had he stretched his legs at the end of the session".
Mercedes said Hamilton's engine suffered a failure in the inlet system and they were "working hard to get him out again before the end of the second session".
He told the team over the radio that he could have made it back to the pits, but they told him that they had no telemetry data and had not wanted to risk damage to the engine, which was planned to be the one he uses in the race.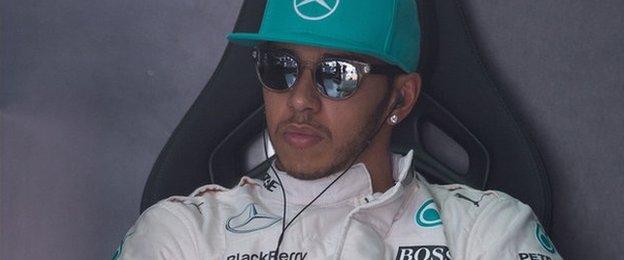 Raikkonen was 0.488secs clear of Vettel, whose session was interrupted by an overheating issue that prevented him doing a run in the first half hour.
Williams, who are expecting a season-long battle with Ferrari for second best team, were typically unobtrusive on Friday, with Valtteri Bottas eighth and Felipe Massa 11th.
Lotus's Romain Grosjean was fourth fastest, with Toro Rosso's Carlos Sainz Jr and Max Verstappen in fifth and seventh places sandwiching Red Bull's Daniel Ricciardo.
The top 10 was completed by Red Bull's Daniil Kvyat and Sauber's Marcus Ericsson.
The Manor Marussia team managed their first laps of the season.
After failing to run in Australia, Will Stevens and Roberto Mehri completed eight laps each but were 6.5secs and 7.5secs off the pace.