Lewis Hamilton says Nico Rosberg did not block him at Malaysian GP

By Andrew Benson
Chief F1 writer in Sepang
Last updated on .From the section Formula 1
Malaysian Grand Prix coverage details
Venue: Sepang International Circuit. Date: 29 March at 0800 BST
Coverage: Live text on BBC website from 0600 BST. Live on BBC One from 0700 BST and on BBC Radio 5 Live
Lewis Hamilton denied he felt Mercedes team-mate Nico Rosberg deliberately blocked him during qualifying for the Malaysian Grand Prix.
Hamilton aborted a lap after coming up behind Rosberg, who appeared to delay moving out of the way. The world champion took pole position anyway.
He said he aborted the lap because "there were quite a few cars ahead and I knew they would get in the way".
Asked whether he felt Rosberg had blocked him, Hamilton said: "No."
Rosberg said Hamilton had decided to abort the lap before he came upon his team-mate.
"He bailed out well before coming up on me," he said.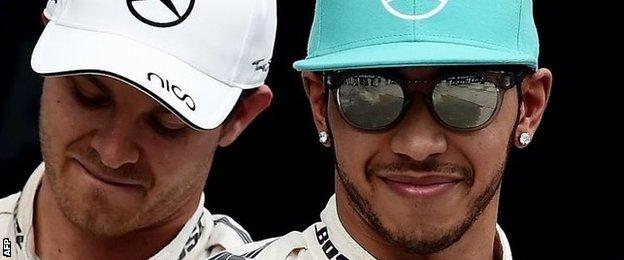 The German added: "How do we make that a fact, that he baled out before he came across me? That's the interesting one because me just saying it isn't going to bear much weight. I don't have an answer for that right now, to make that fact. I will have to think about something."
The incident adds spice to the second race of the season, which starts at 08:00 BST on Sunday with Hamilton leading Rosberg by seven points in the championship following their one-two in the opening grand prix in Australia two weeks ago.
Rosberg, who admitted that he would have a tough job to beat Hamilton if he did not pass the front-row starting Ferrari of Sebastian Vettel off the line, was clearly sensitive to the accusation he might have blocked Hamilton.
He had jokingly asked the Englishman a question about the incident at the end of Hamilton's post-qualifying news conference.
"Do you think Nico blocked you?" Rosberg said, role-playing being a journalist.
Hamilton replied: "I think you should probably ask him. He's definitely got some opinions about it."
Mercedes Formula 1 boss Toto Wolff left the track before doing his own scheduled news conference so was not available for comment.
The incident happened on Hamilton's first lap of his final run in the top 10 qualifying shoot-out, ahead of the race (coverage on BBC One from 07:00 BST) at Sepang.
Hamilton, who is going for his eighth win in the last nine races going back to the Italian Grand Prix last season, had already set what turned out to be the pole time with his first run, which was more than a second faster than Rosberg.
Ahead on track, Rosberg came across a Williams at Turn One and aborted his own lap.
Running behind him, Hamilton reached Turn Four having set the fastest first sector time of qualifying so far and then closed in on Rosberg as he approached the fast swerves of Turn Five and Six.
The incident raised questions because of the controversial history between the two team-mates.
Hamilton felt Rosberg had deliberately scuppered his hopes of taking pole in Monaco last year by running off track, causing yellow caution flags that meant Hamilton had to back off. Rosberg insists it was an honest mistake.
The two then collided at the Belgian Grand Prix three months later when disputing the lead. Mercedes blamed Rosberg for the incident and took internal disciplinary action, including docking him some wages.