Malaysian GP: How Ferrari added a little spice to the title race
Last updated on .From the section Formula 1
Sebastian Vettel's Malaysian Grand Prix win has come as a welcome surprise to those fearing another year of Mercedes dominance.
It might be too early to suggest Ferrari will pose a real danger to Mercedes' title hopes, but it nevertheless provides a dose of early-season intrigue.
BBC Sport takes a look at what has helped Ferrari back on to the top step of the podium.
Wrong strategy call proves costly
When polesitter Lewis Hamilton held on to first place at the first corner, it looked like another Mercedes win was on the cards.
However, the appearance of the safety car on lap four led to Mercedes and Ferrari making different decisions.
Hamilton and Nico Rosberg were called in for a change of tyres, while Vettel stayed out on the faster medium compound. By the time Vettel went in for his first pit stop on lap 17, he had built up an eight-second advantage and the Mercedes were playing catch up from then on.
"I thought Mercedes gave Ferrari a little bit of a gift and Ferrari grabbed it and ran off into the distance with it," BBC Radio 5 live analyst Allan McNish said.
"It is a wake-up call for us," said Mercedes boss Toto Wolff.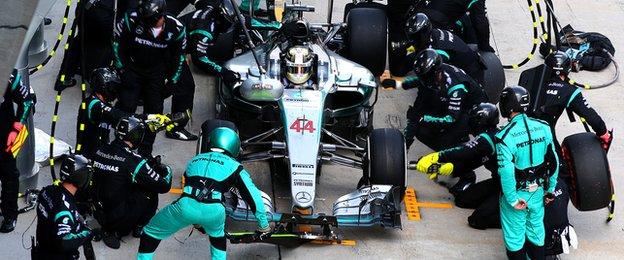 "In hindsight there are probably many things we could have optimised during the race. We have not done any mistakes in the last 20 or more races; the car did not have the pace this time."
This result was not just about strategy, though.
The Ferraris looked to have the pace during Friday practice and Vettel produced an assured defence of his lead in the latter stages as Hamilton tried in vain to eat into his advantage.
"The end result was not a surprise, it was on the cards from Friday in that they were looking competitive," said McNish. "I was surprised that Ferrari were so strong and so consistently strong, they covered Mercedes off at every turn."
Andrew Benson's analysis
"The tropical heat that dominates any Malaysian Grand Prix weekend was the key to Sebastian Vettel's surprise win.
"Ferrari had good enough tyre life to mean they could do a two-stop race, whereas Mercedes needed three. And Ferrari could use the faster medium tyre as their preferred race rubber, whereas Mercedes felt they had to focus on the slower hard.
"Mercedes' decision to pit under the safety car - based on their three-stop strategy - gave Vettel a free pass on Lewis Hamilton and the clear track to exploit a marginal pace advantage.
"Whether the season carries on like that in more normal conditions is a different matter altogether."
Mercedes are 'too used to winning'
Mercedes arrived in Malaysia having won the last eight races, while Hamilton's routine triumph in Australia suggested that streak would only continue.
However, once they found themselves behind the Ferrari and running out of laps, they appeared to become increasingly flustered.
Rosberg and Hamilton relayed curt messages over the radio, the latter telling the team to be quiet while he was taking corners and expressing his frustration with one particularly messy exchange.
"I think it is the first time in a long time that Mercedes were wobbling a little bit," added McNish.
"I think they are used to winning, maybe too used to winning."
Vettel's got his mojo back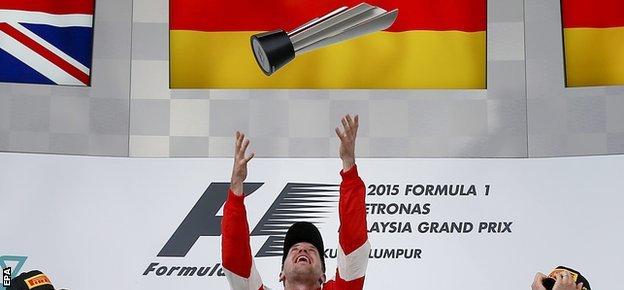 Between 2010 and 2013, Vettel and Red Bull dominated Formula 1, man and machine perfectly suited.
However, it was a different story last year, with the RB10 incompatible with his driving style.
"Every time I want to push or make something happen, it just doesn't," said Vettel towards the end of a year that he finished without a win.
The move to Ferrari appears to have re-energised Vettel.
"He has obviously got the confidence in the car that he did not have last year," said BBC commentator David Coulthard.
"I don't think Mercedes were passed at all least season, and he overtook both of them with fantastic manoeuvres."
Ferrari technical director James Allison added: "Vettel, like any other driver, wants a car that is balanced, that you feel confident in when you are hard on the brakes when turning in and doesn't understeer on the apex.
"Broadly speaking this car has that, we just have to add more downforce and more power."
'Just what F1 needed' - your thoughts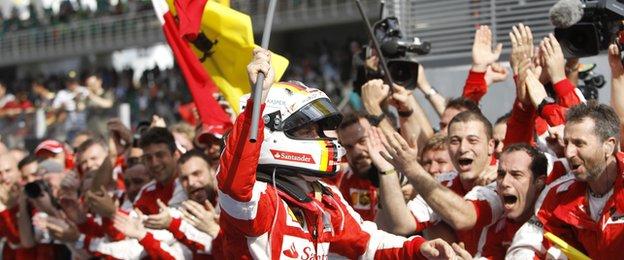 Sarah-Louise Clarke: "What a Grand Prix that was, so much actual racing."
Shiku101: "Maybe now we can say that Mercedes has a bit of competition from Ferrari. Encouraging signs."
Kyle McLaren: "The next race will be interesting now that Ferrari has the pace to win races."
Matt Smith: "Good to see Ferrari challenging Mercedes just what F1 needs could be a great season ahead!"
'This sport is mainly misery' - Allison's impact
Allison was keen to stress the importance of the team in putting together a competitive car, but there is no denying the British designer has made an important impact.
The 47-year-old arrived at Maranello in 2013 from Lotus.
"F1 is not a quick-fix sport," Allison said shortly after his arrival. "The team has been one-by-one picking off its weak points. It's a work we will need to continue and a work we will never stop doing even once we do finally get ourselves back to the front."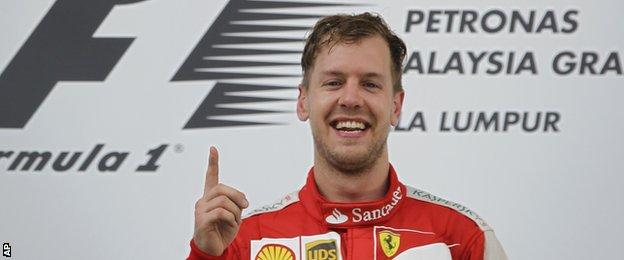 Allison had an input in last year's car but this has been the first one he has really been able to get his teeth into.
So what has been key to putting together what looks like being a car capable of challenging Mercedes?
"It is mainly starting early enough on the car, being clear on what your want from it and having a lot of talented people willing to make sacrifices, mainly their families, to make the Ferrari car properly effective," explained Allison on Sunday.
"This sport is mainly misery and every now and then you get an incredible rush that makes it all worth while."
BBC Formula 1 analyst Eddie Jordan
"People were forecasting it would be a runaway victory this season for Mercedes but this was the perfect injection Formula 1 needed.
"Ferrari are the darling of the crowd and they have brought the fight to Lewis Hamilton and Nico Rosberg."
Ruthless in pursuit of success
As one of the most iconic teams in Formula 1, Ferrari have a reputation to protect and they have not been afraid to be ruthless in an effort to do just that.
In November last year, Marco Mattiacci was replaced by Maurizio Arrivabene as team principal after just seven months in the role.
On making the change, Ferrari president Sergio Marchionne described Arrivabene as someone who "leads by his strong personal example, his professionalism and the integrity of his decisions".
It has taken him just two races to take Ferrari back on to the top step of the podium.
Speaking about the win, Arrivabene said: "I was looking at the discipline of the guys, drivers, engineers, and how they were working like a Swiss watch. But in this case it was a perfect Italian watch!"