Sebastian Vettel's Malaysian GP win leaves F1 with healthy glow

By Andrew Benson
Chief F1 writer
Last updated on .From the section Formula 1387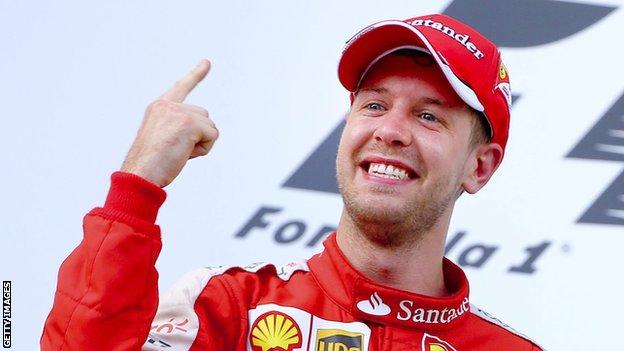 Sebastian Vettel's first victory for Ferrari was exactly what Formula 1 needed, and it was as deserved as it was unexpected.
Exploiting rare vulnerability from world champions Mercedes, the German drove beautifully in a Ferrari that suffered far less in the crippling heat of Malaysia than did the world champions.
It is one of the endlessly fascinating aspects of this continually surprising sport that a team that wins with ease one weekend can be beaten the next, especially in conditions as different as those in Australia and Malaysia.
Melbourne had suggested that, if anything, Mercedes were even further ahead than they were in 2014, during which they re-wrote many of F1's records for domination.
Mercedes continued this year where they left off last, with a comfortable one-two at Albert Park. Ferrari were their closest challengers but were the best part of a second a lap behind.
It was a soporific start to the season and there was predictable moaning afterwards about F1 requiring major surgery.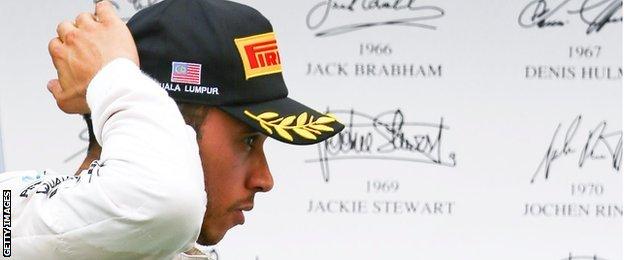 It was the same in the early stages of last season, only for a gripping race in Bahrain to shove the words back down the throats of the naysayers. And so it was in Malaysia, where the demanding Sepang track provided an afternoon of superb racing throughout the field.
Not least at the front, where Mercedes were beaten, having no answer to Ferrari's combination of impressive pace and gentle treatment of the tyres.
Although both races were dry, it was a good 15 degrees hotter in Sepang than in Melbourne - and the difference in track temperature was probably double that. In this lay the key to Ferrari's victory.
Vettel tracked Hamilton in the opening laps, having fought off a brief challenge for second place from the second Mercedes of Nico Rosberg down to the first corner.
Hamilton surrendered the lead when Mercedes decided to stop when the safety car came out on lap four. The theory behind this was simple - it gave Mercedes a 'free' stop.
It also, though, gave Vettel the lead, and he proved more than capable of hanging on to it.
It took Hamilton only four laps to clear the four cars in front of him, but by then Vettel was 10 seconds in the lead, and the victory was on.
Much focus was placed on that early Mercedes stop, but whether it was decisive is open to question, at least.
It lost Hamilton the lead and some time, yes, but Mercedes felt they could not do a two-stop, so they had to take the opportunity the safety car presented.
Mercedes' decision to race predominantly on the 'hard' tyre was also questioned - even by Hamilton during the race itself.
But the engineers crunching the numbers at Mercedes believed that not only could they not get the life out of the 'medium' to focus on it, but also that it was slower, because its performance dropped off quicker than the hard.
But that was on their car. Ferrari were not only faster on the 'medium', they could also make it last. The likelihood is that Vettel would have won this race no matter what.
"I don't know if we'd stayed out with him whether they would have made a difference," Hamilton said. "They were just as good if not better on tyre degradation. It probably would have been close but after that first stop I just had too much ground to make up.
"My assumption is this weekend the heat got to us with the tyres. And I hope we pick up the pace a bit next time."
Vettel was close to tears afterwards as the emotions of winning only his second race for Ferrari washed over him.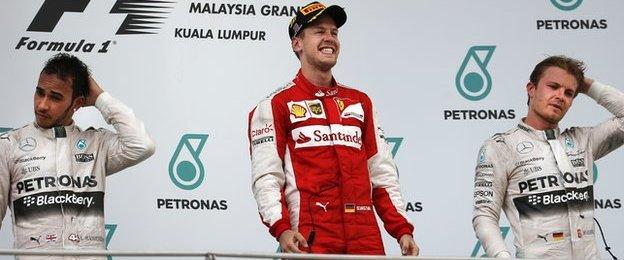 The 27-year-old has long harboured an ambition to race for the Italian team, ever since he watched his boyhood hero Michael Schumacher from behind the fence at Hockenheim and dreamed of one day following in his footsteps.
Vettel was only able to join Ferrari this season because Fernando Alonso decided after five years of inferior cars that enough was enough and he needed to move on in his quest for a third title.
In hindsight, Vettel's decision to leave Red Bull, who are struggling badly this season, looks inspired; Alonso's to join McLaren catastrophic.
But it would be premature at best to assume that one victory in the unique conditions of Malaysia will translate into a season-long title challenge, any more than similarly tyre-related victories for Ferrari by Alonso in China and Spain in 2013 did.
Ferrari technical director James Allison admitted: "I am fairly sure we will have our work cut out in China to do anything like as impressive a job as we have done here."
As for Alonso, he was the focus of attention for much of the weekend on his return to competitive action after missing Melbourne on medical advice following his accident in pre-season testing.
His remarkable performance in the pre-event news conference - in which he stated categorically that his McLaren's steering had "locked" to cause the crash, in direct contradiction of the views of his team - only heightened the confusion over what happened in Barcelona that day in February.
There was much comment after the race about what Alonso must have been thinking as he sat and watched Vettel's victory, having voluntarily given up a seat at Ferrari, where he had a contract until 2016, to join McLaren-Honda, who have found themselves at the back of the grid.
But he gave no public sign of any regrets over the weekend in Malaysia. He continued to profess his faith in McLaren and Honda's ability ultimately to challenge Mercedes. And in truth there was a remarkable step forward in form from the team, even more so than from Ferrari, in the two weeks since Australia.
In Melbourne, McLaren were way off the pace, 1.5 seconds a lap slower than any other car.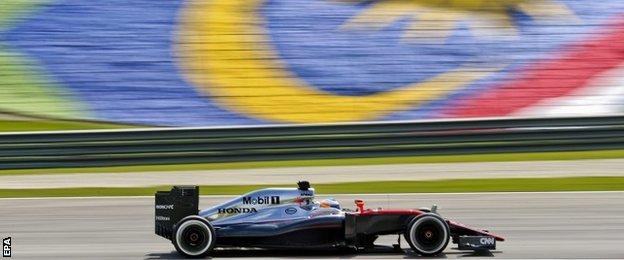 In Malaysia, only a mistake on his final lap prevented Alonso challenging for a place in second qualifying, and the race was even more encouraging.
Once in clear air, Alonso not only outpaced team-mate Jenson Button but was actually running in the points, closing on Red Bull's Daniil Kvyat, who finished ninth, when he retired with an overheating hybrid system.
There is still a long, long way to go before McLaren are competitive, but Alonso described this performance as a "nice surprise". Which would also be a fitting way of describing what Vettel's win was for Ferrari.
Over at Mercedes, team boss Toto Wolff called it a wake-up call.
It was one that signalled to the world champions that 2015 will not be as easy as they might have thought, and to everyone else, had they doubted it, that there was plenty to look forward to about this F1 season after all.