Fernando Alonso can be champion again, but time is against him

By Allan McNish
BBC F1 analyst
Last updated on .From the section Formula 1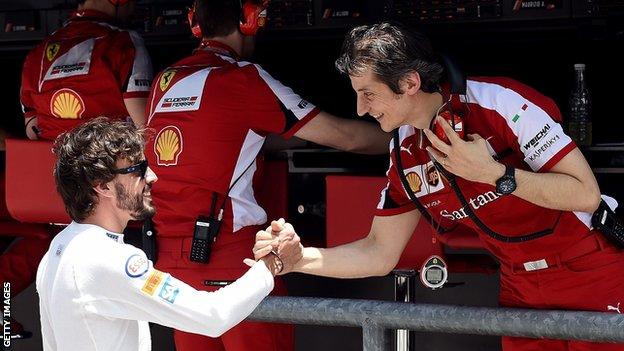 Will Fernando Alonso win another world championship?
From a driving point of view, yes, I think he can, he just needs to be in the right car at the right time.
But for where McLaren-Honda are right now, this has been the worst start to a grand prix season they have ever had.
Two races in, two of their worst ever qualifying performances, no points and yet to get both cars to the finish line... this will not have been the start that anyone, including Alonso, would have expected.
Even though they improved a great deal in Malaysia, they still have a long way to go before they get into the position of having a car that can fight with the Mercedes, Williams and Ferrari, and Alonso will want to see some pretty quick progress throughout this, because he knows world championship chances don't come along every day.
As a driver, when you are in a car that isn't performing as you would like, when you know you have the capability to win as a driver, it just frustrates you and it can be very difficult if the problem persists to keep the focus and stay positive.
It starts to sap the motivation and we have seen that with quite a few drivers, where they struggle to push to the limit in absolutely everything. If you don't believe that everything around you is able to perform to the same level as you then it can be tough.
If there is a character who can cope with that then it is Alonso, but time is marching on and it is a long time ago since his title wins at Renault in 2005 and 2006.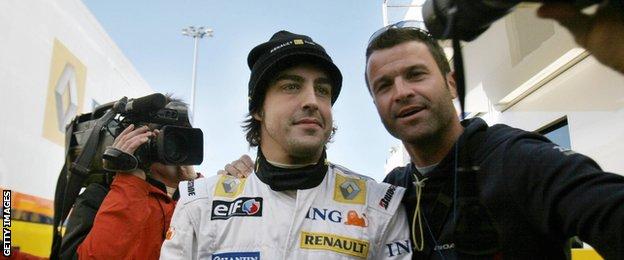 He is 33 and it is not as if he can afford to wait two or three years for a programme to get up to speed, and that is the where his internal pressure lies and could be his downfall.
With Sebastian Vettel, who replaced Alonso at Ferrari, winning in Malaysia, it might be easy to suggest he regrets leaving the team.
Fernando and Ferrari, it was an ideal fit - with Alonso's understanding of the Italian mentality and work ethic - but it did not herald a world championship. It heralded championship runner-up positions with some fantastic performances, not a world championship that Fernando covets so much.
I think over time, the frustrations clearly set in that he personally could not see another world championship coming in the short term at Ferrari.
But if you are realistic about fighting for a world title in modern motorsport you have to be with a manufacturer team and so his choices were limited.
Honda are the engine manufacturer and therefore I think he has nailed his mast to Honda as much as he has McLaren.
Alonso v the current world champion

Fernando Alonso

Lewis Hamilton

33

Age

30

237 (236 starts)

Races

150 (150 starts)

32

Wins

34

97

Podiums

71

2 (2005, 2006)

Titles

2 (2008, 2014)

1,767

Career points

1, 529
I don't think he expected the programme to get off to such a difficult start, but there are positives.
In Malaysia, Alonso's first lap in free practice on the second set of tyres was bang on. It was his quickest lap of the session and two tenths quicker than his team-mate Jenson Button.
From being in hospital with concussion to actually doing that tells me he still has the capability to get on with the job.
The other positive to take from Malaysia was the amount of time both Alonso and Button got in the car in practice. They completed 104 laps in Malaysia, compared to 53 in Australia. Effectively double.
In terms of their ability to get out on a Friday and Saturday and do homework they were pretty much on par with any other team and that is probably one of the things they will have gone home happiest about.
They have got the capability to rebound but they are still basically at the bottom of the grid. The next step is to get both cars to finish in China and that will be a result.
Ferrari win a wake-up call to Mercedes
Vettel's win in Malaysia will not only give Ferrari confidence for the season ahead, it took away doubts from a lot of people's minds - not mine - that Vettel could do it somewhere apart from a Red Bull.
It may have only been a race victory and not a world championship but it was the Vettel of old and he clearly still has the motivation he seemed to miss last year.
Make no mistake, Ferrari surprised Mercedes.
Their sheer speed in Malaysia put a bit of pressure on Mercedes that didn't sit well with them and there were certainly a few radio messages from Nico Rosberg and Lewis Hamilton we did not hear in the last race in Australia and last season.
If you look into the detail of Malaysia, the top speed of Ferrari was equal to Mercedes. That was a big weakness for them last year.
Ferrari were also very good in very hot conditions. On both tyres - the medium and the hard - their long runs were extremely good.
We can attribute quite a lot to the circumstances - the track conditions fell into their favour a little bit - but you have always got to be there to pick up when others drop the ball. They were clearly there.
It was not a race that was won due to reliability problems from Mercedes, it was won by pure performance from Ferrari once strategic mistakes from Mercedes at the safety car period gifted the chance.
I think we will see them putting Mercedes under serious pressure at some other races in the future, but I don't think we will see Ferrari winning every weekend.
Yet they have done enough to make Mercedes sit up and take notice…