Lewis Hamilton channels spirit of Juan Manuel Fangio in China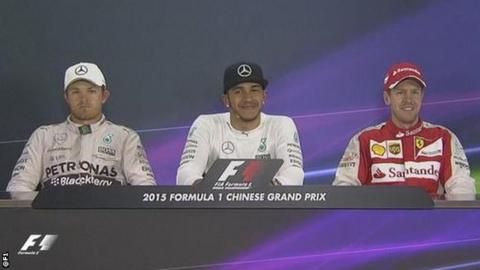 Sebastian Vettel probably summed up the Chinese Grand Prix as well as anyone.
"That was a bit of an anti-climax, wasn't it?" the Ferrari driver said to Mercedes' Nico Rosberg as they waited to go out on to the podium.
Rosberg, his mind elsewhere, shrugged. Slightly off to one side, Lewis Hamilton merely beamed.
For Hamilton, it was back to what has become business as usual - a dominant victory for the better driver in the fastest car; the Ferrari 'revival' put in its place.
The world champion was in imperious form all weekend. Fastest in all practice sessions other than the first part of qualifying - and only beaten then because Mercedes did not run the faster tyre - he controlled the race with ease and took fastest lap for good measure.
"Stellar weekend, Lewis," his race engineer Peter Bonnington said over the radio on the slowing down lap. "That's the full house."
Winning at the slowest possible speed
Hamilton rarely had to extend himself in the race, but that did not mean it was without suspense, nor that Ferrari were not a threat.
Heading into the grand prix, Mercedes were concerned about the lessons of Malaysia a fortnight before, when Vettel had beaten them because of better tyre life and a questionable strategic call. Could Ferrari do it again?
The Italian team had their hopes, but even they recognised they were only ever slim ones, and the Ferrari engineers' hunch that Mercedes were too strong for them in China was proved on the money.
Vettel, with team-mate Kimi Raikkonen close behind, stayed within five seconds of Rosberg for much of the first stint, as Hamilton held his lead at no more than a second.
But then, with two laps until the pit stops, Hamilton let himself off the leash, pulling 0.9 seconds on his team-mate on lap 13, and doing another super-quick lap as he headed for the pits next time around.
It was a perfect exercise in what the great five-time world champion Juan Manuel Fangio used to say was the point of Formula 1: to win at the slowest possible speed.
Bitterness at Mercedes
In the second stint, Hamilton repeated the pattern of a measured series of laps followed by a burst of speed before the pit stop, but at this stage a frisson of extra tension was added by Rosberg's radio communications about the lead car going too slowly.
The German clearly felt Hamilton was trying to back him up into Vettel, and he made the accusation plain after the race, saying he was "upset", especially as they had discussed before the race the risks of opening themselves up to Ferrari being able to play strategic games. Hamilton shrugged it off.
The disagreement between the Mercedes drivers comes two weeks after Rosberg felt moved to deny in Malaysia that he had deliberately blocked his team-mate on a qualifying lap. Then, the team made it clear they felt Rosberg had done nothing wrong; in China, team boss Toto Wolff acknowledged the alleged backing-up incident would need to be discussed internally.
It is the latest in a series of flash points in the staccato feud between Hamilton and Rosberg that has bubbled away pretty much since they became team-mates at the start of 2013, and which exploded properly at various points of their title duel last year. And it may be that Rosberg is trying to use it to his advantage.
Last year, Rosberg broke a run of four straight wins by Hamilton in Monaco, following the controversial incident in qualifying when he went off track and ruined Hamilton's chances of beating him to pole position. Hamilton felt Rosberg had done it deliberately; Rosberg insisted that was not the case.
Whatever the truth of it, the Monaco incident played to Rosberg's advantage for a while in 2014. He won the race and Hamilton was upset and unsettled, and stayed that way for a while.
Already thrown off balance by having to start the season at an immediate disadvantage following his retirement from the opening race, Hamilton then harmed his chances of recovering the gap by making mistakes in qualifying at the next three races.
History shows that Hamilton got things back on track and went on to an ultimately comfortable championship victory and, for now, it does not look as if he is vulnerable to the same pressures as he was last year.
Hamilton clinched last year's title with a run of six wins in the last seven races and his superiority has continued this season, in which Rosberg is yet to beat the Englishman in qualifying or race.
Mercedes have insisted the two are free to race, but Rosberg's concern must be that, with Ferrari a much bigger threat this year, he will be forced into a supporting role if he cannot prove he can get on terms with his team-mate.
Ferrari on the prowl
How serious is that Ferrari threat? It faded in China, where Mercedes were able to control their pace enough to look after their tyres and still keep themselves tantalisingly out of reach.
This was a typical Pirelli-era race, where the pace advantage of a fundamentally better car was kept in check by the demands its extra speed made of its tyres, allowing a slower car to keep up, and its team to maintain the pressure.
In that way, Mercedes' victory was remarkably similar to many of those scored by Vettel in a Red Bull between 2011 and 2013, when the car's inherent superiority was shackled by the deliberate fragility of the tyres on which it was forced to race. It is ironic that it is Vettel who is now thrown into the underdog role Hamilton, Jenson Button and Fernando Alonso played against him for so long.
Whether that is what F1 should be about is an open question, the answer to which depends largely on where you stand on the sport versus entertainment debate with which the sport is wrestling as part of discussions over what changes to make for the future.
But it is what it is, at least for now, and it looks as if it will have the benefit of creating a two-team title battle this season.
In China, in relatively cool temperatures, Mercedes were able to handle Ferrari. They might even have been able to in much-hotter Malaysia had they not made the fateful call to pit during the early safety car period, which put Vettel ahead, and allowed him to take advantage of his car's better pace/tyre usage equation.
But whether Mercedes can stay in control in the desert heat in Bahrain next weekend remains to be seen.
"If the heat helps us, why not?" Vettel said. "Bring it on."