Lewis Hamilton: I'm mentally stronger than Nico Rosberg

By Andrew Benson
Chief F1 writer
Last updated on .From the section Formula 1
Lewis Hamilton believes he has the psychological upper hand on Mercedes team-mate Nico Rosberg in their title battle this season.
"I've always said he is really strong mentally," Hamilton said. "But I'd like to think I'm stronger this year."
Rosberg claimed the Briton slowed down deliberately to make him vulnerable to attack from behind.
However, following a team de-brief Rosberg said their disagreement was now "a thing of the past".
The Mercedes drivers, led by Hamilton, were controlling their pace at the front of the field because they feared Ferrari's Sebastian Vettel and Kimi Raikkonen could attack them using their superior tyre usage.
Hamilton denied he had deliberately tried to slow Rosberg down, saying he was merely controlling his pace to ensure he had enough tyre life left to stay ahead.
His strategy meant he had enough performance left in the tyres to do quick laps before his pit stop and ensure he retained the lead.
Hamilton went on to lead Rosberg to a Mercedes one-two and said that if his team-mate was worried, he should have pushed him harder.
"If I'd been second, with lots of pace, I'd have been pushing to get past, but Nico didn't," Hamilton said.
"Take a step back. It's racing. I wouldn't have sat back two seconds to get to the end of the stint; I'd have tried to get past."
Asked whether Rosberg was concerned about the Ferraris, Hamilton said: "I don't know what he was thinking. I just felt great after the race.
"The set-up changes [during the weekend] worked well, I made no mistakes, I brought it home. It's the greatest feeling."
Mercedes F1 boss Toto Wolff said: "Nico was in trouble, he couldn't get near Lewis because he needed to protect his tyres and Sebastian was increasing his pace. So it is understandable from both.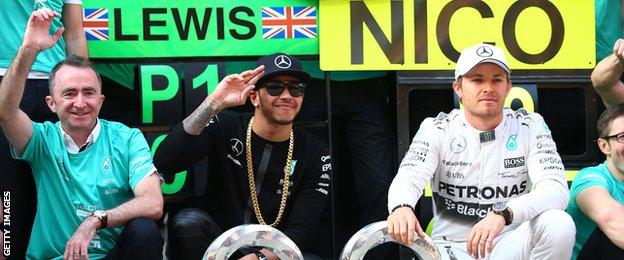 "I don't think Lewis did it on purpose and we have cleared that up now. He didn't know the gaps behind Nico; all he knew was that he had to take that tyre longer than he had ever run it."
Wolf admitted the threat from Ferrari might mean Mercedes had to row back on their promise to allow Hamilton and Rosberg to fight without team orders later this season.
"There could be situations where we have to manage them more," Wolff said.
"Our objective is that we have a responsibility to the brand and if it was a call of interfering between the two of them because we risked a race win, we would do that.
"We don't have the gap to allow them to push each other to the very end. We need to manage the gaps between the two of them."