Formula 1 gossip: Hamilton, Rosberg, Vettel, Maldonado
Last updated on .From the section Formula 1
Sunday, 19 April
Nico Rosberg says he is going through "a difficult period" with Mercedes team-mate Lewis Hamilton and adds they "cannot totally be friends". (Daily Mail)
Hamilton says he is in no rush to sign a new contract with Mercedes but is expected to announce a new three-year deal worth £90m in the near future. (Daily Mirror)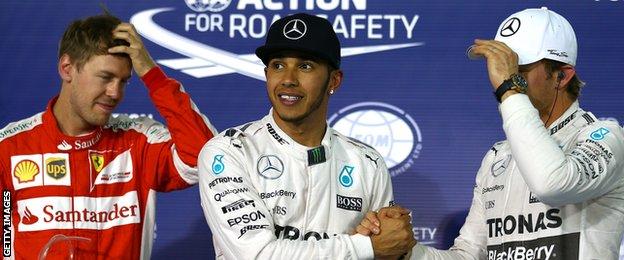 Rumours are circulating the paddock in Bahrain that two-time champion Hamilton is planning to join Sebastian Vettel at Ferrari. (Inautonews.com)
Pastor Maldonado - nicknamed Crashtor after a string of accidents - is relaxed about his reputation.(Sunday Telegraph)
Saturday, 18 April
Bernie Ecclestone says it would be great for F1 if Lewis Hamilton swapped the silver of Mercedes for the red of Ferrari. (Sky Sports)
Toro Rosso's Carlos Sainz says it feels strange to find himself with more points than fellow Spaniard Fernando Alonso three races into his debut season. (Formula1.com)
Nico Rosberg tweeted his appreciation for this moody photograph taken by Mercedes photographer Steve Etherington.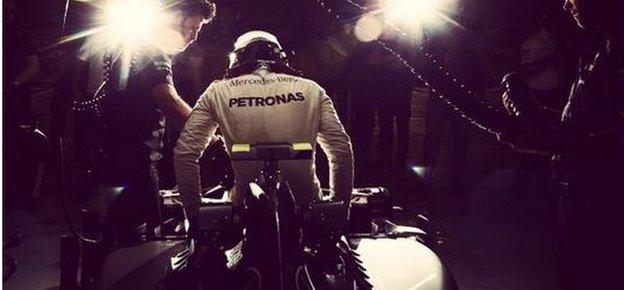 A proposal to increase Formula 1's engine allowance from four to five per driver this season will be discussed at a meeting next month, leaving some in danger of being penalised before change is agreed. (Reuters)
Williams' chief technical officer Pat Symonds has set his immediate sights on supplanting Ferrari as the main challengers to Mercedes.(Guardian)
Kimi Raikkonen must prove himself with his results this season if he wishes to stay at Ferrari, according to team boss Maurizio Arrivabene. (Crash.net)
Friday, 17 April
Formula 1 supremo Bernie Ecclestone says Monza "must pay" if it wants to secure the future of the Italian Grand Prix. Ecclestone has cast doubt over the future of the race several times in the past, saying the financial conditions of the current contract are not good enough. (Motorsport.com)
Meanwhile, Ecclestone has renewed calls for a return to V8 engines, claiming it is "urgently" needed and that they could be boosted to 1000bhp. (Autosport)
Being an F1 driver doesn't stop Jenson Button from getting excited when he spies a nice road car, as this tweet from yesterday evening in Bahrain shows.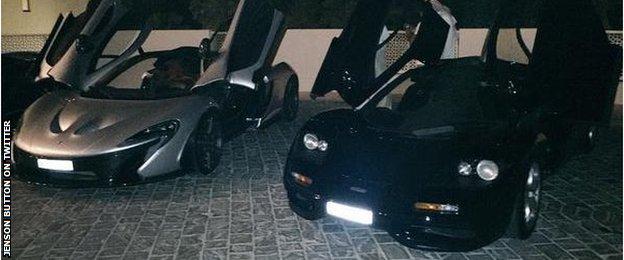 Kimi Raikkonen says it is up to Ferrari whether he stays at the Italian team beyond 2015. (Inautonews)
Will Stevens believes Manor made a "big step" forward last time out and the team will only get better as the season goes on. Stevens and team-mate Roberto Merhi both managed to get to the chequered flag in China. (Crash.net)
Marcus Ericsson believes there is a lot more to come from him and Sauber following an impressive start to the 2015 campaign. (PlanetF1)
Thursday, 16 April
A Shanghai woman who made headlines when Lewis Hamilton doused her with champagne after Sunday's Chinese Grand Prix has defended his actions. Liu Siying, 22, says she "did not think too much about" being soaked in alcohol by the reigning champion, who had been criticised by equality campaigners over his actions. (Daily Telegraph)
Hamilton, meanwhile, has said he was just trying to show the fun side of F1 when he sprayed champagne in Liu's face. (Reuters)
McLaren driver Jenson Button sent a birthday message on Twitter to his former team boss Sir Frank Williams, who turned 73 on Thursday. Sir Frank gave Button his first F1 drive at Williams in 2000.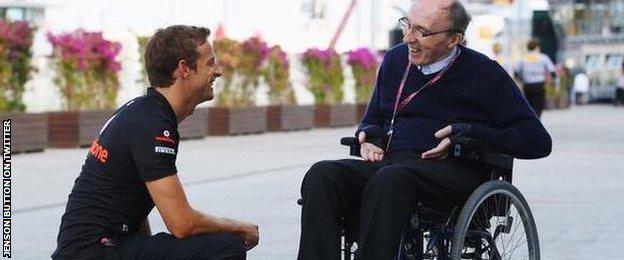 Felipe Massa believes Ferrari's extra resources are starting to show in the battle with Williams for a place on the podium. (ESPN)
Daniel Ricciardo has admitted that he and Red Bull Formula 1 team-mate Daniil Kvyat are still struggling to find a set-up they are comfortable with on the team's 2015 car.(Autosport)
Meanwhile, Ricciardo has become the first Australian in five years to win a prestigious Laureus award, earning the breakthrough of the year title following a stellar debut season with Red Bull Racing in 2014 that brought him three wins. (Sydney Morning Herald)
Hamilton has denied asking for number one status at Mercedes - a luxury which he believes both Fernando Alonso and Sebastian Vettel have written into their contracts. (Sky Sports)
Serial tweeter Romain Grosjean has been reminding everyone of his strong record in Bahrain, after two podiums in the last three years.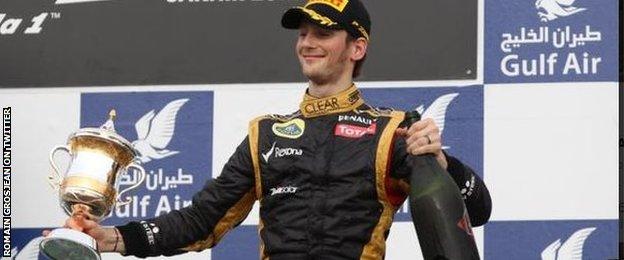 Wednesday, 15 April
Rosberg has ruled out clear-the-air talks with Mercedes team-mate Hamilton and vowed to beat his rival in the coming weeks. (Daily Mirror)
Force India driver Nico Hulkenberg is keeping in shape for Bahrain Grand Prix on Sunday by working his forehand on the tennis court,revealing on Twitter how he loves his hobby.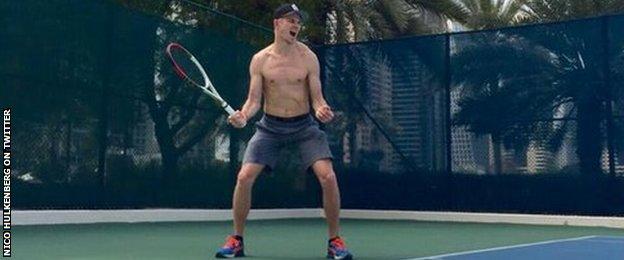 Felipe Massa is driving better than ever according to Williams performance chief Rob Smedley. The Brazilian driver is fourth in the standings after a fifth-place finish in China on Sunday. (Sport360.com)
Team boss Eric Boullier has insisted that Spaniard Fernando Alonso is happy at struggling McLaren following his switch from Ferrari. (Inautosport.com)
Force India are hoping to have the aero update package for their VJM08 car ready in time for the Austrian Grand Prix in June, says deputy team principal Bob Fernley.(Motorsport.com)
Tuesday, 14 April
Kimi Raikkonen is convinced that Ferrari can catch Mercedes, despite the latter's 40-point gap after the three races so far this season. (Crash.net)
Lewis Hamilton has been criticised by the chief executive of Object, a campaign against media sexism, for spraying a female GP podium hostess in the face with champagne while celebrating his win in Shanghai on Sunday. (Daily Mail)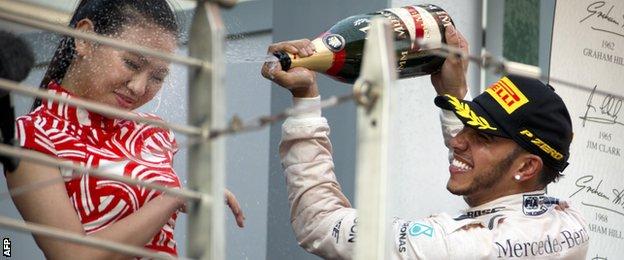 Red Bull are expecting to incur grid penalties for using up more of their allocation of power units, further testing their fragile relationship with Renault. (James Allen F1.com)
Several drivers, including Jenson Button,Fernando Alonso and Romain Grosjean, all tweeted the hashtag #ForzaJules in support of Jules Bianchi, who is still in a coma six months after his crash in the Japanese Grand Prix.
As well as backing Bianchi, McLaren reserve driver Kevin Magnussen used Twitter to reflect on his team's performance in Shanghai, saying "Nice to see @McLarenF1 making progress. Both cars finishing the race this weekend is an achievement."
Monday, 13 April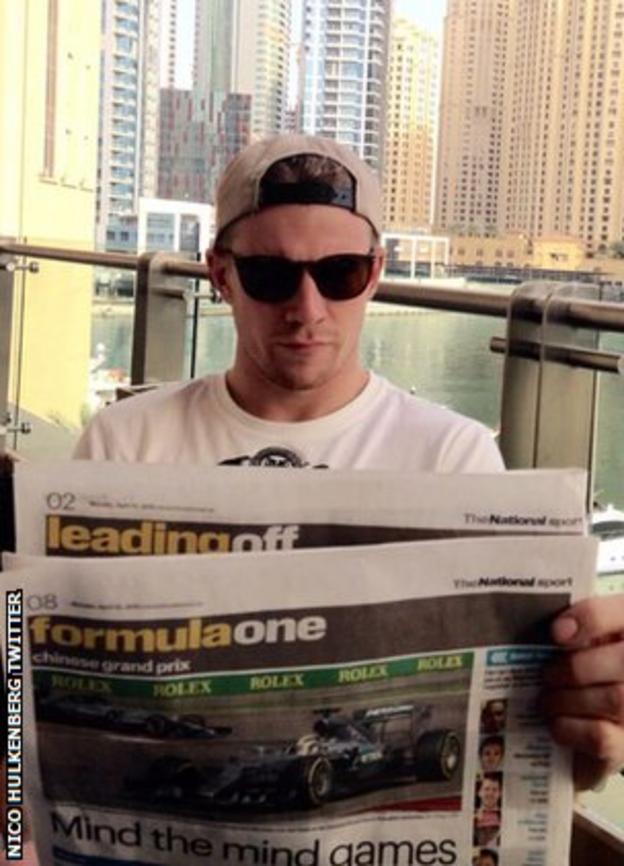 Three-time world champion and Mercedes boss Niki Lauda is not surprised by the feud between the team's Lewis Hamilton and Nico Rosberg, and expects the latter to turn "nasty" in his pursuit of the current world champion. (Daily Mail)
Mercedes team director Toto Wolff was happy with his drivers at the Chinese Grand Prix, saying it was "good for Lewis to go slow and good for Nico to complain". (Independent)
Rosberg answered questions from fans on video in an "Ask Nico" series of posts on his Twitter feed while waiting to fly out from the airport following Sunday's Chinese Grand Prix.
Renault chief Cyril Abiteboul says the engine problems that affected Red Bull and Toro Rosso in Shanghai could flare up again in Bahrain next weekend. (Autosport)
Lotus driver Pastor Maldonado followed his eventful race in Shanghai, where a duel with Jenson Button ended with him crashing out and being the target of a slew of criticism on social media, by tweeting it had "not been the best race for us".
Ferrari boss Maurizio Arrivabene feels Kimi Raikkonen can thrive this season as long as the Finnish driver feels he has the full support of the Italian team. (Adam CooperF1.com)