Bahrain GP: Fernando Alonso relief as McLaren show progress

By Andrew Benson
Chief F1 writer
Last updated on .From the section Formula 1
Bahrain Grand Prix
Venue:
Bahrain International Circuit
Dates:
17-19 April
Coverage:
Live coverage on BBC television, BBC Radio 5 live, 5 live sports extra, plus text commentary on BBC Sport website
Fernando Alonso admitted his progressing beyond first qualifying in Bahrain was "important" for McLaren after a difficult start to the season.
Alonso said: "We really needed this one result to show we were going in the right direction. We knew that but we needed this result to confirm it.
"To be always out in Q1 creates some doubts, so confirmation is important."
McLaren have this year started a new engine partnership with Honda, and the Japanese company are lagging behind on both power and reliability.
McLaren's MP4-30 - not such a bad car?
It is well known within F1 that McLaren's main deficit is with the Honda engine. It was said to be as much as 180bhp down on the Mercedes.
Applying a calculation for the lap-time difference made by engine power - which engineers say is about 0.016secs per horsepower - suggests the McLaren chassis may well be reasonably competitive, around the level of the Ferrari or Williams, the second and third-fastest cars.
The other manufacturers all have a year's racing experience with the new turbo hybrid engines that were introduced into F1 last season - and world champions Mercedes have been developing their engine since 2010, while Honda started work on its only in 2013.
But McLaren have been closing the gap in terms of time to the leaders since the start of the season. Alonso's performance in Bahrain was the first time it had made a difference to their progress in qualifying, the test of the absolute pace of the car.
Alonso added: "It felt good. Q1 is still a threat at the moment and this is not good because we need to fight a lot to go through Q1.
"But it is good to make this step forward for all the guys in the garage - they finished at 5am this morning putting everything together in the car."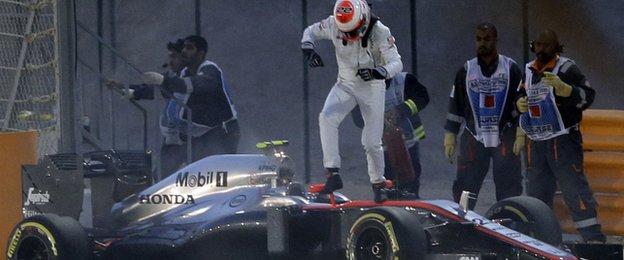 Team-mate Jenson Button will start from last after his car broke down on his first lap of qualifying.
Button, who had been 11th fastest in final practice earlier in the day, said: "The important thing is we are improving. Fernando getting through to Q2 is a good step for us. Tough day but good for progress."
Alonso said McLaren had not expected to be any more competitive in Bahrain than they were in China last weekend.
"It was a nice surprise again to do a step forward with the performance of the car," the two-time champion said. "We were doing some small adjustments on the settings and software side. Everything goes in the right direction."
Further progress is expected at the next race in Spain in three weeks' time - both Alonso and Button have said in Bahrain that they expect a significant step forward in both aerodynamic and engine performance in Barcelona.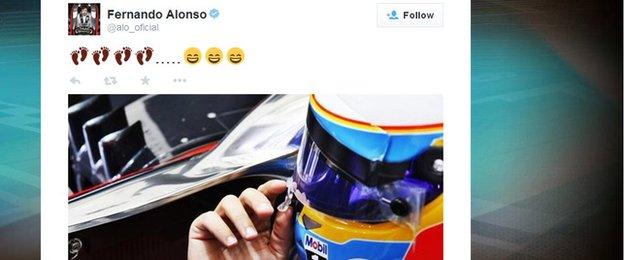 Alonso added: "Hopefully, the pace is coming in the next months."
Button said earlier this weekend: "The chassis is all right, but we still need to improve.
"I think we're still very low on downforce, but we know that and we have worked hard on the characteristics more than just throwing downforce at it.
"If we had more power we'd be more competitive but we still wouldn't be fighting at the front, we have improve in all areas."