Bernie Ecclestone: Formula 1 boss says sport is too expensive

By Andrew Benson
Chief F1 writer
Last updated on .From the section Formula 1
Bahrain Grand Prix
Venue:
Bahrain International Circuit
Dates:
17-19 April
Coverage:
Live coverage on BBC television, BBC Radio 5 live, 5 live sports extra, plus text commentary on BBC Sport website
Formula 1 boss Bernie Ecclestone says the sport is too expensive and claims that it has a litany of other problems that need to be resolved.
In a wide-ranging interview with BBC Sport, he complained that F1 was "too democratic" and continued his campaign against its turbo hybrid engines.
"We have got past sticking plasters and we need an operation," Ecclestone said.
"We need to really seriously address costs because there are a lot of teams having difficulty trying to keep up."
In the interview with BBC F1 chief analyst Eddie Jordan, Ecclestone said:
He tried to rescue the German Grand Prix but could not come to a deal
The engine manufacturers did not want the current engines
He would step down if his presence as boss was preventing Audi entering the sport
And talking to journalists in the media centre at the Bahrain Grand Prix, Ecclestone also:
Cast doubt on the future of the Italian Grand Prix
Rejected suggestions that human rights concerns should raise questions about the planned inaugural race in Azerbaijan next year
Said engines had to be affordable for all teams, whatever design was decided upon for 2017
The German Grand Prix
Germany has dropped off the calendar in 2015 because the Nurburgring, which was due to host the race, has financial troubles and Ecclestone could not reach a deal with Hockenheim, whose contracted turn is not until 2016, to host the race instead.
"We made a contribution by accepting 50% of the price of the contract - let's do that and get yourself sorted out for next year," Ecclestone said. "That still left them in trouble."
The Italian Grand Prix
Monza's contract to host one of the sport's oldest races expires next year and Ecclestone has previously said the circuit needs to pay more money to secure a new deal.
Asked how negotiations were going, Ecclestone: "We will have to wait and see. They don't have an agreement, bit like Germany, same sort of thing."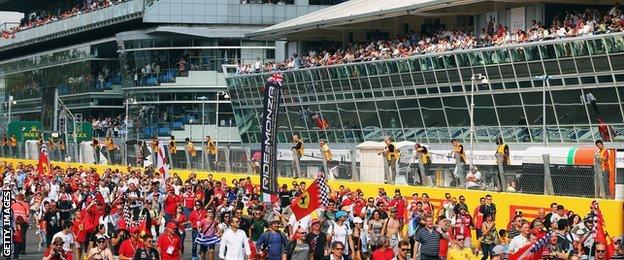 When it was suggested to him that the idea of losing Monza, which first held a race in 1923, was unthinkable, Ecclestone said: "I'll tell you something, I was told that when we didn't have a race in France. And Germany now."
France, which held the first ever grand prix in 1906, dropped off the F1 calendar after 2008.
Human rights concern rejected
Ecclestone has signed a deal for the Azerbaijani capital Baku to host a race from 2016 and he said the event would definitely take place. "That is going to be another good race," he said.
F1 has recently published a "statement of commitment to respect for human rights", while human rights organisations have accused Azerbaijan of practising torture and having a poor record on freedom of speech and assembly.
But Ecclestone brushed off suggestions that these positions were contradictory.
Asked if F1 would check the human rights situation in Azerbaijan before committing to the race, Ecclestone said: "We have. Everyone seems to be happy. Doesn't seem to be a problem."
Engine chances
Ecclestone has opposed the new turbo hybrid engines since they were proposed back in 2009, believing them to be too expensive, and has been campaigning for a return to the naturally aspirated V8 engines that were last used in 2013.
He also wants engine power outputs to increase to 1,000bhp from the 900bhp or so the best have now, saying: "We need to make the cars more difficult to drive."
Asked how this would happen in discussions with manufacturers, he said: "It's no good talking to these people, they'll have to be told."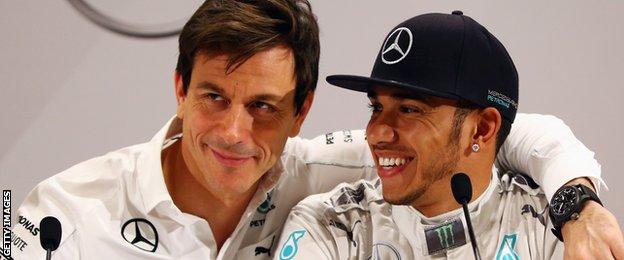 Mercedes F1 boss Toto Wolff said on Saturday that all current manufacturers in F1 were committed to retaining the current V6 turbo hybrid engines.
Ecclestone said: "Sure, absolutely. At what price? The two things that have to happen: whoever supplies engines to teams has to supply the same engine they currently use.
"If it's going to be the current engine upgraded to 1,000bhp, good. And they need to supply it to the teams at a price the teams can afford to pay."
Wolff said that "concepts are being put in place to make it a spectacular formula in 2017".
Audi
German manufacturer Audi has conducted a feasibility into F1 entry and found there to be serious support for the idea within the company.
Sources in the German automotive industry insist that the only blockage to Audi entering F1 is the antipathy felt for Ecclestone by the chairman of the VW-Audi board, Ferdinand Piech.
Sources say Piech will not allow any of his brands to enter F1 while Ecclestone is in charge.
Ecclestone said: "Nobody's told me that. If that is the case, I'll leave. I would be happy to step down if it brought those people in."