Lewis Hamilton is impervious to pressure after Bahrain dominance

By Andrew Benson
Chief F1 writer
Last updated on .From the section Formula 1388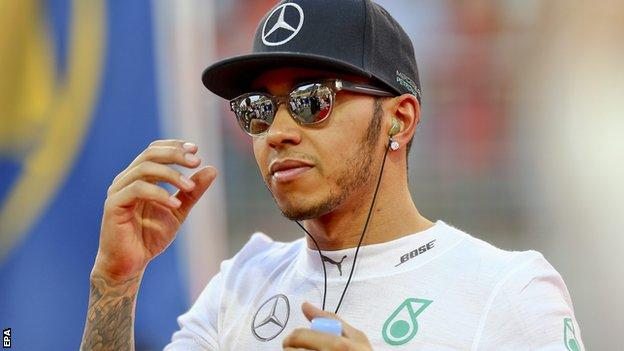 Right now, there seems to be no stopping Lewis Hamilton.
The challenge to Hamilton's Mercedes team from Ferrari is real, of that there can be no doubt, but the world champion looks more than capable of responding for now.
After four races of this season, Hamilton has three victories and a second place and is already more than a clear win's worth of points ahead of his closest rival. That position is now held by his team-mate Nico Rosberg after an uncharacteristically error-strewn race from Ferrari's Sebastian Vettel in Bahrain.
Hamilton's victory in the Gulf kingdom on Sunday rounded off an almost-perfect start to the season for the Englishman, and he returns to Europe to prepare for the next race in Spain in three weeks' time with the satisfaction of a job well done.
Bouncing back, with meaning
Utterly dominant in the season-opening race in Australia, there is no doubt Hamilton and Mercedes were shocked by the strength of the Ferrari revival when Sebastian Vettel won in Malaysia two weeks later.
But Hamilton and his team have rebounded with great effect, with two carefully controlled and impressive wins in China and Bahrain in the space of seven days.
Hamilton told this writer this weekend that he was not doing anything different this year from last, but it certainly looks that way.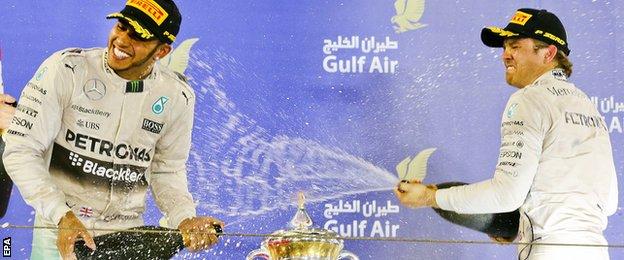 There is no sign this year of the occasionally nervy, mistake-prone Hamilton of 2014. In its place has come a man of serenity and control, someone who seems impervious to pressure and appears to be operating on a level beyond everyone else.
This is how Hamilton can be when he is on song. His natural talent is arguably the greatest in the sport, and if he can let it breathe, he can be close to untouchable.
His success this year has been founded on his impeccable qualifying form.
With laps that have been a joy to behold in their precision and flair, he has taken four straight pole positions. His average advantage over the next-closest qualifier over four races is 0.279secs; over Rosberg - who has twice been demoted to third by Vettel - it is 0.414secs.
And it is in this inherent blistering pace - always Hamilton's strongest card - that his advantage lies. It allows him to control the races from the front, only going as fast as he needs to, unleashing that speed only when required. It is mighty impressive to watch.
"I am keeping my head down, staying focused, and the older I get the more appreciative I am to have the opportunity to be an F1 driver and win races," he wrote in his BBC Sport column on his arrival in Bahrain. "Not many people get to have that chance."
He meant that last sentence in the sense that very few people find themselves in his position, but its other meaning applies at the moment, too.
Ferrari threat is for real
With Hamilton in this form, in a car as good as the Mercedes, his rivals don't have much of a chance either.
For all that, it is already clear that this championship will be hard won. There is no doubt Mercedes are seriously concerned about the threat from Ferrari, and they have good reason to be.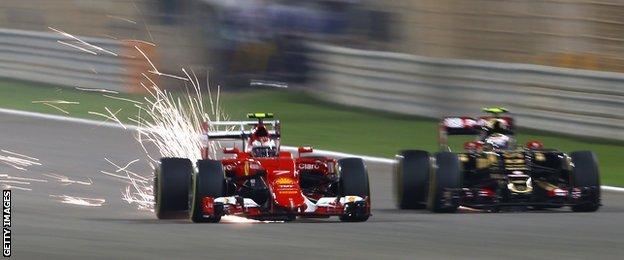 The strength of Ferrari's challenge came as a surprise with Vettel's win in Malaysia and, although Hamilton's subsequent victories in China and Bahrain have ultimately come with something to spare, the Italian team are undoubtedly too close for comfort.
Bahrain underlined that reality very clearly. Mercedes did not have the pace advantage for a comfortable one-two, and Rosberg found himself locked in a race-long battle with both red cars.
Much racier and more aggressive than he has been for some time, Rosberg looked to have Vettel handled - and the four-time champion cost himself at least one place by running wide when under pressure from the Mercedes and damaging his front wing.
But that only cleared the way for Kimi Raikkonen, who produced an impressive drive on an alternative strategy. When brake problems intervened on the penultimate lap, Rosberg was defenceless - but he might have lost second anyway.
Hamilton's extra pace ensured he was always tantalisingly out of reach, for both the Ferraris and his own team-mate. But Mercedes clearly know they have a fight on their hands.
"Their rate of development has been very impressive over the winter and the last three races," Mercedes team boss Toto Wolff said. "That is quite a challenge for us."
Asked if Mercedes were nervous, Wolff's partner at the helm of the team, technical chief Paddy Lowe, said: "Nervous is not the right word. It's a competition. This is a more normal championship, where teams compete to win each race and it's never easy."
And Hamilton - who is believed to be committed to staying at Mercedes despite the delay in signing his contract and rumours this weekend linking him to Ferrari - remains unperturbed.
"I'm confident the team will do the utmost," he said. "This is what we want. It is what F1 needed and I feel strong enough to fight whoever is coming."
Ticking off boxes towards bigger goal
On the podium in Bahrain, Hamilton told Sir Jackie Stewart he was "gunning for" a third title - which would put him level with the legendary Scot.
That much is self-evident. It is how he is going about it that is so impressive.
Hamilton's approach to this season is about taking small steps leading to a bigger goal.
Heading into Bahrain, he was talking about making amends for last year when, although he won the 'desert duel' with Rosberg, it was only with his back against the wall against a team-mate who was quicker than him.
That box ticked, his sights are already on the next two races in Spain and Monaco, which were also difficult for him in 2014.
He won Spain, but again it was in a rearguard battle with Rosberg. And Monaco was where their relationship first began to fall apart, with Hamilton suspecting his team-mate of gamesmanship in qualifying, running off the road to prevent the Englishman beating him to pole.
That halted a run of four straight wins for Hamilton last year, and he has no intention of letting it happen again.
"Here and Barcelona and Monaco were races where I was so-so last year," Hamilton said. "I've done better here but Barcelona and Monaco were both tough last year, so that's two races I need to fix. And I have not won in Monaco for many years and this is the year I want to change that."
On this form, who would want to say he won't do just that?