Formula 1 gossip: Alonso, Dennis, Button, Bottas, Senna, Hamilton
Last updated on .From the section Formula 1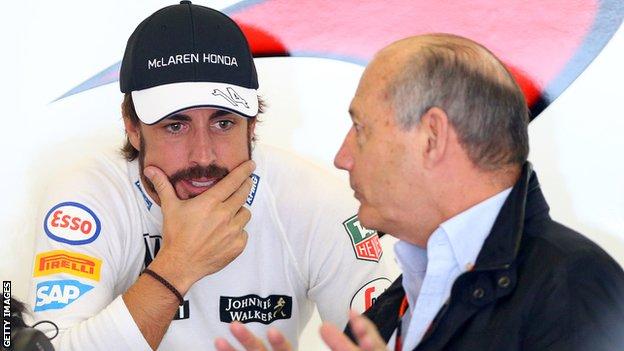 Friday, 1 May
McLaren team boss Ron Dennis confirmed Fernando Alonso is on a three-year contract which contains no clauses that would potentially release him for a rumoured move to Mercedes. Formula1.com
Team principal John Booth admits that it might be 2016 before Manor unveil their new car. f1i.com
Williams driver Valtteri Bottas, 25, has not lined up a move to Ferrari for next season.paddocktalk.com
McLaren race director Eric Boullier is happy with how Fernando Alonso and Jenson Button have dealt with the team's slow start to the season. ESPN
Grand Prix legend Stirling Moss, 85, expects Lewis Hamilton to successfully defend his title but does not yet consider his fellow Briton a great. motorsport.com
Three-time World Champion Ayrton Senna was killed 21 years ago today in a crash at the San Marino Grand Prix. The sport remembers him.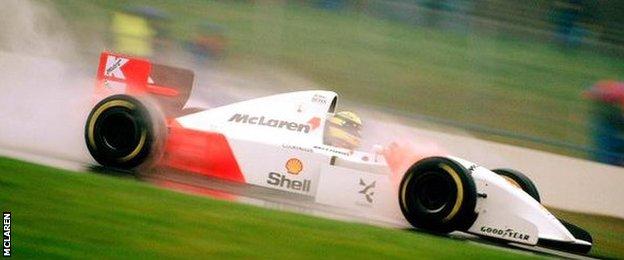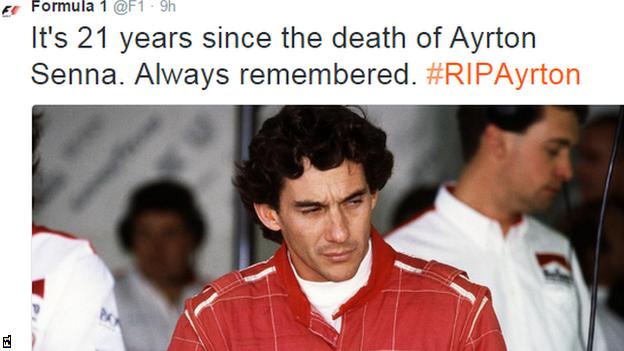 Thursday, 30 April
Ferrari must maintain their aggressive tactics to continue to compete with Mercedes, says team principal Maurizio Arrivabene. Autosport.com
Red Bull's head of aerodynamics Dan Fallows says the team can make progress despite their engine troubles. "We have it in our power, in the aerodynamics department, to do something about it", Fallows says. F1i.com
A race calendar revealing a later date for the season-opening Australian Grand Prix and a condensed 2016 season was leaked, says Formula One Management. NBC Sports
McLaren are among those teams remembering former Simtek driver Roland Ratzenberger, who was killed on this day in 1994 at the age of 33, during qualifying for the San Marino Grand Prix at Imola.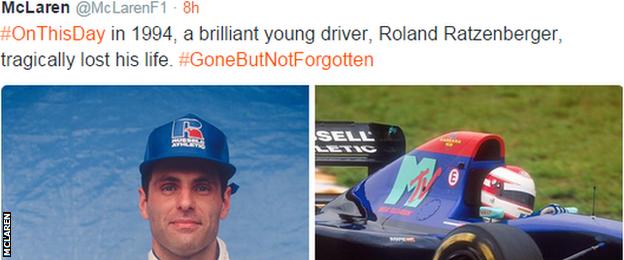 Williams can bridge the wealth gap behind Ferrari to challenge the Scuderia and Mercedes, says deputy team principal Claire Williams. Sky Sports
Engine and gearbox regulations are "killing" the sport, claims former Renault and Arrows driver and current British Racing Drivers' Club president, Derek Warwick. Sportal
Official tyre manufacturer Pirelli says the compounds being used by teams this season could lead to a number of new lap records. F1fanatic
Wednesday, 29 April
Mercedes' non-executive chairman Niki Lauda says Nico Rosberg should "start from scratch" in his battle with team-mate Lewis Hamilton, with the Briton having won three of the first four races of the season. (GP Today)
Formula 1 team owner Sir Frank Williams paid a visit to his old school, St Joseph's College in Dumfries, on Tuesday.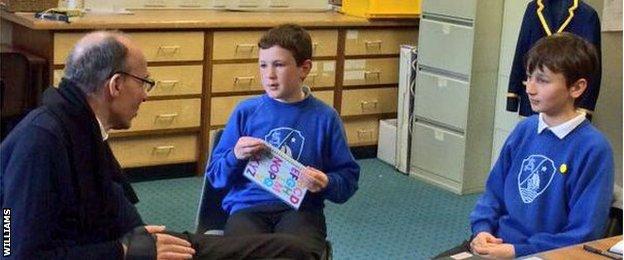 Sir Frank's return to his old school also triggered memories for ex-F1 driver and BBC commentator Allan McNish, who attended St Joseph's College too.

Toro Rosso driver Max Verstappen, who retired in Bahrain, says he is ready for the next race in Spain. The 17-year-old wrote on Instagram: "Already looking forward to Barcelona!! Great track to drive and good to be back in Europe and see the European fans. Learned from our problems in Bahrain and we will come back stronger!"
Former FIA president Max Mosley has urged F1 teams to rethink the idea of a budget cap that offers design freedom. (F1today.net)
Three-time Le Mans 24 Hours winner Andre Lotterer says he would contemplate a return to Formula 1 but only with a competitive team. The German raced in the Belgian Grand Prix as a stand-in driver for Caterham in 2014. (Motorsport.com)
Ferrari's Spanish test driver Marc Gene says Fernando Alonso's move to McLaren may not have been a mistake despite his poor start to the season. (Sport - in Spanish)
Tuesday, 28 April
Sir Frank Williams has no plans to retire from the Formula 1 team he founded in 1977 and is under no pressure to do so, his daughter Claire has said.(Reuters)
Former F1 driver Mark Webber has criticised the current state of Formula 1 in a wide-ranging interview. "It should be about people going to the limit," the Australian said. "You also need to bring earplugs back! You need that, you need to be able to hear the cars five kilometres from the track!"(F1i.com)
Red Bull drivers Daniel Ricciardo and Daniil Kvyat have been teaching each other their native lingo in a series of short videos.(Red Bull)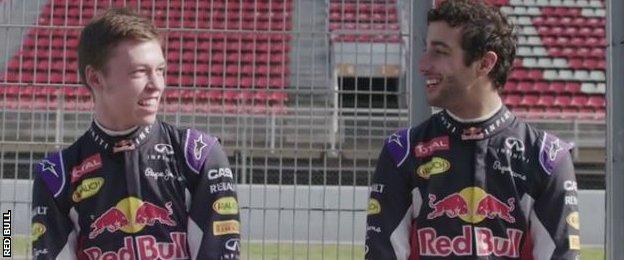 Former F1 driver Marc Surer has suffered a punctured lung, two broken ribs and a broken leg in a horse riding accident. (Motorsport.com)
Force India deputy team principal Bob Fernley believes Formula 1 should consider letting smaller teams race with revised V8 engines alongside the current V6 power units.(Autosport)
Sauber boss Monisha Kaltenborn says any rules changes introduced in Formula 1 for 2017 must focus on guaranteeing engine parity. (Motorsport.com)
Mercedes driver Lewis Hamilton believes the only way he could truly judge himself against four-time world champion Sebastian Vettel would be if they were in the same car. (ESPN)
Monday, 27 April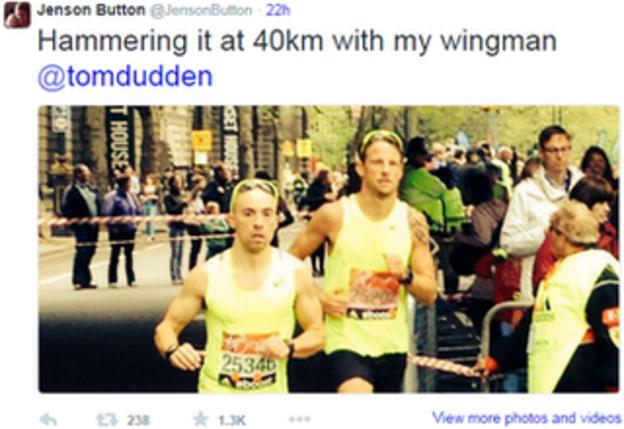 In an interview withGerman tabloid Bild,Lewis Hamilton said he "would be very happy to drive for Mercedes until the end of my career", but team manager Niki Lauda has denied reports the 30-year-old has already signed a long-awaited contract extension. (Grandprix.com)
Ferrari team principal Maurizio Arrivabene says the Italian team's car for this season was specially designed to suit Kimi Raikkonen's driving style. (Autosport)
McLaren driver Jenson Button set a new personal best time at Sunday's London Marathon, completing the 26.2-mile race in two hours, 52 minutes and 30 seconds. (ESPN)
Ex-Formula 1 world champion Nigel Mansell congratulated Button on his time, tweeting: "Many Congratulations to Jenson Button on his time in London Marathon, great effort. Congratulations to all runners raising funds for charities."
Sunday, 26 April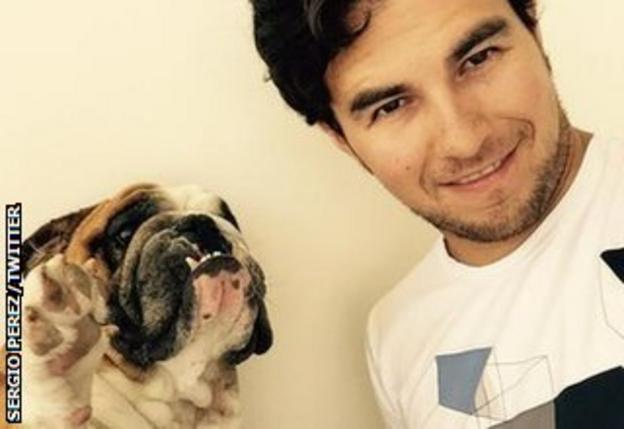 Volkswagen could enter Formula 1 following the resignation of company chairman Ferdinand Piech. The 78-year-old's strained relationship with Bernie Ecclestone has been seen as the reason the company has not joined the sport.(Motorsport.com)
Damani Marcano, 16, is aiming to be the 'next Lewis Hamilton' after progressing from go-karts to 150mph Volkswagen Racing Cup cars in just three years.(Daily Star on Sunday)
Force India chief Vijay Mallya has denied any wrongdoing after being asked to resign from the board of the United Spirits company by owners Diageo. (Times of India)
Force India wants Formula 1 teams, rather than manufacturer Pirelli, to decide which two tyre compounds are used during grand prix races. (Auto Motor Und Sport - in German)
Saturday, 25 April
World champion Lewis Hamilton looks like he will be starring on the big screen after he was spotted on the set of Zoolander 2 in Rome. Hamilton was seen on the front row of a catwalk show in the comedy sequel, starring Ben Stiller. (Daily Mail)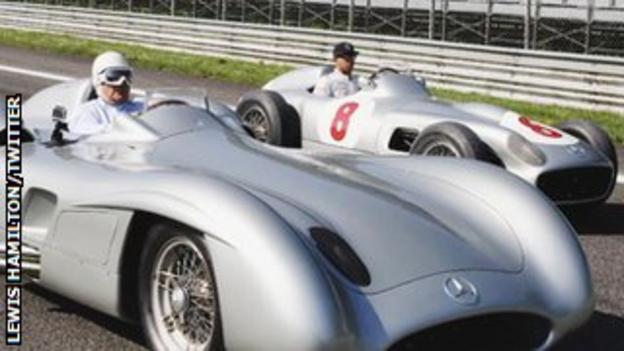 Hamilton also took some time out to take to the track at Monza with former British racing driver Sir Stirling Moss. He tweeted: "Had a blast at Monza today in these classics with the great, Sir Stirling Moss!"
Red Bull team advisor Helmut Marko says that they are not missing four-time world champion Sebastian Vettel, and that Daniel Ricciardo has proved himself the equal of the German, despite early season struggles. (Motorsport.com)
McLaren racing director Eric Boullier is confident they will be getting more performance from the Honda-powered MP4-30 car in next month's Spanish Grand Prix in Barcelona. (Crash.net)
Friday, 24 April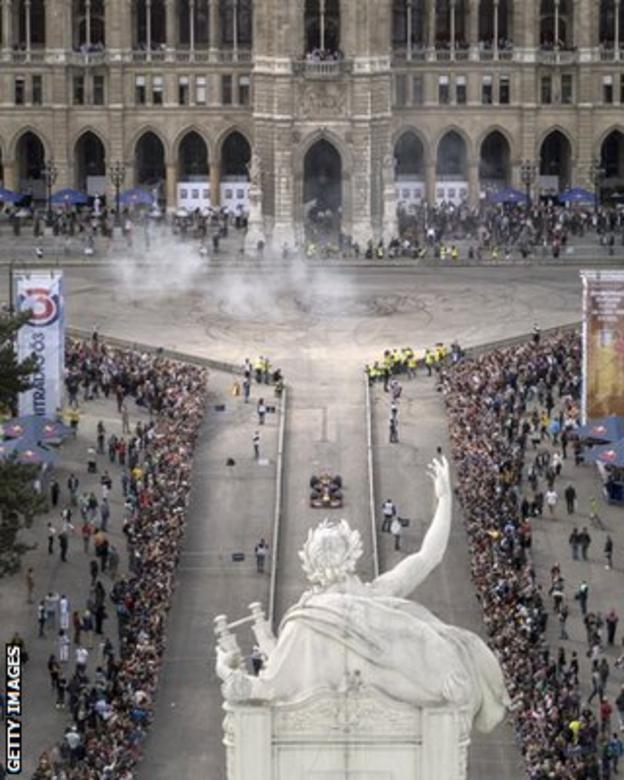 Red Bull boss Christian Horner believes drivers Daniel Ricciardo and Daniil Kvyat will both need nine engines this season rather than the four allowed. "We've used three in three races - so the chances of us staying within the limit of four is close to zero," he said. (Formula1.com)
Formula 1 chief Bernie Ecclestone believes the sport could operate using two engine types to keep costs down for 2017. (Motorsport.com)
Australian Daniel Ricciardo showed off his Red Bull F1 car to fans outside Vienna's City Hall, performing a series of stunts and speedy doughnuts. (Guardian)
F1 aerofoil technology is being used to help make supermarket fridges more energy efficient, solving 'cold-aisle syndrome'. Williams has teamed up with Sainsbury's to keep cold air in the fridge and not be wasted in the customer aisle. (Auto Express)
Thursday, 23 April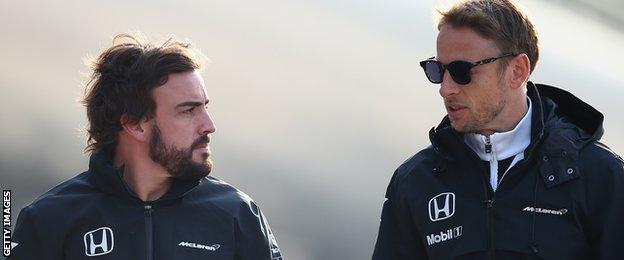 Mercedes' non-executive chairman Niki Lauda believes Lewis Hamilton will have a signed a new contract with the team by the Spanish Grand Prix on 10 May. (Blick -in Swiss)
Eric Boullier, racing director of McLaren, says his team can be competitive again by the "end of next year." (New York Times)
But drivers Jenson Button and Fernando Alonso believe the Monaco Grand Prix will give McLaren their best chance for a good result. (Motorsport.com)
Daniel Ricciardo's season could hinge on a fax. The Red Bull driver is one engine away from a 10-place grid penalty, having used four engines so far this season. But Red Bull say all the teams agreed to use five engines per car during the season and it would just need a vote by fax from the strategy group to approve the rule change. (Fox Sports)
Ferrari team principal Maurizio Arrivabene has revealed he sat down with Ferrari's designers in December and demanded they build a car that would better suit Kimi Raikkonen this year. (ESPN)
Nico Rosberg has been enjoying an ice-cream with his dog Bailey. (Nico Rosberg Instagram)
Wednesday, 22 April
Fernando Alonso needs to "keep his nerve" at McLaren according to retired two-time F1 world champion Mika Hakkinen. (Express)
Williams driver Valtteri Bottas says the team are making progress in their efforts to catch Mercedes and Ferrari after his fourth-place finish in Bahrain. (Motorsport.com)
Lewis Hamilton tweeted a picture of himself jet-surfing at home in Monaco and wrote: "Perfect day on the water!! Love being home, but the water's still FREEZING #jetsurf." (Lewis Hamilton on Twitter)
McLaren's Jenson Button has been training for this weekend's London Marathon in Hyde Park with his wife Jessica Michibata. He posted a picture on Instagram of the pair, writing: "London Marathon training with the missus in Hyde Park." (Jenson Button on Instagram)
Red Bull driver Daniel Ricciardo has tweeted to says he is "looking forward to the European season" after his sixth-place finish in Bahrain. (Daniel Ricciardo on Twitter)
Tuesday, 21 April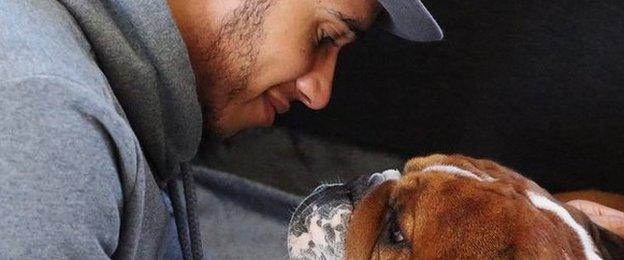 World champion Lewis Hamilton says that he feels more comfortable in this season's Mercedes than last season's model in which he won the world title. (Guardian)
Footage has emerged of Max Verstappen, 17, meeting seven-time world champion Michael Schumacher when the Renault driver was a young boy. Verstappen's father Jos was Schumacher's team-mate at Benetton in 1994. (Fox Sports)
Hamilton admits that younger brother Nicholas, who in June will make his debut in the British Touring Car Championship, is similarly reluctant to take advice as he shares his "stubborn" streak. (Daily Mail)
The world champion has returned to the United Kingdom for a reunion with pet bulldog Roscoe. (Lewis Hamilton on Twitter)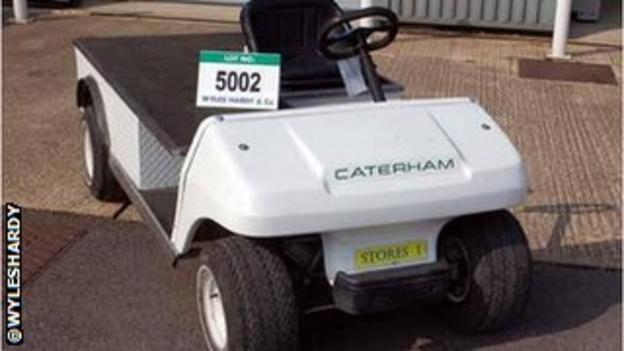 The assets of the Caterham team - which went into administration in October - are continuing to be auctioned off. One of the lots that has recently gone up for sale is a team-branded golf buggy. (Wyles Hardy on Twitter)
McLaren racing director Eric Boullier expects the team to win points at the Spanish Grand Prix in three weeks' time after a chassis and engine upgrade. (Autosport)