David Coulthard column: 'Lewis Hamilton has a different aura'

By David Coulthard
BBC F1 co-commentator and former F1 driver
Last updated on .From the section Formula 1
Four races into the 2015 Formula 1 season, it has been a dream start for Lewis Hamilton.
He went into the season with some question marks about the transition in his private life, following his split with former girlfriend Nicole Scherzinger.
But he hit the ground running in Melbourne and everything we have seen since - including his victory in Bahrain on Sunday - is a happy, relaxed racing driver.
He seems to have developed the ability Mika Hakkinen had of being either unaware of, or unaffected by, whatever is happening in the media or the world around him, outside of driving his racing car and whatever his private passion is away from the race track.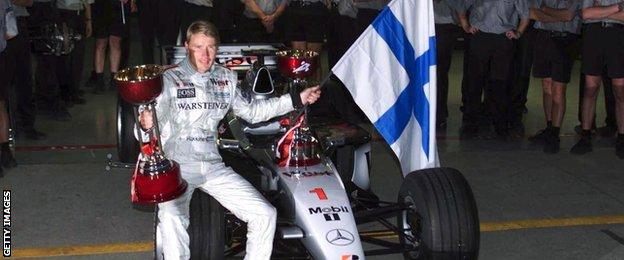 There is a different aura about Hamilton this year. He seems more aware and connected than before.
I found him a bit distant for a while, almost as if you would have to reintroduce yourself; you know: "My name's David, I used to be a grand prix driver."
Now, he's reflecting on that, he'll mention it, comment on it. It's not like we lost Lewis, but he is certainly now completely comfortable with who he is, right down to his own sense of style and fashion, which Mercedes are happy to let him express.
At the same time, he is not allowing that to distance him from his past - after all, the F1 paddock is full of people he has either worked with, competed against or who have helped him along the way.
'Ferrari are a real challenge'
Ferrari's hopes of beating Hamilton and Mercedes to the championship lie in their rate of development. They have definitely finessed their package over the winter and are coming from much further back than Mercedes after a poor 2014.
The whole team has taken a step forward. And now, following Kimi Raikkonen's performance in Bahrain - where he looked a serious challenger to team-mate Sebastian Vettel for the first time, they have two drivers who can take the fight to Mercedes.
Two world champion drivers in a car that looks like it is one step away from being a Mercedes race-beater is a potent package, and one Mercedes are taking seriously.
Mercedes still look like they have an advantage in qualifying, with their extra engine modes, but Ferrari are a real challenge in the race.
Hamilton appears to be a small step ahead in the races, but it would not take much for Ferrari to challenge him.
The under-cut - making a pit stop before a rival and gaining time through the extra grip from fresh tyres - was so powerful in Bahrain that Hamilton was pretty close to losing the lead.
He is a great racer and would more than likely be able to get the lead back if he did lose track position.
But once you're having to drive the car in turbulent air you don't have the rhythm you have when you're out front, so it would not be a shoo-in that he would be able to find his way back in front again.
Just look at how Vettel was neutralised behind Valtteri Bottas's Williams in Bahrain for evidence of that.
Hamilton's team-mate Nico Rosberg, meanwhile, went into Sunday's race with a point to prove.
He needed to out-qualify Hamilton, which did not work out. But he came back from that very well and it was the strongest racing grand prix I have seen from Rosberg since he has been Hamilton's team-mate.
It was only a technical problem that cost him second place, so Rosberg gets 10 out of 10 for racing composure.
It was a strong grand prix from Nico and if he is able to unleash that sort of performance at the forthcoming races, Hamilton will have a lot of pressure on him.
Raikkonen raises his game
Raikkonen has been quick all season, but Bahrain was the first time a weekend has properly come together for him.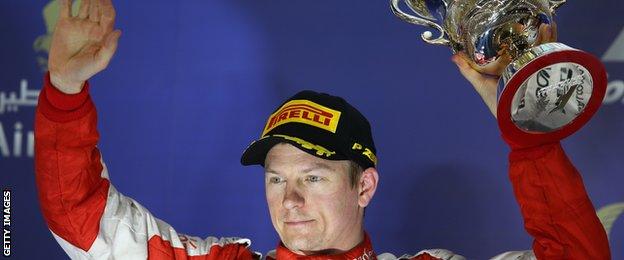 Raikkonen's racing life has gone through cycles. He appeared to lack interest in 2009, the last year of his first period at Ferrari before he went off to rallying, and last season it was almost like there was a transition going on as well.
But it looks to me as if Raikkonen has realised this is his last roll of the dice, and performances like we saw in Bahrain are enough to lengthen his career by a year.
Of course, Raikkonen has a new team-mate in Vettel, and there will always be a question about where Fernando Alonso would be in that car had he stayed at Ferrari, given how strongly he out-performed Raikkonen in 2014.
But it looks to me as if Raikkonen has upped his game this season - and, like Hamilton, he appears to be more relaxed and open.
He walks hand in hand with his partner through the paddock. He even smiles and engages with you these days, when in the past it was almost as if he would be trying all he could to avoid any eye contact or any form of communication.
There is undoubtedly a new airiness to Ferrari, but I don't think that is necessarily down to Alonso leaving and Vettel arriving.
The new team boss, Maurizio Arrivabene, has brought a lightness and Italian-ness back to Ferrari, which was maybe not there before.
Predecessor Marco Mattiacci just seemed like he was bringing procedure in his short-lived reign. He did not get it right on any level.
Mattiacci did not connect with the paddock or the business of F1, which is the sport. You can't just work by numbers in F1 - if you could, Toyota would have dominated in the 2000s, instead of failing spectacularly.
Arrivabene, on the other hand, is getting it right.
McLaren on the up
McLaren have had a very poor start to the season by their standards, but they have lived up to their promise of steady improvement and are undoubtedly on the cusp of getting their first points of the season. And once they have, it will be a regular occurrence.
The Honda engine has been so far off the pace that McLaren have not had any sort of performance, but the signs are that it is a very tidy car.
I don't buy into this idea they have been selling that its shrink-wrapped packaging means it is going to be a big step forward over everything else - Alonso was sliding around quite a lot in Bahrain, so there is still movement in that car.
That might be influenced by them having to take downforce off it because they are so far down on power; we will find out in time.
But McLaren are one of a few teams in F1 who have a history of being able to develop their car well in-season - even if they have had to do it rather too often as a result of the car being poor at the start.
They may feel as if they have been given a hard time by the media, but rightly so. We have high expectations of McLaren and Honda and they have not delivered. But they will.
The paddock wants that partnership to work.
McLaren, Honda, Alonso and Jenson Button are too big a players in F1 not to have a starring role in the movie.
At the moment they are extras, but I don't see that continuing for that much longer.
David Coulthard was talking to BBC Sport's Andrew Benson