F1: Williams' £42.5m losses a 'hangover' from 2013 season
Last updated on .From the section Formula 1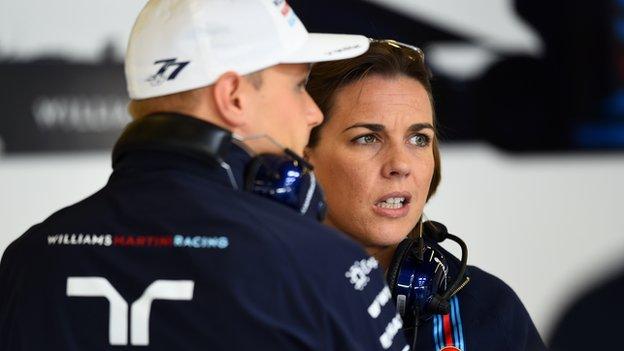 Williams has announced a loss of £42.5m in 2014, blaming the deficit on a "hangover" from recent failure.
Williams finished ninth in the 2013 Constructors' Championship - the lowest finish in their history - which led to reduced prize money and sponsorship.
The British team - third last year - made a £11.9m profit in 2013.
"While 2014 at first glance was disappointing, it really was what we anticipated. We're on track," said chief executive Mike O'Driscoll.
"What we are reporting today is essentially a hangover. We expect 2015 to be materially, significantly, better than 2014."
Williams, currently third after four races this year, had a turnover of £71.2m last year, compared to £106m in 2013.
The whole Williams group, which includes its technology and engineering services, reported a loss of £34.3m - after making profit of £11.9m during the previous year.
The latest figures also included bonus payments of £3,000 for each of the group's 660 employees as a result of the team's improved performance last season.
Williams, which made its constructors' debut in 1978, has won nine team titles and seven Drivers' Championships.
The last success in both championships came in the 1997 season when Canadian driver Jacques Villeneuve claimed individual success.
It was founded by team principal Sir Frank Williams, whose daughter Claire is deputy team principal.
BBC Sport chief F1 writer Andrew Benson:
"Williams' 2014 financial results don't look great on paper but the team insist they are a reflection of their struggles in the previous year rather than the current health of the team.
"Williams had the worst year of their history in 2013, finishing ninth in the championship. This led to reduced prize money, which is paid the following year.
"In 2013, they also had to apply to their books a multi-million pound pay-off they received from the backers of former driver Pastor Maldonado for breaking his contract, rather than in 2014, when the money was actually applied to the budget.
"The increased prize money the team received for finishing third in 2014 will be accounted for in 2015 - as will extra sponsorship revenue they gained following that success."