Silverstone boss questions Formula 1 entertainment value

By Andrew Benson
Chief F1 writer
Last updated on .From the section Formula 1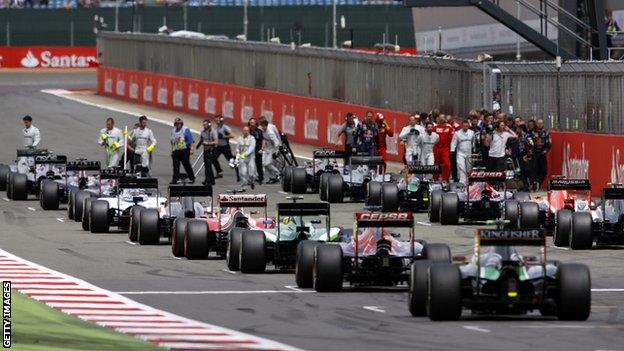 Formula 1 is not providing enough entertainment value for its fans, says the boss of British Grand Prix venue Silverstone.
Managing director Patrick Allen made the criticisms despite ticket sales for this year's race being up 26%.
"F1 could do more for the fans. It could make drivers more accessible," Allen said.
He added that the racing was "too processional" and that the new turbo hybrid engines were too quiet.
"We need the noise back," Allen said. "Sometimes I wonder whether the technical directors should be on the podium rather than the drivers because it seems you could put anyone in the cars.
"I wonder if the product is right for the fans.
"If we see dwindling fans and viewing figures falling away, people will start to question the value of the television rights."
Allen's criticisms closely echo some of those made recently by F1 boss Bernie Ecclestone, who has been a long-time opponent of the new engines and wants to instigate major change in the sport, believing it to be too expensive.
Despite viewing figures dipping in some major markets last year, including Italy and Germany, they have rebounded again in the first four races this season.
Allen, who took over at Silverstone in January after previous executives were suspended in October, has launched a series of initiatives aimed at increasing ticket sales for this year's F1 grand prix on 5 July.
These centre on reducing prices and increasing crowd numbers, after a number of years in which the previous management had raised admission costs and capped the number of people allowed in over the race weekend.
He said ticket sales were "going well" but urged F1's governing body the FIA and commercial rights holders FOM, of which Ecclestone is the boss, to "look at making the cars more challenging for the drivers" and come up with rules that "produce closer racing".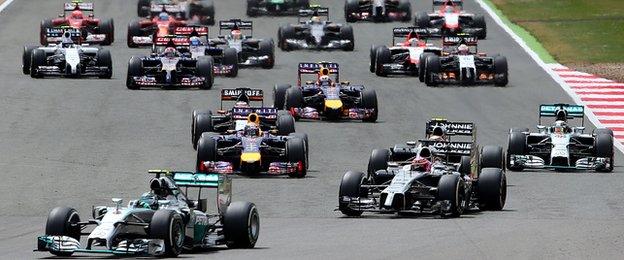 Allen said Ecclestone had "put out the hand of friendship that he would like to help Silverstone and that we should get together and come up with some ideas, but that meeting has not taken place yet".
He admitted that Silverstone would struggle to keep the grand prix profitable as the current 17-year staging contract, signed in 2009, runs its course because of price escalators built in each year.
But he said that he viewed Silverstone as a year-round business and that the plan was for the circuit's facilities and other events to subsidise the grand prix.
Allen also admitted that there was a concern that F1 would lose its historic European races, following the collapse of the German Grand Prix this season.
He said that the Concorde Agreement, which binds teams to the FIA and commercial rights holders, "says the FIA will protect heritage sites as long as the promoter can afford the sanctioning fees".
He claimed this clause was "toothless" and said he would "like to see a bit more bite from the FIA - if we're going to have a governing body, it should govern".