Formula 1 2016: Australian Grand Prix to start two weeks later

By Andrew Benson
Chief F1 writer
Last updated on .From the section Formula 1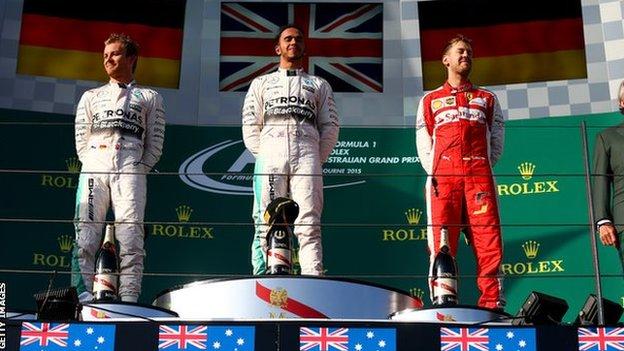 The season-opening Australian Grand Prix has been pushed back two weeks in 2016, organisers have announced.
The race on 3 April will mean the latest start to a Formula 1 season since 1988, when the Brazilian GP was held on the same date.
Organisers of the race in Melbourne's Albert Park said the event would have an earlier start time than recently.
Moving the event back will compress the F1 calendar, which in 2015 has a number of large gaps between races.
Most noticeable among these are three weeks between the most recent race in Bahrain and the next in Spain on 10 May.
And as a result of the cancellation of the German race on 17 July, only one grand prix - the Hungarian on 26 July - takes place between the British event on 5 July and the Belgian on 23 August.
The Australian race had been moved to late afternoon in recent years to boost television viewing figures in Europe.
But as the 2016 event will take place after the start of Australian daylight saving time, later into the Antipodean autumn, the 17:00 or 16:00 local start time that has been usual will no longer work.
However, it is typical for race dates to be moved a number of times between the first iteration of the calendar for any given year and the final, confirmed list of dates.