Spanish GP: Nico Rosberg relieved to secure "important" pole
Last updated on .From the section Formula 1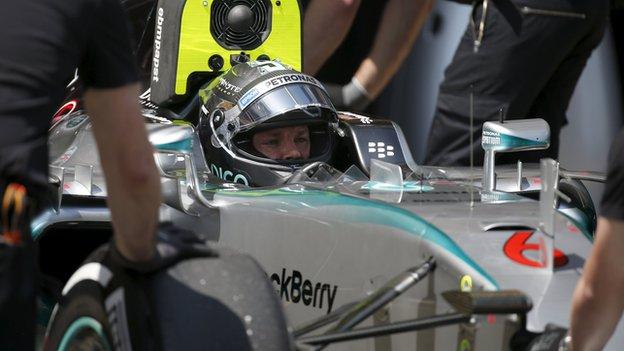 By Andrew Benson, Chief F1 writer at Circuit de Barcelona-Catalunya
Nico Rosberg admitted that beating Lewis Hamilton to pole position for the first time this year in Spain was important for his title challenge.
The German, 27 points adrift in the championship, had been beaten by his Mercedes team-mate in qualifying and race at all four previous grands prix.
Rosberg said: "Of course I needed it sooner rather than later.
"It's just one step in the right direction to winning this race. It was a good day in the office."
Hamilton took second place 0.267 seconds adrift of Rosberg and said he had been unhappy all weekend with the balance of his car, which lacked rear grip.
The reigning world champion said Mercedes' policy had not changed from last year and that both drivers would be racing for the win.
"The guy in the lead gets the optimum strategy and the guy behind gets a slightly different one. It is down to you to utilise it and make up for the disadvantage of being behind," Hamilton said.
A close race is expected in bright sunshine in front of a capacity crowd of Spanish fans, whose hero Fernando Alonso will start the race 13th in his McLaren-Honda, one place in front of team-mate Jenson Button.
Have the upgrades worked?
The Spanish Grand Prix is traditionally where teams bring their first major upgrade package of the season.
Ferrari pulled out all the stops, with tweaks to all major bodywork surfaces, but even so Mercedes, who had a more subtle update, extended their advantage.
Elsewhere, a new nose design aimed at boosting the Red Bull's downforce did not help.
Both Red Bull drivers were slower than Carlos Sainz Jr and Max Verstappen of junior team Toro Rosso, who exploited their car's excellent high-speed downforce on this demanding track to take a superb fifth and sixth on the grid.
McLaren had some new parts and made progress in getting both cars into second qualifying for the first time, but Mercedes' upgrade meant they were actually further from the pace than at the last race in Bahrain.
Rosberg has a distinct advantage in starting in front as Barcelona is the track with the highest percentage of wins from pole position on the calendar.
"It's just fantastic to be on pole because on this track it is particularly important," he said. "It is very difficult to overtake here so it is a big advantage for tomorrow."
On the evidence of the weekend so far, Rosberg and Hamilton are likely to have the race to themselves.
Ferrari have brought a major upgrade to this race, with revisions to nearly all the aerodynamic surfaces of the car, but they have been further behind Mercedes than at any race since the season-opener in Australia.
Vettel, who was the only driver to beat Hamilton so far this season when he won the second race in Malaysia, qualified third and said: "Being realistic, they are quick. They are not on pole and second by chance.
"They showed in every single session this weekend that they are very competitive with either tyre. So I expect them to be very strong in the race.
"But of course I hope we can be a bit closer. The past races were a bit closer on race pace, but being realistic it will be difficult to beat them."
He admitted the gap between Mercedes and Ferrari had grown, despite Ferrari's attempts to close it.
"The gap is probably a bit bigger than it was the last couple of races," said Vettel.
"I don't think it is down to one thing only because we are struggling a bit more this weekend."
The German was the only Ferrari driver to run the new parts after Kimi Raikkonen stuck with the old design to provide back-to-back information.
The Finn qualified seventh, behind Williams' Valtteri Bottas, who took fourth, and Toro Rosso's Carlos Sainz Jr and Max Verstappen.