Nico Rosberg's revival stops Lewis Hamilton disappearing out of sight

By Andrew Benson
Chief F1 writer
Last updated on .From the section Formula 1297
BBC Chief F1 writer Andrew Benson
The Spanish Grand Prix was the race Nico Rosberg - and the title battle - needed.
Not in terms of entertainment, perhaps, because there was not a great deal of that at the front of the field. But in the sense that Rosberg halted Lewis Hamilton's runaway momentum and turned what was in danger of becoming a walkover into at least the semblance of a contest.
Hamilton was 27 points clear of Rosberg in the championship heading to Barcelona. The German had not beaten his team-mate in either qualifying or race all season and was rapidly sinking into a battle for second with Ferrari's Sebastian Vettel rather than a title contest with Hamilton.
But what Rosberg described as a "perfect weekend" at the Circuit de Barcelona-Catalunya changed all that.
Does Rosberg's "perfect weekend" give him an edge?
The German had the edge on Hamilton throughout the three days. Rosberg was happy with his Mercedes from the minute he took to the track on Friday morning, while Hamilton never did find a set-up he was happy with.
That was enough for Rosberg to get the better of Hamilton and beat him for the first time since the penultimate race of last season in Brazil last November.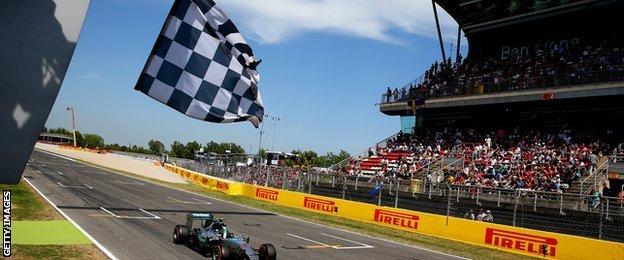 Before the race, 1992 champion Nigel Mansell said this would be a "pivotal" weekend for Rosberg, one on which he had to halt Hamilton's momentum.
After the race, Mercedes non-executive chairman Niki Lauda described it as a "crucial win" for Rosberg.
But both on Saturday after qualifying and on Sunday following the race, Rosberg and Mercedes F1 team boss Toto Wolff played down talk of psychology and shifting momentum.
"Both drivers are mentally very strong," Wolff said, "and as much as people would like to find a dynamic that is pro or against the driver, they come out very strongly - even after a bad weekend or a defeat, after the debrief is over they concentrate on the next one.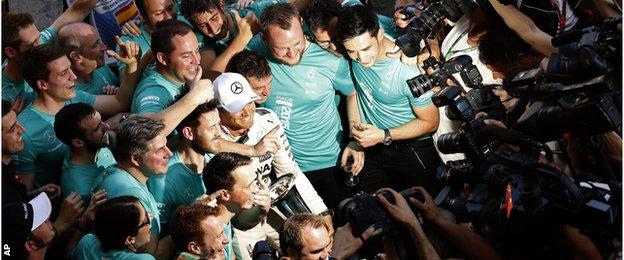 "We saw that last year - 'Is that now Nico on the run? Has the balance swung towards him more? Is it now Lewis?' - and I think probably we are going to see the same again this season.
"They are two drivers who are matching each other, trying to out-perform each other. For us, it is a really good situation because it lifts the performance of the whole team."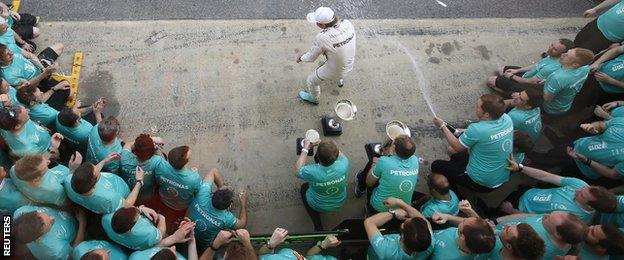 It was a mightily impressive performance from Mercedes all weekend in Spain.
Why has the gap increased?
Pre-race, the talk had been about the potential strength of Ferrari's challenge. Barcelona is a circuit not dissimilar to Malaysia, where Vettel won, in terms of its long-duration corners, high demands on tyres and thorough examination of the all-round qualities of a grand prix car.
Ferrari came to Spain with a huge upgrade to their car. Virtually every aerodynamic surface was new. "It's very impressive," said one senior figure at Mercedes. "A huge amount of work."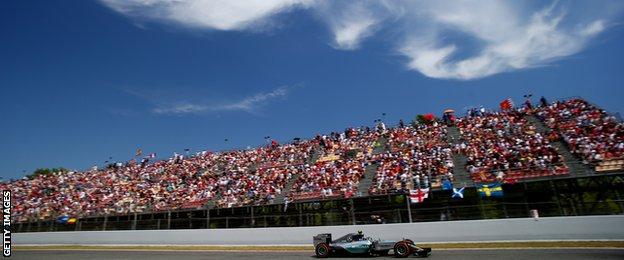 Ferrari hoped to close the gap to Mercedes, but they were disappointed, for it had grown since the last race in Bahrain and was at least as big as it has been at any race so far this season.
Mercedes were possibly further ahead in qualifying in Australia at the start of the year than they were in Spain this weekend, but on race pace their advantage in Barcelona was bigger even than in Melbourne.
This was underlined most impressively by Hamilton's race. Stuck behind Vettel in the first stint after a poor start caused by a systems malfunction, Mercedes' attempt to 'undercut' the Ferrari at the first pit stops foundered because of a problem with the wheel gun on Hamilton's left rear.
Told by Hamilton that overtaking Vettel on track was going to be impossible, Mercedes decided to switch him onto a three-stop strategy, one more than Vettel.
When they made the call, the Mercedes strategists expected that Hamilton would have to pass Vettel on track at some point during the final stint, calculating that he would rejoin the track for the last time five seconds behind the Ferrari.
That would not have been a problem because of the grip disparity there would have been between the two men's tyres by that stage.
But two things meant it was not necessary. First was Hamilton's blistering pace on the 'hard' tyres on which he did his third stint - he made up more than 10 seconds in the eight laps before Vettel's final stop. Second was that Vettel then struggled when he put the same type of tyres on for his final stint.
By lap 50, 18 laps after his stop, Hamilton had made up the 23 seconds he needed to be able to stop again and rejoin without losing his position, which he duly did.
The big question, of course, is why the gap between Mercedes and Ferrari was so big in Spain - effectively doubling from about 0.4secs or so to nearly a second.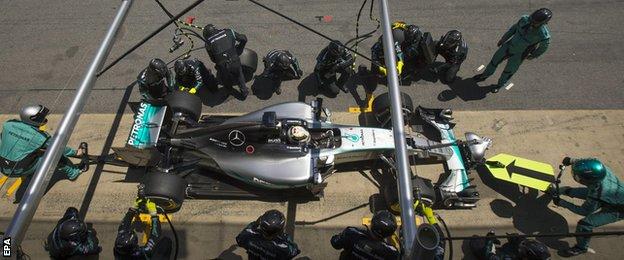 Barcelona is renowned as perhaps the toughest test for a grand prix car's all-round capabilities, its combination of long-duration corners of varying speeds and a fiddly final sector providing an examination of the machinery's aerodynamic and mechanical qualities.
No Silver bullet
The Mercedes was already known to the be the best all-round car, but the Ferrari has strong performance in high-speed corners — and Vettel was indeed within a tenth of a second or two of the Mercedes in the first and second sectors of the lap.
Wolff insisted there was "no silver bullet", and pointed to the half-second advantage Mercedes had in the twisty final sector as the main source of their lead. Ferrari team boss Maurizio Arrivabene said the red cars were struggling for traction there.
Up and down the paddock, though, there were other theories.
Governing body the FIA issued a technical directive over the weekend, on the subject of fuel flow.
A maximum fuel-flow rate - of 100kg per hour - is central to the new hybrid formula. The directive was a requirement for teams to ensure that the rate never dropped below 90kg/hour. It is the second intervention by the FIA in this area since the start of the season.
The FIA has not said it has found anything untoward with any team, but the suspicion was that some teams may have been finding a way to collect fuel in the system, and redeploy it later. This, some engineers said, could provide as much as a 5% boost in power for a short period.
The new directive should end the gossip on this subject in the paddock.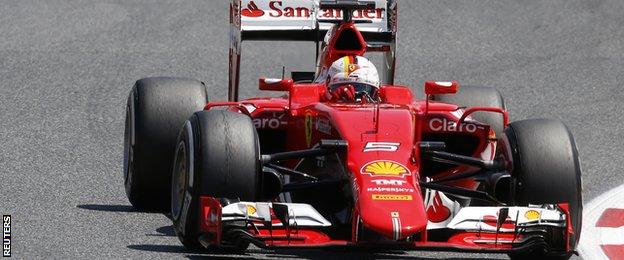 Meanwhile, Mercedes and other teams have their suspicions about Ferrari's rate of aerodynamic development, and Mercedes have discussed their concerns with the FIA - they are wondering whether they may be finding a way around the restrictions on wind-tunnel development time.
This conjecture focuses on the new US-based Haas team which is to enter F1 next year. Haas has a close partnership with Ferrari, from whom they are buying as many parts as is allowed under the regulations.
Haas are also using Ferrari's wind tunnel to develop their car - and as a team that are not yet racing they have no restrictions on how much they can use it. Inevitably, perhaps, there are those who wonder whether Ferrari might be taking advantage of this situation to do more development on their own car than they are strictly allowed.
It should be emphasised at this point that Ferrari insist that the FIA is fully across its relationship with Haas and everything is above board.
If nothing else, though, these rumours reveal the tenseness of the situation at the top of F1, where teams are always mistrustful of each other.
Whatever the explanation for the relative pace of Mercedes and Ferrari in Spain, it was certainly there and that does not bode well for Vettel.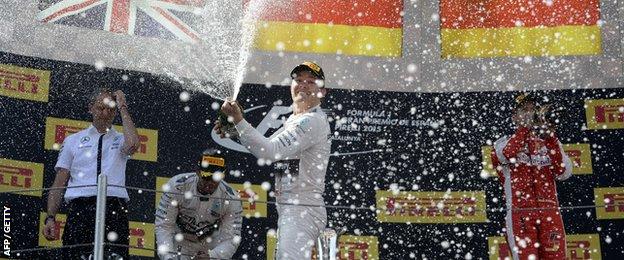 The final sector at Barcelona tends to be a good indication of form at Monaco, the next race weekend on 21-24 May, so Mercedes' advantage this weekend suggests they will be in good shape for a third consecutive win in the principality.
Vettel says he is "looking forward to being a bit closer to them again in Monaco" - and says he is still in the title race.
But if Mercedes continue with the form the showed in Spain, it will be Vettel and Ferrari facing the "pivotal" weekends long before Rosberg does.