Fernando Alonso's visor caused Spanish Grand Prix retirement
Last updated on .From the section Formula 1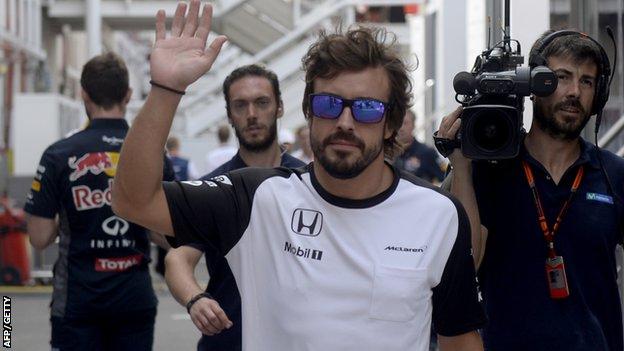 By Andrew Benson, chief F1 writer
Fernando Alonso's Spanish Grand Prix retirement was caused by a tear-off strip from his own helmet visor blocking one of his rear brake ducts.
The odds of this happening are minuscule but the incident caused overheating and then total failure of the McLaren driver's rear brake system.
The Spaniard overshot his pit, forcing a mechanic to take avoiding action.
The team saw the tear-off as soon he retired and realised it had come from his helmet after further investigation.
Tear-offs are sheets of clear plastic worn over the helmet visor so they can be removed when they become too dirty for drivers to see clearly, because of debris flicking up from the track.
Drivers wear four or five tear-offs for each race.
Normally they are blown harmlessly away to the side of the track, but Alonso's must have been caught by the air flowing over his car and directed straight into the rear brake duct.
Alonso had run as high as seventh in Sunday's race, although he had dropped to 14th by the time he retired.
The two-time champion said he felt he could have claimed McLaren's first points of the season had he not been forced to quit.
Team-mate Jenson Button said his McLaren was "scary" to drive and that he does not "expect points at all this year".
The race was won by Nico Rosberg, whose Mercedes team-mate Lewis Hamilton came second.