Formula 1 gossip: Hill, Monaco, Button, Wolff
Last updated on .From the section Formula 1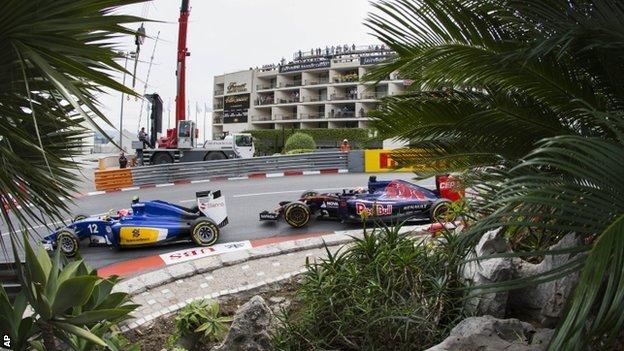 Sunday, 24 May
Former world champion Damon Hill says the sport is in danger of dying unless it respects its traditional circuits by keeping them on the calendar. (Observer)
F1 chief executive Bernie Ecclestone is believed to be disappointed that McLaren turned down an invitation for their drivers Jenson Button and Fernando Alonso to attend Saturday night's traditional pre-race cocktail party hosted by Prince Albert of Monaco. (Mail on Sunday)
Pirelli's tyres for Sunday's Monaco Grand Prix have been criticised for being too hard and having a lack of grip. (Autosport)
Jenson Button has criticised the traffic during Formula 1 sessions throughout this weekend's Monaco Grand Prix as "the worst it has ever been". (Autosport)
Mercedes boss Toto Wolff says that three of the current Formula 1 teams have already been in touch with the German car maker to discuss customer cars. (Motorsport.com)
Saturday, 23 May
Formula 1 is stuck in the past with its current tyre sizes and should switch to bigger ones that are more commercially relevant, according to Michelin motorsport director Pascal Couasnon. (Daily Mail)
Toro Rosso driver Max Verstappen, 17, says he is only "quite close" to where he wanted to be at this stage of his career as he is not scoring points in every race. (Formula1.com)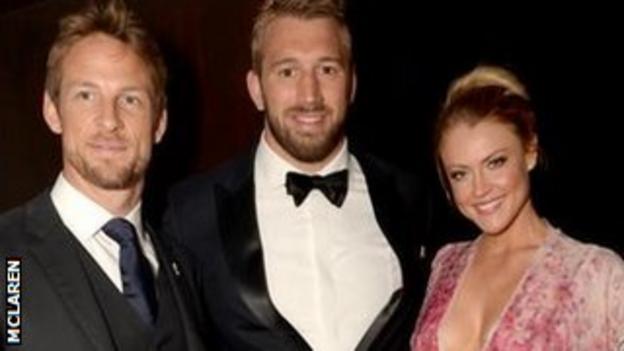 Plans for the first F1 race in Azerbaijan next year are on schedule, according to race organisers. (Autosport)
F1 chief executive Bernie Ecclestone has revealed the concept of customer cars was discussed at a strategy meeting last week. The 84-year-old wants all teams to have the same car chassis and believes the new approach will create better drivers. (Autosport)
But Force India deputy principal Bob Fernley has criticised Ecclestone and his strategy group, declaring it "not fit for purpose". Fernley - who is part of the talks - claimed "the fundamentals of F1 weren't addressed at all" in the most recent meeting. (ESPN F1)
McLaren driver Fernando Alonso believes he has seen some "very promising" results when evaluating his car's performance before the Monaco Grand Prix. (Daily Star)
Friday, 22 May
Lewis Hamilton took a break from his preparations ahead of the Monaco Grand Prix as he attended the star-studded Cinema Against AIDS gala in Cannes. (Daily Mail)
Former McLaren driver Mika Hakkinen has given a detailed guide on how to win at Monaco. "You have to learn not only every turn and every twist, but also every ridge, every rut, every kerb and every white line," says the 46-year-old. (McLaren.com)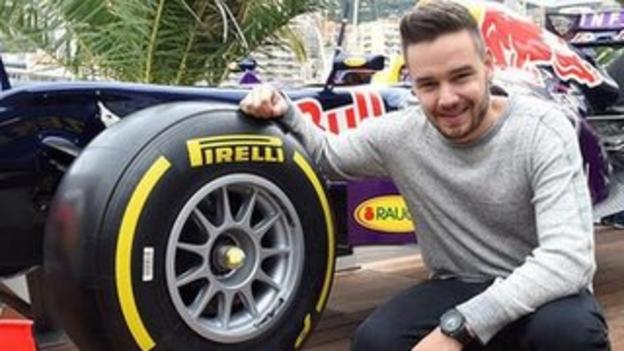 Monaco is known for its glitz and glamour and adding his stardust to the Principality is One Direction's Liam Payne. "Great to see Liam Payne onboard the Red Bull Energy Station today," tweeted Red Bull Racing.
Toro Rosso rookie Max Verstappen, 17, struggled to believe he was second fastest in his first Formula 1 session in Monaco, but he now thinks a top-five start is achievable. (Autosport)
McLaren's Jenson Button has said he was impressed by how the two Toro Rosso drivers - Max Verstappen and Carlos Sainz - performed during the first two practice sessions for Monaco. (F1i.com)
Thursday, 21 May
Jenson Button says he "exaggerated" after the Spanish Grand Prix when he said his McLaren was the "scariest" F1 car he had driven. (Fox Sports)
Nico Rosberg says his relationship with Mercedes team-mate Lewis Hamilton is "complicated" and "neutral". (Daily Express)
Sebastian Vettel has played down suggestions Ferrari will struggle more at this weekend's Monaco Grand Prix than at other circuits this season. (ESPN)
Lewis Hamilton "barely celebrated" his new three-year deal with Mercedes. "There was no champagne, I was on my own," said Hamilton. (Mirror)
Red Bull's Daniel Ricciardo says changes are needed in F1 because he believes fans have lost some respect for drivers. (F1i.com)
Ricciardo is a big fan of the Monaco Grand Prix. He writes on Twitter: "I'll say it every year. This place is ridiculous. As a racer or a fan it really is something special."
Lotus driver Romain Grosjean also likes Monaco, but prefers to be on the track than on the water. He says on Twitter: "Busy first day here in Monaco. Good to see so many fans. Few interviews on a boat confirming that I'm still seasick."
Manor driver Will Stevens, who is an Arsenal fan, says it was "pretty surreal, but really cool" playing in the same team as former Gunners defender William Gallas in a charity football match. (Yorkshire Post)
Wednesday, 20 May
Former world champion Damon Hill has warned Lewis Hamilton that his party lifestyle could ruin his career. (Daily Express)
The McLaren team endured scathing criticism from chairman Ron Dennis at a post-race debrief in Spain - with racing director Eric Boullier singled out. (Daily Mail)
Williams's Felipe Massa has backed the proposed return of refuelling in 2017 as he believes it will lead to more exciting "sprint" racing. (Sky Sports)
Meanwhile, Massa captained a Formula 1 team to victory against a celebrity XI featuring tennis world number one Novak Djokovic and ex-France international defender William Gallas, in a charity football match in Monaco's Stade Louis II. (Daily Mail)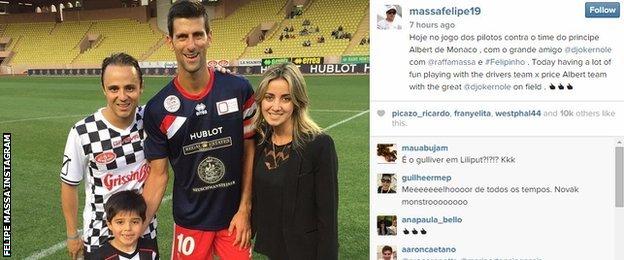 Daniel Ricciardo believes Red Bull are "not strong anywhere" on the track. (Autosport)
India is not returning to the F1 calendar any time soon, following the end of the New Delhi race in 2013. (New Indian Express via PaddockTalk)
Kimi Raikkonen fully expects to be given the same chances as Sebastian Vettel, even if his Ferrari team-mate mounts a title challenge. (Crash.net)
Nico Rosberg exchanged gifts with Prince Albert of Monaco at an invitational meeting in France, with the Mercedes driver handing over a Baby Benz and a mini SLS electric car for the prince's twins.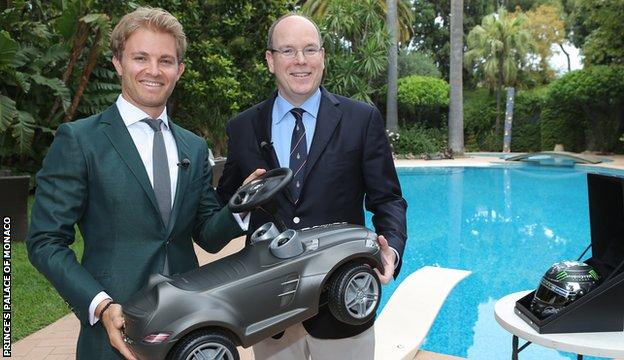 Tuesday, 19 May
Mark Webber says his relationship with former Red Bull team-mate Sebastian Vettel is improving. Vettel ignored team orders to pass Webber and win the Malaysian Grand Prix in 2013, but the pair made up while on a flight together recently. "We're not inside the boxing ring anymore," said Webber, who now races in the FIA World Endurance Championship. (Fox Sports)
McLaren driver Fernando Alonso expects the team to score their first points of the season in Monaco this weekend. (Sky Sports)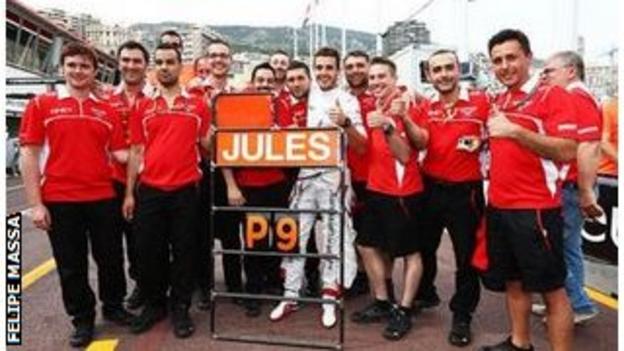 Red Bull boss Christian Horner has bought his new wife, former Spice Girl singer Geri Halliwell, a DB5 retro-style Aston Martin, worth £350,000. The pair are now on their honeymoon in Cannes, France. (Coventry Telegraph)
Manor Marussia team principal John Booth says the Monaco Grand Prix "is going to be tough for everybody" as they reflect on the absence of Jules Bianchi, who remains in a coma after his crash at Suzuka last October. Bianchi finished ninth at Monaco last year, the only points the team have ever won. (Reuters)
Williams driver Felipe Massa posted a picture on Twitter of Bianchi and the Marussia team at Monaco in 2014 with the message: "Missing you here bro."
Pirelli motorsport director Paul Hembery says the new supersoft tyre, which will be used for the first time this season in Monaco, will be "crucial" in the outcome of the race. (F1i.com)
Audi say they have no plans to enter Formula 1, despite recent newspaper speculation. (Reuters)
Monday, 18 May
World champion Lewis Hamilton says he finds it hard to believe his Formula 1 record is close to bearing comparison with his childhood hero Ayrton Senna. (Crash.net)
Honda motorsport boss Yasuhisa Arai believes there are key areas where the Japanese company will have to spend the engine upgrade tokens available to it in F1. (Autosport)
Former Ferrari boss Luca di Montezemolo is to dedicate his induction into the Automotive Hall of Fame to seven-time world champion Michael Schumacher. (Pitpass)
Red Bull's Daniel Ricciardo is excited about Sunday's Monaco Grand Prix, saying that driving around the circuit is "like trying to do a lap in a supermarket, and that's just so, so cool". (Crash.net)
Williams' driver Valtteri Bottas posted a picture of the Monaco start-line and tweeted:"At this time in one week, the race will start here!"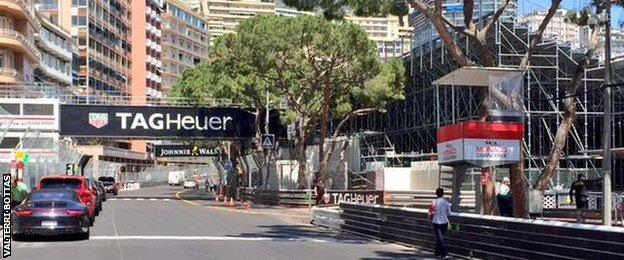 Toro Rosso's Carlos Sainz says he will not get carried away after making a positive impression in the first five races of his F1 career. (F1i.com)
Gene Haas has "no regrets so far" on entering F1 despite the difficulties in setting up his new American team for next season. (Autosport)