Monaco GP: Fernando Alonso says F1 went 'in wrong direction'

By Andrew Benson
Chief F1 writer in Monaco
Last updated on .From the section Formula 1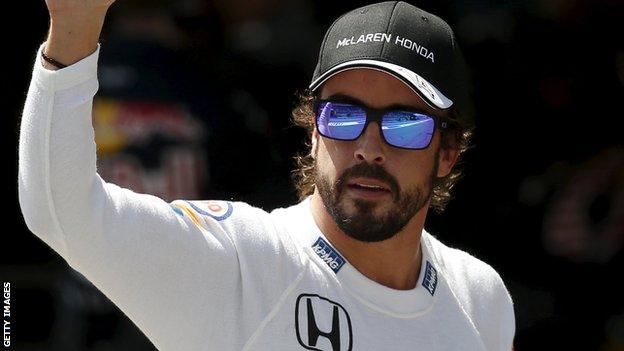 Monaco Grand Prix
Venue:
Circuit de Monaco-Monte Carlo
Dates:
21-24 May
Live text and radio commentary via the BBC Sport website and app, plus qualifying and race highlights on BBC One.
Full coverage details here.
Fernando Alonso says rule changes planned for 2017 suggest Formula 1 has been going "in the wrong direction".
"If they happen, we will get rules like seven or eight years ago," said Alonso. "For the last four or five years we've been going in the wrong direction."
Alonso added that it has been a decade since he felt physically and mentally worn out at the end of a grand prix.
"They were eight seconds quicker," the 33-year-old said of the cars from his title-winning seasons with Renault in 2005 and 2006.
"The engineers did some calculations. The winner of Malaysia this year would have been lapped six times by the winner of Malaysia in 2006.
"So when you are eight seconds a lap quicker, that is very demanding physically and mentally and everything was pushed to the limit."
The McLaren driver said it was now crucial for modern F1 machinery to be made faster.
He said the cars' lack of pace - in race conditions they are only slightly faster than their GP2 equivalents - had led to falling spectator numbers.
"We cannot run one second quicker than GP2 cars because the grandstands are empty," Alonso said. "It is a sign it was not going in the right direction.
"Hopefully now it is a good change and we can see the fastest cars in the world in the future."
The Spaniard said he supported the plan to bring back refuelling, which was banned at the end of 2009, because it made race strategies more variable.
Alonso also said he would like to see a return to competition between two tyre manufacturers. F1 has been a control-tyre formula since 2007, first with Bridgestone and then from 2011 with Pirelli.
"Tyre competition would help F1 just because everyone will push to the limits," he said.
"I experienced tyre competition for some years with Michelin and Bridgestone and then the single tyre with Bridgestone, so that change was quite big from 2006 to '07.
"The tyres were amazing in 2006 from both companies because they pushed each other to the limits and we had super-fast tyres that were also able to do the whole race distance in 2005.
"And then in 2007 the tyres were a completely different thing. At that time Bridgestone made a step backwards and relaxed a little bit."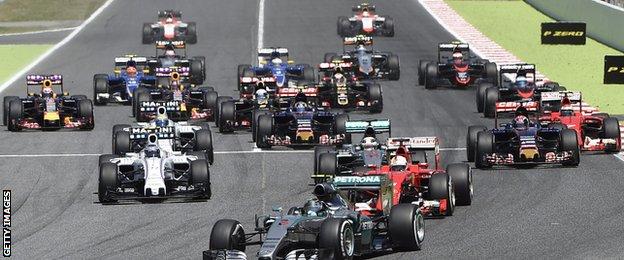 Alonso's team-mate Jenson Button also backed the planned changes, saying: "The sport is in a good place right now but there is always room for improvement."
The 2009 champion has misgivings over the return of refuelling, saying that safety risks and costs had been cut by its absence.
But he added: "In terms of racing, I think it was great. If you had an issue on lap one, you could change your race around, you could do something different, whereas now it's very difficult."
Ferrari's Kimi Raikkonen said the changes would make the sport "much nicer" and "more like it used to be".
He added: "That's the right way to go. Hopefully it will happen."
BBC's chief F1 writer Andrew Benson
Monaco: a wonderful anachronism of a race, in which 900bhp Grand Prix cars are wrestled around narrow hillside streets barely wide enough to cycle on.
F1 has its problems at the moment but, however jaded you are, there is nothing quite like the barely controlled violence, the sense of impossibility suspended, of the very best drivers at work there.
In the Pirelli era, the race itself has become a bit of a joke - cars trundling around nose to tail, seconds a lap under the limit, to ensure the super-soft tyres can last long enough to do the ideal one-stop race.
But as an event, still nothing quite matches Monaco.