Monaco GP: Refuelling won't help racing, says Christian Horner

By Andrew Benson
Chief F1 writer in Monaco
Last updated on .From the section Formula 1
Monaco Grand Prix
Venue: Circuit de Monaco-Monte Carlo Dates: 21-24 May
Live text and radio commentary via the BBC Sport website and app, plus qualifying and race highlights on BBC One.
Full coverage details here.
Red Bull team principal Christian Horner has said that the plan to re-introduce refuelling to Formula 1 may be a mistake.
Horner said: "Perhaps a bit more time to consider it might show it was not the best thing.
"If it's going to create better racing, I am all for it. But at the moment I can't see that it will."
Refuelling was used in F1 from 1994 to 2009, but was dropped for cost and safety reasons, and because the races had become formulaic.
Horner added: "We need to be a bit careful. People have short memories. We got rid of refuelling for good reason - not just cost but because the races became more tactical between the teams.
"You are going to slow the pit stops down, fuel according to what competitors do, the races could become more stagnant."
Horner is the second major team principal to express his reservations about the idea - BBC Sport has spoken to another who wished to remain anonymous but said he was "not a fan of it but I think we need to explore it".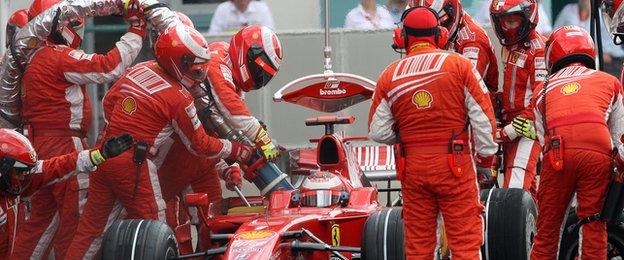 Other changes planned are to make the cars wider, with wider rear tyres and bigger front and rear wings to make the cars five to six seconds a lap faster.
Jos Verstappen, who was involved in a fire during a pit stop in the 1994 German Grand Prix, said: "It is a good thing for F1, more exciting in the pits, different strategies. It's good.
"There is always a risk, but all the teams are very professional, we all have fire extinguishers. I think not a lot can happen."