Max Verstappen: Providing the excitement Formula 1 needs?
Last updated on .From the section Formula 1
A botched pit stop, attacking racing, inventive tactics and a dramatic crash.
Max Verstappen, the 17-year-old Toro Rosso rookie, may not be old enough to take his A-Levels yet, but he is certainly taking Formula 1 by storm.
Mercedes fluffing Lewis Hamilton's chances of victory in the Monaco Grand Prix will dominate the headlines.
However, in a week when F1 has been debating new rules designed to make the sport more exciting, Verstappen certainly played his part in elevating Sunday's race from a boring one to arguably the most dramatic of the season.
A stop to drive him nuts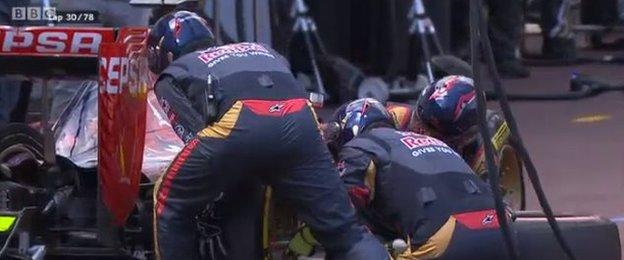 "An epic pit stop. Greek novels have been shorter than this," said BBC Radio 5 live F1 correspondent James Allen as Verstappen spent 31 seconds in the pit lane on lap 30.
It was not the start of the chaos on his Sunday as the teenager had already bumped into the back of Pastor Maldonado - a man known for collisions himself - prior to the Lotus driver's retirement.
It would not be the first time we were excited by Verstappen's eagerness and not even half a minute spent watching his scurrying pit crew struggle with a rear wheel nut dampened his spirit.
Like a Scalextric car, he set about sling-shotting his way through the field.
Did you know? Max Verstappen's dad - former F1 driver Jos Verstappen - was involved in one of the most dramatic pit lane fires of all time when his Benetton ignited at Hockenheim in 1994.
Sneaking into Seb's shadow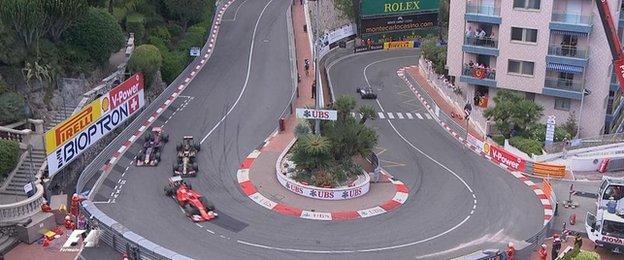 Verstappen lost places as a result of the botched pit stop, but found an inventive way of clawing them back.
With Sebastian Vettel, running in third, arriving to lap the back markers, Verstappen pounced on the opportunity to slip in behind the Ferrari as others moved out of the way of the former world champion.
"If I stay with Vettel it's easier for me to overtake," said Verstappen on team radio. "Agreed", came the response.

The result? He passed a dumfounded Carlos Sainz before nipping past a perplexed Valtteri Bottas.
It was tactic that would not have looked out of places in Wacky Races, a move Dick Dastardly would have been proud of, until he was thwarted by Romain Grosjean. The Lotus had been made wise to his antics on his own radio and cut him off once he had let Vettel by at the hairpin, a place near impossible to overtake at the best of times.
Did you know? Max Verstappen's mum Sophie won titles in karting.
The turning point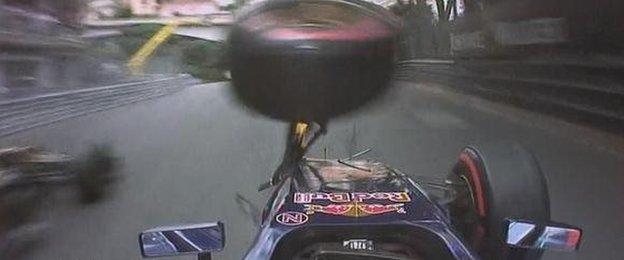 Verstappen was undoubtedly proving to be the star of an otherwise forgettable race.
However, moments from showing just how smart a driver he can be, the teenager perhaps showed just how naive he can be on lap 64 of 78.
On the tight and twisty circuit, notoriously difficult on which to overtake, Verstappen found himself too close to Grosjean to be able to react to the Lotus braking and smashed into its rear, launching himself head on into the barriers at Sainte Devote.
Verstappen, fortunately, was uninjured, the damage only to his car, pride and chances of a points finish at the next race in Canada. He was given a five-place grid penalty for his part in the incident.
The crash, though, was to prove pivotal in the outcome of the race. The safety car appeared and Hamilton went into the pits, providing Nico Rosberg with the opportunity to go on and claim a third successive win at Monaco.
Did you know? Verstappen started racing karts aged four, winning national honours at junior events in both Belgium and the Netherlands.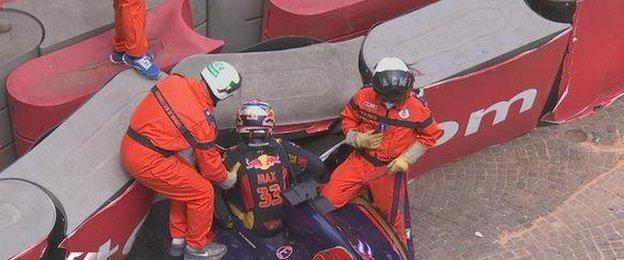 Let me entertain you
Verstappen's rise from the highest echelons of karting, his pedigree and undoubted talent, prompted BBC Sport analyst Eddie Jordan to state "anything is possible" for the teen, who started racing aged four.
As he slickly weaved around rivals in the slipstream of Vettel, race fans tweeted of his "sneaky" style, some calling it "genius", before the day turned sour with the crash.
"I am amazed that Max is ok which is brilliant but hats off to FIA car builders and all safety standards, in our day I would hate to think," tweeted 1992 world champion Nigel Mansell. "It's a shame, if Max had a little more left on track he would have got past ok maybe."
Grosjean used an expletive to describe his fellow driver's move, Verstappen blamed the Frenchman for braking early but social media lapped up the entertainment.
"Well, you can't fault Verstappen for being ballsy. He's 17 years old - plenty of time to improve his racecraft," tweeted OpinionatedF1.
Plenty of time, indeed, though if Verstappen showed us anything at Monaco, it is that he probably will not take his time in his pursuit of glory.