Lewis Hamilton: It's not how you fall, it's how you get up

By Andrew Benson
Chief F1 writer
Last updated on .From the section Formula 1563
The Monaco Grand Prix appeared to be surrendering to Lewis Hamilton from the moment he took to the track for Thursday morning practice.
The world champion was oozing intent from every fibre of his being, from the pre-event media day on Wednesday right through until lap 64 of the race. And then it all went wrong, in the most agonising of fashions.
Thirteen laps later, with a dominant victory turning into a desolate third, the only thing emanating from Hamilton was despair.
A major miscalculation by the engineers and management on the Mercedes pit wall had led to Hamilton stopping for fresh tyres during the safety-car period that followed Max Verstappen's violent crash at Sainte Devote.
A series of unfortunate events in the frantic seconds before the decision was made is what separated Hamilton from a second Monaco victory that he has been seeking for eight years.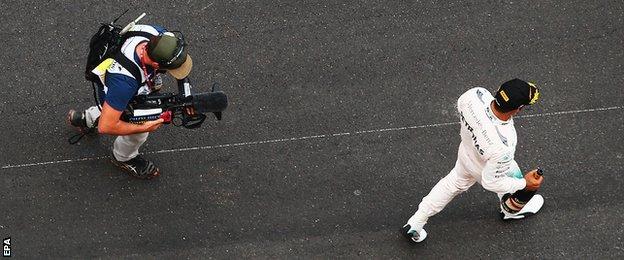 Hamilton had a 25-second lead over team-mate Nico Rosberg, who was just ahead of Ferrari's Sebastian Vettel, when he crossed the line at the end of lap 64. A margin more than enough to make a pit stop and rejoin in the lead.
Thirty seconds or so later, the otherwise impressive Verstappen misjudged his positioning behind Romain Grosjean's Lotus, even though the Frenchman braked five metres later than on the previous lap, smashed into the back of the black car and speared straight on into the barrier.
Race director Charlie Whiting initially deployed the virtual safety car - which controls the speed of the cars remotely - but then decided it was not enough for the severity of the incident and sent out the actual safety car.
Hamilton encountered it at Tabac corner on lap 65, and following it to the pit entry cost him three seconds, according to Mercedes' calculations.
The team's data said he still had enough time to stop for fresh tyres and rejoin in the lead, a decision made - following consultations with the driver, and involving engineers and management - just 50 metres before Hamilton reached the pit entry.
But there was an error in the data, influenced by the fact that the GPS system that gives the engineers a read-out of the exact positions of all the cars at all times cannot be relied upon.
And 19 seconds later, as Hamilton re-emerged on to the track, Rosberg went past. The Briton came out alongside Vettel, who was marginally ahead as they crossed the safety-car line that defines the drivers' positions on the exit of the first corner.
"We've lost this, haven't we?" Hamilton said disbelievingly over the radio, realising the enormity of the team's error.
What made it all the more agonising was that the decision to bring Hamilton in was predicated on a fundamental error of thought - Mercedes did not need to pit him at all.
They made the call because they were worried about Vettel stopping, coming out on fresh tyres and challenging both Mercedes, who would have been on old tyres, for victory in the closing laps.
There were two flaws with that decision, though.
The first is that, as Hamilton proved, overtaking is virtually impossible in Monaco, even if a car behind has a pace advantage of several seconds a lap.
The second is that Ferrari could not have brought Vettel in because he did not have enough of an advantage to pit and rejoin ahead of Red Bull's Daniil Kvyat behind him.
In the circumstances, Mercedes had little choice but to hold up their hands.
What the hell happened there, Mercedes F1 boss Toto Wolff was asked afterwards? "That is exactly the right question," he replied. "The simple answer is, we got the maths wrong."
To a man, Mercedes handled the aftermath impressively. Rosberg admitted to "mixed" feelings, said he had "empathy" for Hamilton, because it "really sucks" to lose a race like that, was open about the fact that his team-mate had the beating of him in Monaco.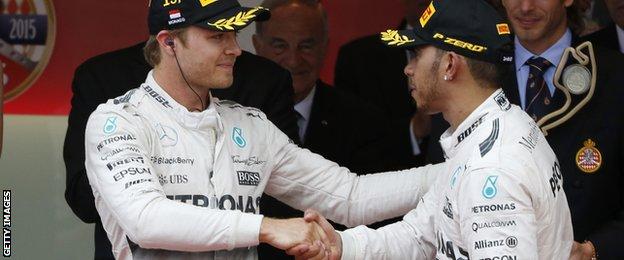 And Hamilton, who could have been forgiven for an emotional outburst, was calm and measured, even if his hurt was transparent.
"It's not necessarily how you fall," he said. "It's how you get up."
The pain will have been all the greater because Hamilton had absolutely owned the Monaco weekend.
He was in virtuoso form in free practice on Thursday, attacking like no other from the moment he went out on to a track where all the drivers say you have to build up to driving on the limit, so great is the challenge and risk of an accident.
On their first flying laps on a cold, grip-less track, Hamilton was an astonishing 8.5 seconds quicker than Rosberg. By the time the German had made a mistake and hit the barrier at the re-profiled Tabac corner a few minutes later, Hamilton was still four seconds quicker.
It took 10 minutes for anyone to get within two seconds of him - and that was Red Bull's Daniel Ricciardo.
Free practice or not, this is the sort of performance of which motor racing legends are born. Discussing it later with this writer, Wolff rolled his eyes in admiration. "Incredible," he said. "He was on fire."
A second quicker than Rosberg by the end of first practice, Hamilton was 0.7secs ahead when the rain came after 20 minutes or so of the second. He took pole by 0.342secs after Rosberg had made the same error twice - on his final runs in the second part of qualifying and the top 10 shoot-out - as he tried to get near to his team-mate.
It was pure talent shining through and it is driving like that makes Hamilton such a natural fit with Monaco.
After his first win in 2008, which followed a narrow defeat by McLaren team-mate Fernando Alonso on his debut in 2007, no-one would have thought it would take Hamilton so long to win again in Monaco.
And yet the fates have conspired against him, whether through driving errors, car failures at inopportune moments, other team errors or - last year - Rosberg's controversial trip down the escape road in qualifying that conspired to deprive Hamilton of a likely pole.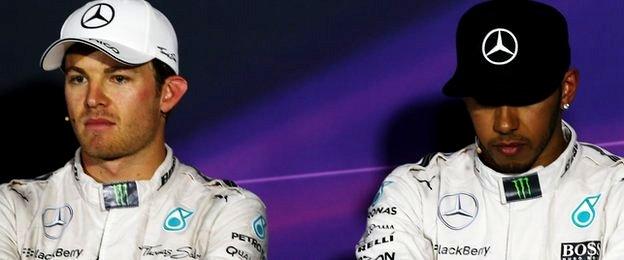 He had been hurt by being beaten by Rosberg last year, had analysed weaknesses he believed he had had in Monaco for the last few years at certain corners and arrived determined to put them right, as he revealed in his pre-race column on BBC Sport.
"I was just going through my lap now," he said after qualifying, "and I was quickest in all those areas where I was weaker, which is a real positive."
Right now, positives will be hard to find, after losing a certain victory and seeing his championship lead cut in half, all through no fault of his own.
If there will be a consolation, it will be that the next race is Canada, where he also excels.
Ironically, Montreal's Circuit Gilles Villeneuve was another track where, last year, Rosberg beat him to pole - after Hamilton over-drove in qualifying - and a win got away from him, following a brake-by-wire failure.
After a weekend like this, his determination and resolve to make amends will be immense.