Formula 1 gossip: Hamilton, Verstappen, Maldonado & Rosberg
Last updated on .From the section Formula 1
Friday, 29 May
Lewis Hamilton played a crucial role in the decision to pit in Monte Carlo which cost him the race. Until now the blame has been taken by the Mercedes strategy team and their management. (Daily Mirror)
Red Bull is open to changing its driver line-up for 2016, according to the Dutch newspaper De Telegraaf. The news follows Dutch teenager Max Verstappen's debut for the junior outfit Toro Rosso this year, even though he had a heavy crash in Monaco. (grandprix.com)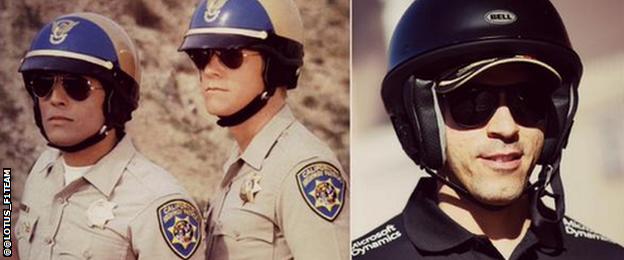 Lotus driver Pastor Maldonado has been likened to the two motorcycle police officers in the 1970s and 80s American TV series CHiPs after being spotted wearing similar headgear. Lotus F1 Team tweeted: Spotted in Monaco. Could @Pastormaldo be auditioning for a CHiPs revival series? #rumours.
A search has started to find a new Formula 1 team, with the governing body seeking to add a new entry as early as next year. (PlanetF1.com)
Alcohol sponsorship in F1 will continue, despite a damning report from a European health organisation. (Crash.net)
Thursday, 28 May
Mercedes boss Toto Wolff says no-one will lose their job as a result of the team's strategy miscalculation at Monaco that has been blamed for Lewis Hamilton losing the race. (Sky Sports)
Williams test driver Susie Wolff has explained her fitness routine in a German magazine. She tweeted: "Talking through my workout regime in @Sportmag_Ladies & no, I don't look like that when I'm really training."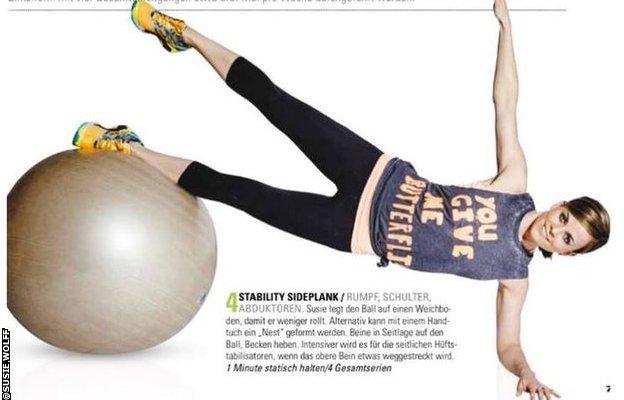 Red Bull's Daniel Ricciardo has welcomed the reintroduction of wider tyres for 2017 and suggested it will separate the better drivers from the rest of the field. (Autosport)
Kevin Magnussen has claimed that there "would be something wrong" if GP2 Series leader and fellow McLaren protege Stoffel Vandoorne does not land an F1 drive next season. (Crash.net)
F1 engine manufacturers plan to increase the noise level of the current V6 hybrid power units a year earlier than planned in 2016. (F1i.com)
Mercedes driver Nico Rosberg has told German media that his seven-month pregnant wife Vivian is his "lucky charm" after she recovered from morning sickness to attend his Monaco Grand Prix victory and he wants her to travel to the next race in Montreal. (Wheels24.com)
Fernando Alonso's manager Flavio Briatore has defended the Spaniard's move from Ferrari to McLaren, despite the two-time world champion failing to score a point so far this season, while Ferrari have had five podium finishes. (PlanetF1.com)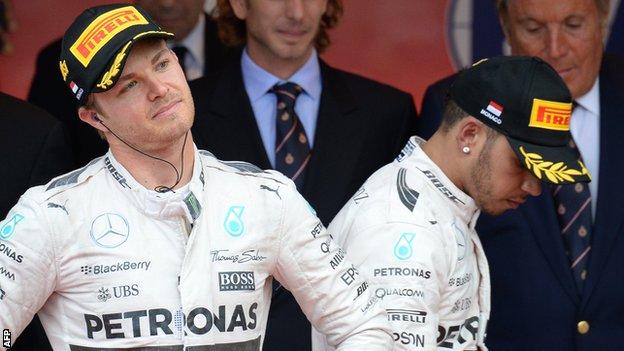 Tuesday, 26 May
The Mercedes team will meet at their factory and hold an inquest into how they lost the Monaco Grand Prix for Lewis Hamilton. (Daily Mail)
Mercedes driver Nico Rosberg has suggested he will not change despite criticism from Formula 1 boss Bernie Ecclestone that he is "not good for business". (Telegraph)
Ferrari's Sebastian Vettel says his team must address why they are so far off the pace of Mercedes in qualifying. (ESPN)
Lewis Hamilton has been romantically linked to Kim Kardashian's half-sister Kendall Jenner. The 19-year-old's mum Kris Jenner thinks the driver would be perfect for her model daughter. (Daily Mirror)
Ferrari team boss Maurizio Arrivabene has joked that Kimi Raikkonen should be given some "homework" after the Finn struggled in qualifying. (Sky Sports)
Renault's director of operations Remi Taffin says his team will not give up on catching Mercedes and Ferrari. (Crash.net)
Fernando Alonso says "being a bit of an actor" is an essential quality of being a F1 driver. (Formula1.com)
Monday, 25 May
Formula 1 boss Bernie Ecclestone has personally explained to Nico Rosberg why having his Mercedes team-mate Lewis Hamilton as world champion is better for business. (formula1.com)
Red Bull team principal Christian Horner says the team are not leaving F1 despite issues with Renault over their engine. (Autoweek)
Former world champion and Mercedes non-executive director Niki Lauda says the decision to pit Lewis Hamilton cost him victory at the Monaco Grand Prix and described the decision as "unacceptable". (ESPN)
Hamilton was noticeably absent from the Mercedes group photo after the Monaco Grand Prix. (Daily Mail)
Felipe Massa has questioned Max Verstappen's experience after the teenager's high-speed crash at Monaco. The Williams driver said: "I think it was very dangerous for him to be honest, because he is 17, if he is hurt then everybody will talk about: 'Why did they give the licence to a guy who is 17 and he is doing that?'" (Fox Sports)