Lewis Hamilton: Mercedes driver will recover - Toto Wolff

By Andrew Benson
Chief F1 writer
Last updated on .From the section Formula 1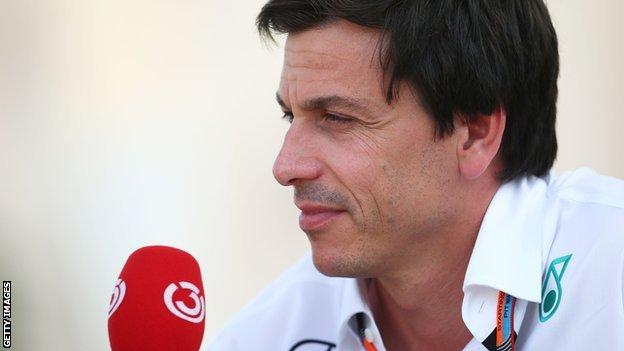 Mercedes boss Toto Wolff says Lewis Hamilton will bounce back from the disappointment of losing the Monaco Grand Prix.
Hamilton was cruising to victory in Monaco on Sunday only for a strategy error by Mercedes to drop him to third.
"He has such mental strength and is on a roll," Wolff said.
"It must be very sore to lose that one because it was his to win but I have no doubt he will recover as quickly as he always does."
Hamilton, who has won three of the six races this year and taken pole for four of them, was leading by more than 20 seconds when a late-race safety car led to a panicked decision by Mercedes to pit him for fresh tyres.
In the confusion the team miscalculated the gap behind Hamilton, and his team-mate Nico Rosberg and Ferrari's Sebastian Vettel passed him as he rejoined the track.
Hamilton said: "There is no single person to blame. We are a team and we win and we lose together. I am not the most upbeat but I will somehow turn it around.
"I tried everything to win this weekend but next year, I will come back and try to be a bit stronger."
'From dominance to desolation'
"The world champion was oozing intent from every fibre of his being, from the pre-event media day on Wednesday right through until lap 64 of the race. And then it all went wrong, in the most agonising of fashions."
Read Andrew Benson's assessment of the Monaco Grand Prix
The result halved his championship lead over Rosberg to 10 points with five of the 19 races completed.
Wolff said the mistake was a result of an error in the data which the team rely on to make such decisions.
He said he had told Hamilton: "Sorry, we've let you down."
Mercedes' non-executive chairman Niki Lauda, a three-time F1 champion, said: "A top team should not make mistakes like this. I am really upset because it was not necessary.
"It was the wrong decision to bring him in. It was very obvious. There was no risk to keep him out."