David Coulthard column: Lewis Hamilton mature enough to cope

By David Coulthard
BBC F1 co-commentator and former F1 driver
Last updated on .From the section Formula 1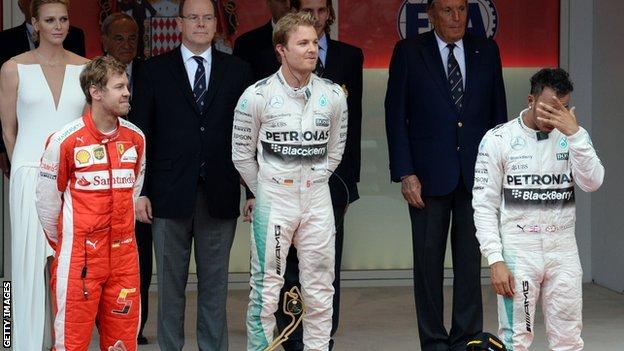 Lewis Hamilton will be hurting after finishing third in the Monaco Grand Prix following a team error, but he is a professional. He'll get over it.
As a racing driver, you always have to keep these things in context. Yes, that was everything you had worked for over that weekend - but you have your health and family, and life goes on.
Hamilton dominated the Monaco Grand Prix weekend and, once he is over the initial disappointment of losing the race, that is what will stick with him.
It's true that following disappointment in Monaco last year, Hamilton had two or three shaky races. But he is in a much better place this year.
He is older, wiser and capable of dealing with it in the way he might not have been able to so easily in the past.
All racing drivers have been there.
I had an engine failure when I was leading the Italian Grand Prix. I led in Canada one year and McLaren brought me in for a pit stop I didn't need and the clutch failed. I've been on pole position and the electronics have shut the engine down - in Monaco, actually.
My biggest disappointment was at Brazil in 2003, when I had led the majority of the race, overtook Michael Schumacher in the wet, and the team brought me in one or two laps before 75% distance.
Then Mark Webber had a massive crash, Fernando Alonso smashed into the debris and had another and they stopped the race. The rules dictate a lap countback to establish the results, and that lost me the race.
I was so frustrated after that. I went straight from the circuit to the hotel bar, arrived at dinner with McLaren boss Ron Dennis already considerably the worse for wear and had to be put to bed.
But once I'd got over the hangover, the consolation was that I had driven a really good race.
How you win matters.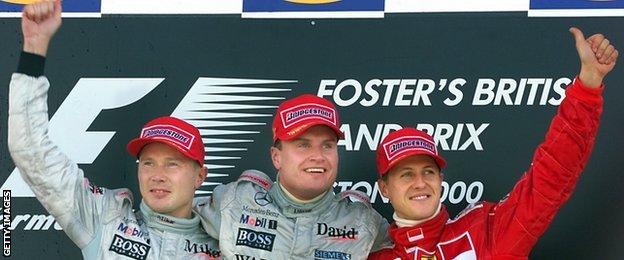 As important as that Monaco trophy is, it does not define Hamilton as a man or as a racing driver. He did everything during that weekend to humble his opponents.
His team-mate Nico Rosberg admitted Hamilton had been "incredible" in Monaco, and that he had been lucky to win.
In my career, if I stood on the podium with Schumacher on one side and Mika Hakkinen on the other, I knew I had performed at my very best.
When I stood there with Nick Heidfeld and AN Other, because Mika's wheel had fallen off and Michael had blown up, it was a win, but in no way was it the same. It is about competition. And what makes it special is if you beat someone.
Lewis will have woken up on Monday morning in his own apartment, in his home town, with his friends around him.
Although he lost the race, and Rosberg won, Hamilton knows full well that he crushed everyone in Monaco, and Rosberg knows it too. That is the mindset they will both take to the next race in Canada.
Emotions make F1 tick
Two shocking things happened in the closing stages of the Monaco Grand Prix, and they served as a reminder that Formula 1 - and sport in general - are about emotion.
The first was Max Verstappen's Toro Rosso crashing into the back of Romain Grosjean's Lotus. Viscerally, immediately, we all know what that means. Is he going in the air? How big is this shunt going to be?
Thankfully, Verstappen got out and walked away.
The other thing that left us speechless was Hamilton coming into the pits. At the time, we were trying to understand - did he have a puncture? Was something else wrong? - because there was no logical reason under normal racing conditions for him to come in and pit with so few laps to go. Especially in Monaco.
In that situation, the leader simply does not have to come in on a track as tight as Monaco.
Of course, we found out soon enough that it was a team error, but the bigger picture for me was that it showed this sport's success depends on its ability to connect with us emotionally.
At the moment, there is a lot of concern within F1 about whether it is going in the right direction. Rules are being changed. There are a number of fan surveys going on.
But Monaco was a reminder that it doesn't matter if the cars have a V9.5 engine with a battery pack powered by a nuclear coke can or whatever; that does not excite emotion.
What does, is a driver spectacularly crashing and walking away, like the heroes they are.
A mere mortal would have broken bones in that crash. But racing drivers are trained for those very incidents.
When F1 drivers spend several hours a day doing physical training, it's not just for driving the car, it is so they can survive violent accidents.
A team with the right attitude
Mercedes made a terrible strategy mistake, but you have to admire the way they handled it.
In Belgium last year, when Hamilton and Rosberg collided, there was no PR nonsense. They blamed Rosberg straight off the bat.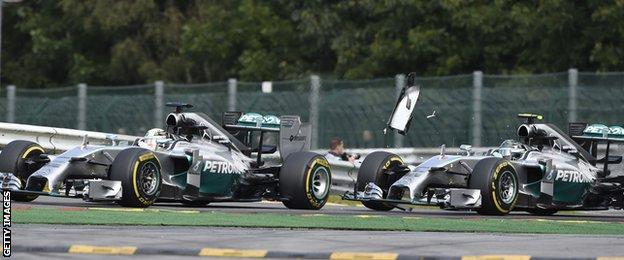 It was the same in Monaco. They admitted it was an error, quite rightly did not blame one person and said they were not happy about it.
Far better that than some wishy-washy PR rubbish of the sort F1 fell into for several years.
Verstappen will learn from error
Max Verstappen was driving a great race until his accident, with very clever race-craft and some smart and brave overtaking manoeuvres.
I can sympathise with both drivers involved in the incident.
Verstappen is only 17. He is growing up in the public eye - which is not easy. He made a mistake, cost another driver the chance of a result and could have seriously injured himself.
But F1 needs crashes as much as it needs technical excellence.
Of course he has blotted his copybook, but I have seen many great drivers make mistakes.
The loser was Grosjean. He braked later than he had the lap before, so was faultless in that respect, but still got rammed up the back.
But he was on a defensive line and these things happen. If you enter the boxing ring, you can't be surprised if you get hit.
David Coulthard is a 13-time grand prix winner. He was talking to BBC Sport's Andrew Benson.