Canadian GP: Lewis Hamilton wary of Ferrari's pace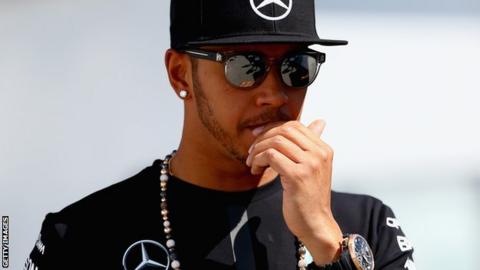 Canadian Grand Prix
Venue: Circuit Gilles Villeneuve. Dates: 5-7 June.
Live TV, text and radio commentary via the BBC TV, BBC Sport website and app. Full coverage details here.
Lewis Hamilton is wary of the potential threat from Ferrari ahead of qualifying at the Canadian Grand Prix.
The world champion's Mercedes set the pace in both practice sessions on Friday, before crashing in torrential rain.
But Ferrari looked fast enough to worry Mercedes.
"The car is feeling really good out there, but Ferrari have possibly picked up the pace with their engine, which will be interesting," Hamilton said.
"But I think we are still going to be strong. I think we are still in good form. I feel good this weekend and I feel good with the car, very much the same as the last race."
Sunday's race starts at 19:00 BST, and Ferrari have brought an upgraded engine to Montreal, with a power boost which the team say is "not more than" 15bhp.
To produce the improvement, the Italian team have used up three of their permitted 10 remaining engine development 'tokens', which are ascribed to parts of the engine depending on their effect on performance.
Ferrari's Sebastian Vettel, who was second fastest to Hamilton in second practice, said he "hoped" the improvements had led to improved pace.
But technical director James Allison said he suspected Mercedes still had an advantage.
"It's hard to know quite what to make of today," Allison said. "When the weather mucks things up, people tend to work on slightly different programmes and it makes it hard to judge."
Mercedes driver Nico Rosberg said: "Ferrari seem to be very quick so let's see, they looked pretty close. I have to chat to my engineers to see what they think and look into that.
"They know much better than we do, what their real pace is compared to us, because they can see on the data and if they have turned up their engine compared to us and how much fuel they had on board.
"We can see all that and it means much more than the times, actually."
'The Canadian Grand Prix has everything'
For a start, there's the location. On a picturesque island in the middle of the forbidding St Lawrence Seaway, a stone's throw from downtown Montreal, one of the world's great cities.
The place is steeped in history. The race dates back to 1967, this specific venue to 1978, when Quebec-born Gilles Villeneuve won the inaugural race and created an instant national hero out of a man who was to go on to become one of the all-time greats. His legacy remains in the thousands who pack the place out every year.
And then there's the track. Apparently a simple mix of straights and chicanes ring-fenced by two hairpins, it is in fact deceptively difficult. Low-grip asphalt ringed by walls waiting to catch the unwary or careless.
Crashes are virtually guaranteed; breathless racing action, too. Add it all up, and it's no wonder it's one of the most popular races on the calendar.
Ferrari's improvement adds an extra edge to a qualifying session that is expected to be held in dry conditions on the challenging Circuit Gilles Villeneuve on Montreal's Ile Notre Dame.
The semi-street track, which is surrounded by concrete walls, is notoriously difficult and several drivers made errors during Friday's two sessions.
Hamilton heads into the race weekend 10 points clear of Rosberg in the championship after losing the Monaco Grand Prix a fortnight ago following a team strategy error.
The world champion had three incidents in all in practice - a spin at the hairpin in first practice, a trip over the kerbs at the final chicane in second practice and then his terminal crash.
Mercedes had sent him out in what were initially damp conditions to do some practice starts to gather data on the clutch settings ahead of the race.
Mercedes executive director (technical) Paddy Lowe said: "We went out to do some practice race starts. That is a normal part of our P2 programme.
"Unfortunately the conditions worsened quicker than we anticipated and caught Lewis out but it should be fine for Saturday."
Britain's Hamilton, 30, said: "It's generally been a good day so I'm pretty relaxed. It didn't affect our running.
"It was like ice: very slippery."