Max Mosley wants two sets of F1 rules
By Andrew Benson
Chief F1 writer
Last updated on .From the section Formula 1
Former motorsport boss Max Mosley says Formula 1 "needs fixing" as the sport continues to wrestle with decisions over its future direction.
Mosley, president of governing body the FIA from 1993 to 2009, said that "there are clearly things wrong".
"Four of the teams haven't got enough money and other teams have so much money they waste a lot of it," he said.
Mosley said the governance structure that cuts small teams out of decision making was "completely wrong".
'Have two sets of rules'
Mosley was speaking in an interview with BBC F1 chief analyst Eddie Jordan and continued to push his idea that F1 should run to two sets of rules - the current ones for teams wanting to spend as much money as they like, and ones with more technical freedom for those operating under a budget cap.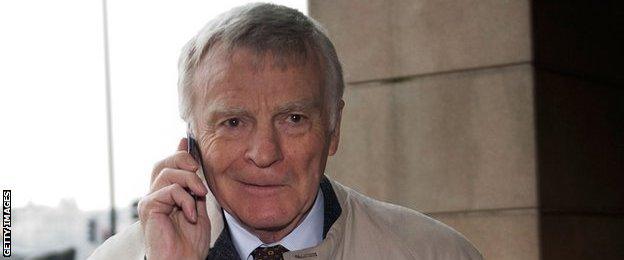 Mosley said: "I would bring in a second set of rules - run under current rules or a second set on condition you operate under a cost cap.
"Because you have more freedom your car would be as quick as the expensive teams. Then you'd get very competitive racing and the smaller teams wouldn't be in as much financial trouble."
He added: "If a small team has less money, the bigger team might just as well have a bigger engine and that is compounded by the way the money is distributed."
'Not a level playing field'
Mosley backed the view of the smaller teams in F1, who are arguing that the distribution of prize money is inequitably split in favour of the more successful teams.
Last year, Ferrari earned $164m (£107.4m) and Red Bull $156m (£102.1m), compared with the $48m (£31.4) given to Marussia and Sauber.
Those figures are calculated on a complicated bonus structure in the teams' contracts, all negotiated separately with F1 commercial boss Bernie Ecclestone, a long-time friend and colleague of Mosley.
Mosley said: "Income should be distributed equally. Bernie says that is communism and the big teams would be against it but it is a sport and sport demands a level playing field.
"If you're giving one team five times as much as another team that is not a level playing field."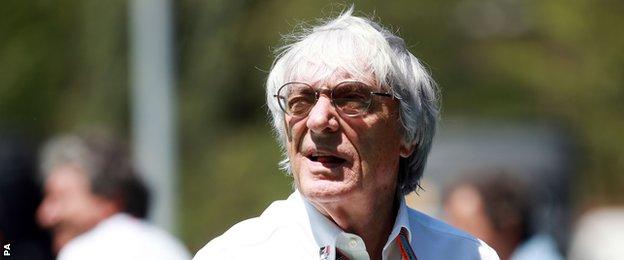 Mosley said Ecclestone, who is 85 this year, was "still getting the job done; it is astonishing given his age, but he is".
Mosley, 75, said he was not interested in a return to a leading role within F1, even if all those involved wanted him to return.
"I'm out of F1," he said. "I was approached in 2013 to stand for election against [his successor as FIA president Jean Todt] and I absolutely wouldn't.
"I have been there and done that and I am into other things and I move on."
The view from Bernie
Over the past year or so, Ecclestone has offered differing interpretations of what is wrong with F1.
He has said F1 should have and does not need a cost cap, that the small teams should get more financial help and that they have only themselves to blame because they chose to sign up to the deals they are now complaining about.
He has also proposed F1 introduce customer cars, supplied by him at £15m a year, to help the small teams if they need them. This idea has been rejected by the teams in favour of a 'franchise' system whereby they buy cars from existing teams if they cannot raise the funds to produce their own.
Bosses are finalising the details of how this would work over the coming weeks.
New rules are being introduced in 2017 to make the cars more dramatic but Ecclestone's desire to abandon the new turbo hybrid engines has been rejected.
Teams have been unable to agree on cost-control plans, other than attempts to limit spending by reducing the number of parts such as gearboxes and engines teams can use in a year.
Ecclestone last year set up the strategy group of leading teams, himself and the FIA to increase his power over F1 but is now saying it should be abandoned because he cannot get his own wishes through.
Watch Eddie Jordan's interview with Max Mosley on the BBC One Canadian Grand Prix qualifying show from 1700 BST on Saturday