Lewis Hamilton slowest in final Canada practice

By Andrew Benson
Chief F1 writer in Montreal
Last updated on .From the section Formula 1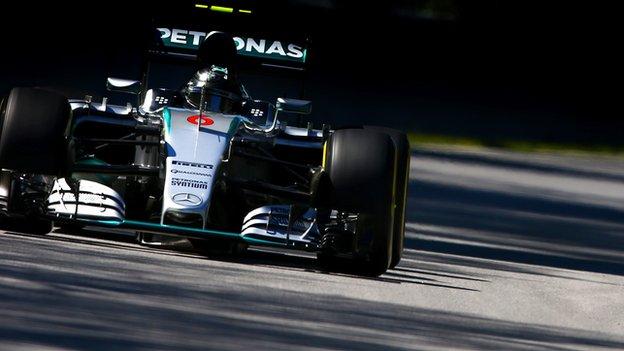 Canadian Grand Prix
Venue: Circuit Gilles Villeneuve Dates: 5-7 June
Live TV, text and radio commentary via the BBC TV, BBC Sport website and app.
Full coverage details here.
Lewis Hamilton was slowest of all in an incident-strewn final practice at the Canadian Grand Prix as team-mate Nico Rosberg set the pace.
Hamilton had a messy session, failing to set a true time on either tyre.
The world champion was slower even than McLaren's Fernando Alonso, who did only one lap because of an engine change.
The session ended early when Jenson Button's McLaren stopped out on track. It was the second stoppage after an earlier crash by Sauber's Felipe Nasr.
For Hamilton, it was the continuation of a difficult weekend after he suffered three incidents on Friday practice, culminating in a crash in the rain.
In the final session, Hamilton complained that he could not get tyre temperature, whether running the slower 'soft' tyre or the faster 'super-soft'.
His fastest lap time - which was 5.8 seconds slower than Rosberg's - was set on the soft tyre after he had to miss the final chicane because he misjudged the entry.
Up to that point, he had been about 0.1secs off Rosberg's pace.
Nasr then crashed on the straight, embarrassingly losing control while trying to warm up his tyres in the unusually cool conditions at the Circuit Gilles Villeneuve.
He later said the crash was caused by him hitting the button that operates the DRS overtaking aid - which reduces rear downforce - while talking to his engineer over team radio.
The red flag was brought out to stop the session to clear up the debris and when it restarted with 12 minutes to go, Hamilton ran wide at the first corner on his first attempt at a flying lap on the super-soft tyre.
Shortly afterwards, Jenson Button's McLaren ground to a halt out of Turn Seven and the session was stopped again to recover the stricken car.
Hamilton will thus go into qualifying at a distinct disadvantage on a weekend when he was hoping to make up for the disappointment of losing the Monaco Grand Prix following a team strategy error.
His eventual third-place finish in Monaco and Rosberg's victory cut Hamilton's championship advantage to 10 points.
Rosberg ended the session nearly 0.8secs clear of Ferrari's Kimi Raikkonen in second place, with Lotus's Romain Grosjean confirming his team's strong form from Friday in third.
Williams's Valtteri Bottas was fourth fastest, ahead of Force India's Sergio Perez, Red Bull's Daniil Kvyat, Williams's Felipe Massa and Ferrari's Sebastian Vettel.
Of the top eight, only Rosberg, Raikkonen and Perez completed a lap on the super-soft tyre that will be used for qualifying.
The top 10 was completed by Toro Rosso's Carlos Sainz and Lotus's Pastor Maldonado.
McLaren had a torrid session. A problem discovered in Alonso's engine overnight meant it needed to be changed and the team managed to get him out with only 12 minutes to go before the end of the session.
The Spaniard managed just one flying lap before the red flag for Button's broken car. Button was 15th fastest overall.
Button had a hybrid system failure and the car cannot be repaired in time for him to take part in qualifying.