Fernando Alonso happy despite 'amateur' jibe in Canada

By Andrew Benson
Chief F1 writer in Montreal
Last updated on .From the section Formula 1
Fernando Alonso does not regret his move to McLaren despite a dispiriting performance in the Canadian Grand Prix.
The Spaniard and British team-mate Jenson Button retired from the race, and Alonso said over the radio that he felt like an "amateur" because the car was uncompetitive.
Alonso insisted he was still confident he was right to leave Ferrari in 2014.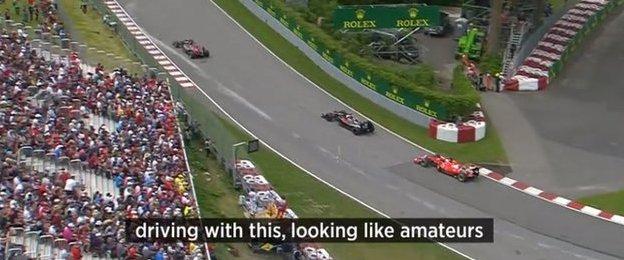 "I was talking to you for five years in third, fourth, fifth place. That was a lot of frustration," he said.
"To beat Mercedes you need to do something unique and different. I believe in this project.
"All the things I see coming for the future races make sense, the programme for developing the car is quite positive.
"I know it is a difficult time for our fans because they need to be very patient but they need to believe because something good is coming."
Alonso's radio message came after he was asked repeatedly by his engineer to save fuel while fighting to hold on to his position against faster cars with more powerful engines.
He replied: "I don't want. I don't want. Already I have big problems now. Driving with this and looking like amateurs. So I'd like to race and then I concentrate on the fuel."
Afterwards he explained: "It was not frustration. It was just a disagreement on when to save fuel.
"When you are surrounded by cars trying to overtake you and you are in the middle of battles, fuel is a low priority in that moment and you will have time later on in the race to save fuel.
"So after three or four reminders of fuel saving I said: 'Let me race now and have some fun and later I will think about the fuel.'"
He added: "Definitely when you are fighting and you get to a group of cars and they are 35km/h quicker on the straight they are like a different category.
"When everyone passes you so easily like that, you look like an amateur driver and that is not good.
"But we know we are not super-competitive now and we need to improve reliability so many things to do in our case but hopefully these weekends give us some lessons to improve things. It was not easy here in Canada but I am sure we will come back stronger."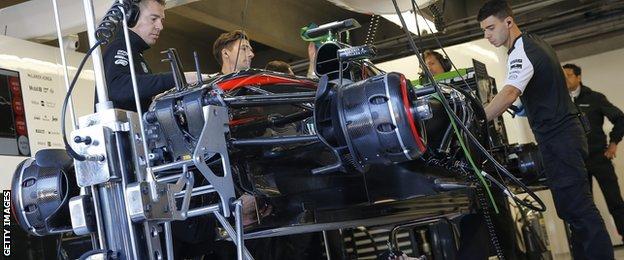 Racing director Eric Boullier refused to criticise Honda for the engine's lack of performance, pointing out that the Japanese company started developing its engine only in 2013, three years after Mercedes began work on its turbo hybrid.
"It is easy to blame the partner but we have to be supportive," he said. "We are offering support to help them accelerate this recovery time.
"To be fair they decided to join two years ago. it is not easy to be here and win. We have a mountain to climb, but it looks like a very high mountain.
"There was a reason to move to Honda and we are happy with the move even if it is frustrating now."