Formula 1 gossip: Vettel, McLaren, Raikkonen, Hamilton, Alonso
Last updated on .From the section Formula 1
Sunday, 14 June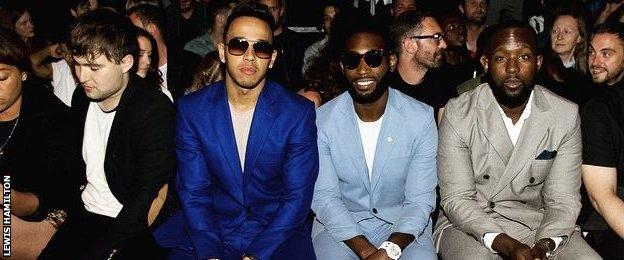 Ferrari's Sebastian Vettel has warned Mercedes pair Lewis Hamilton and Nico Rosberg had "better watch out" for him at the Austrian Grand Prix after his performance in Canada. Vettel finished fifth in Montreal and felt only a grid penalty stopped him challenging for the podium. (Daily Star Sunday)
McLaren have confirmed their new nose design for the MP4-30 car has passed the required FIA crash test and will debut in Austria next Sunday. (NBC Sports)
Britain's Lewis Hamilton and rapper Tinie Tempah wore co-ordinated blue suits as they sat on the front row of a fashion show in London. (Daily Mirror)
Kimi Raikkonen has just three races to impress at Ferrari as their option to extend the Finn's contract runs out on 31 July. (Foxsports)
Fernando Alonso says Le Mans cars look more fun to drive than F1 cars. The iconic 24-hour Le Mans race finishes on Sunday. (ESPN)
Saturday, 13 June
Daniel Ricciardo should have a new chassis for next weekend's Austrian Grand Prix after after venting his frustration with the Red Bull team's lack of performance in Canada. (Autosport)
Red Bull motorsport consultant Helmut Marko believes Formula 1 is over-regulated. He said: "Too many committees and too many people have a say. Let them race. And get rid of the strategy group, because the teams will never agree on anything. Give the authority back to FOM and the FIA." (Formula1.com)
McLaren's Jenson Button tweeted his newly-honoured former team boss at Williams: "Congratulations to Patrick Head for his knighthood, very well deserved buddy."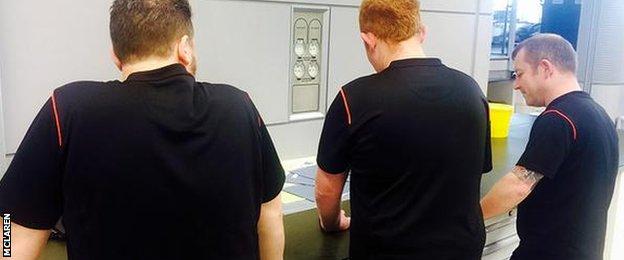 McLaren are hard at work trying to improve their performance after a poor 2015 season to date. They tweeted: "Our hard-working composites team continues into Friday night... #RoundTheClock #KeepPushing #BelieveInMcLarenHonda."
Meanwhile, Honda motorsport boss Yasuhisa Arai remains confident the manufacturer can be competitive by the end of 2015. (Crash.net)
Friday, 12 June
Kimi Raikkonen feels Formula 1 needs to become "a little more dangerous" if it is to become a major attraction for fans once again.(Autosport)
Lewis Hamilton, 30, took a break from preparing for the next weekend's Austrian Grand Prix by attending the 'Minions' world premiere with his brother Nicolas at Odeon Leicester Square. (Daily Mail)
Red Bull motorsport advisor Dr Helmut Marko believes that the next few weeks will be crucial in determining whether or not Renault can provide long-term solutions to their current plight. (Fox Sports)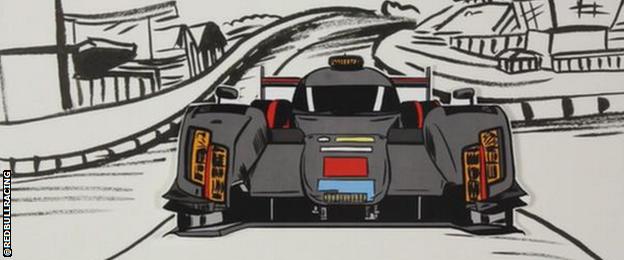 Red Bull Racing tweets: "No F1 this week but we'll be checking the #RedBullFamily in Le Mans! An animated history.
Force India driver Nico Hulkenberg, 27, says Le Mans is a circuit for "real men" of motor racing as he prepares to make his debut from third position in the 24 hour race this weekend. (Inautonews)
Michelin are "50/50" as to whether or not they will apply to become F1's tyre supplier in 2017.(Planet F1)
Thursday, 11 June
Canadian GP winner Lewis Hamilton has posted a picture of himself on a recent visit to California's Death Valley. The Mercedes driver's tweet was a succinct: "Death Valley, USA." Sometimes a picture says more than words.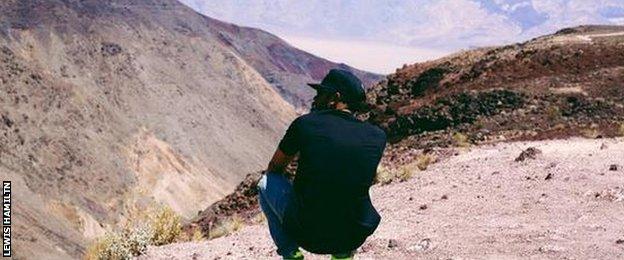 McLaren racing director Eric Boullier is hoping Mercedes will be flexible when it comes to negotiations over the unfreezing of next year's F1 engine regulations.(Autosport)
Team principal Maurizio Arrivabene says Kimi Raikkonen's Ferrari future is in his own hands. The Finn's contract runs out at the end of the 2015 season, but has been told he could stay if the team performs well in the constructors' championship.(Formula1.com)
The chances of F1 cars sporting larger wheels seems slim. Manufacturers Pirelli and Michelin suggested 18-inch rims to ensure their tyre supply offers greater relevance to road car development. But Mercedes executive director Paddy Lowe said: "It's not an attractive direction performance-wise so I think generally we would intend to stick with the 13-inch wheels."(Crash.net)
Christian Horner says F1 "needs to be a flat-out sprint race from start to finish" after the drab Canadian Grand Prix led to criticism about the current spectacle.(ESPN)
After finishing a strong third for Williams in Canada, Valtteri Bottas has been taking a bit of time out back in his Finnish homeland, where the annual phenomenon of the 'midnight sun' can currently be experienced.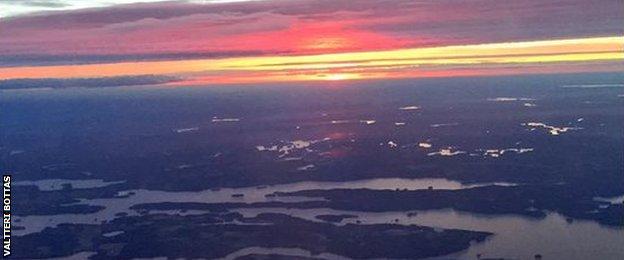 Wednesday, 10 June
Former world champion Niki Lauda has rejected claims Mercedes' domination is damaging the sport, saying: "Together with Toto [Wolff] I can only run the team in the best possible and most professional way and win every race. That's what I'm here for, and the rest I don't know."(Autosport)
Red Bull racing clearly have a bit of time on their hands between races, and have decided to immortalise their mechanics in emoticons.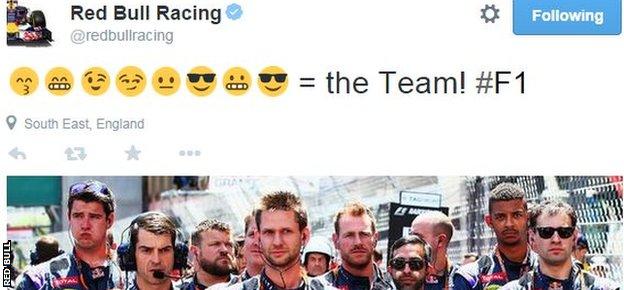 Manor insist the signing of Fabio Leimer to a reserve driver role does not mean Roberto Merhi is in danger of losing his seat. (ESPN)
Tuesday, 9 June
Two-time world champion Lewis Hamilton says his self-professed rock and roll lifestyle away from F1 will not lead him astray. (Daily Mail)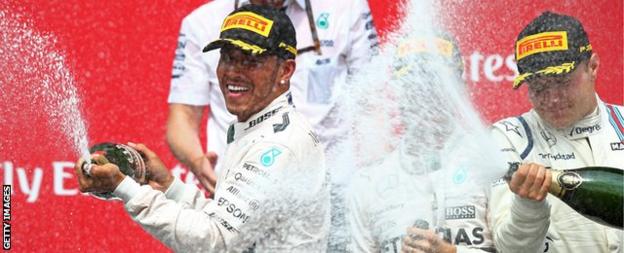 Ferrari fear that Mercedes have made a big leap in race pace that will make it even more difficult for the Scuderia to close the gap over the rest of the season. (Motorsport.com)
F1 attracts the world's biggest stars and the latest A-list celebrity to declare his love for the sport is Hollywood actor Keanu Reeves.
Ferrari tweeted: "Keanu Reeves is a huge Scuderia Ferrari and Schumacher fan. We rewarded his passion with a spin in the Ferrari 488GTB."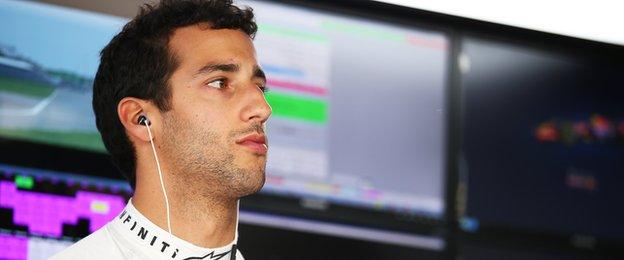 Daniel Ricciardo has said he and Red Bull will "move on as a team" from the Canadian Grand Prix after he finished a lap down.
He tweeted: "Those types of weekends come and go in this sport. They're rough yes, but it's part of the game and sometimes you have to accept them. I've seen it all before so it's already behind us. We'll move on as a team and hunt for the success we desire."
Monday, 8 June
Mercedes dominated at the Canadian Grand Prix, but race winner Lewis Hamilton says "we didn't see Ferrari's true pace" in Montreal. (Planet-F1)
Jenson Button is adamant McLaren's season has not been bad so far despite a double retirement in the Canadian Grand Prix. (Motorsport.com)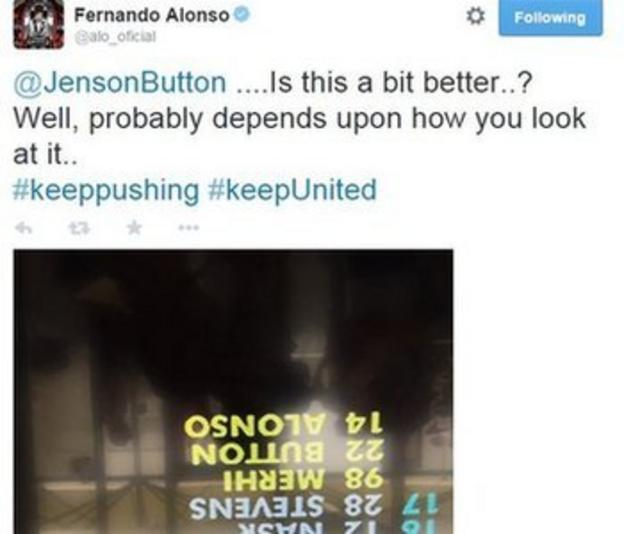 McLaren might not have got the result they wanted in the race, but Fernando Alonso was able to make light of the situation, posting this picture on Twitter of the timing screen upside down, putting Alonso and Button 'first' and 'second'.
Mick Schumacher, the 16-year-old son of Formula 1 legend Michael, suffered a broken hand after his second crash in as many days in a Formula 4 race on Sunday. (Fox Sports)
Red Bull's Daniel Ricciardo, 25, says he has not forgotten how to drive after finishing a lap down in the Canadian Grand Prix, scene of his first Formula 1 win in 2014. (Autosport)
Manor's Will Stevens says leading drivers need to take more responsibility when lapping traffic after stating he had nowhere to go when Romain Grosjean's Lotus made contact with his car in Montreal. (Crash.net)