Nigel Mansell: F1 needs 'a bit of magic', says former champion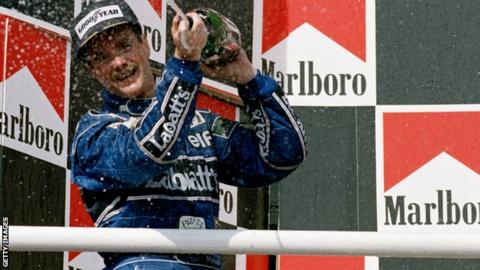 Former world champion Nigel Mansell says Formula 1 is in need of a "bit of magic" to liven it up.
Mercedes duo Lewis Hamilton and Nico Rosberg are dominating the 2015 campaign, just as they did last year.
Mansell, 61, says it is time to "let the drivers drive and race like we did" in the late 1980s and early 1990s.
The 1992 world champion says modern F1 cars have become too easy to control and that "drivers can drive with a couple of fingers".
The Briton wants to ditch the Drag Reduction System that aids overtaking and says tyres need to have more grip.
"Then if a driver wants to deliver the car into a corner and brake really late, put the power on and get sideways, he can do it," he explained.
"It's very exciting for the fans to watch that."
Hamilton took a controlled victory in the Canadian Grand Prix on Sunday, after a which much discussion centred on requests from the pit wall for drivers to 'lift and coast' into corners.
There have also been comments from some drivers, McLaren's Fernando Alonso among them, that they are no longer tested physically and mentally by F1.
Certainly that is a view shared by Mansell, who also said the power steering in today's cars means the penalties for hitting kerbs or going off line are too light.
"All the tracks I drove on were before all the changes and we had a lot of dangerous corners," he added on Sky Sports.
"We used to go flying into corners knowing if we got it wrong we would have a massive accident so we respected the car and the corners.
"If we hit the curb too hard, the feedback would actually tweak your wrists and you could damage yourself.
"We had to do physical training just to be able to hang on to the car, now drivers can drive with a couple of fingers."