Fernando Alonso: McLaren driver could face 20-place penalty

By Andrew Benson
Chief F1 writer
Last updated on .From the section Formula 1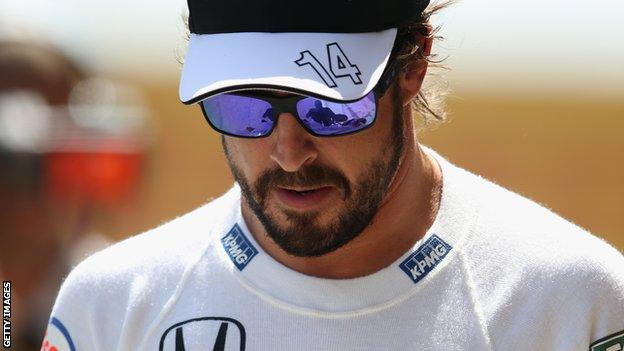 McLaren's Fernando Alonso will suffer a grid penalty at this weekend's Austrian Grand Prix - and the Spaniard could be relegated as many as 20 places.
That is because engine supplier Honda will exceed the number of changes it is allowed to make to his car in order to improve reliability.
Team-mate Jenson Button, world champion in 2009, could also be hit with a grid penalty for similar reasons.
The Briton was also demoted at the last race in Canada.
"Honda is making updates to Fernando's power unit which will be confirmed on Friday morning," said a Honda spokeswoman.
"As a result, we are expecting grid penalties."
Alonso admitted the weekend would be "tough" but insisted McLaren and Honda would be competitive before too long.
The double world champion, who joined McLaren at the end of last season, said the team's recovery was "only a matter of time".
McLaren and Honda have chosen to implement the changes in Austria because they do not think the track will suit their car's strengths.
The Red Bull Ring is predominantly composed of short corners and long straights, which exacerbates the weakness of the Honda power unit.
They also wanted to avoid taking an engine penalty at the subsequent races in Britain and Hungary, which will suit the car better.
There is one piece of good news for Alonso.
He will benefit from a major aerodynamic upgrade to his car for Sunday's race, the eighth on the calendar.
However, the new shorter nose and revised front and rear wings will be available only to him because there is only one set.
The last time McLaren only had new parts for one car, Button benefited. That was at the Chinese Grand Prix in April.
The decision to give the parts to Alonso, world champion in 2005 and 2006, was also influenced by the fact that he is taking part in the post-race test in Austria on Tuesday but Button isn't.
That will give the former Ferrari driver four days to evaluate the upgrade.
Red Bull have also indicated that they will also fit fresh engines to both cars, meaning their drivers Daniel Ricciardo and Daniil Kvyat will also have grid penalties, the extent of which have yet to be determined.
If drivers cannot serve the full penalty because they are not high enough up the grid, further punishments, like a five-second time penalty and a 10-second stop-and-go penalty, can be implemented during the race.