Nic Hamilton: From computer games with Lewis to racing history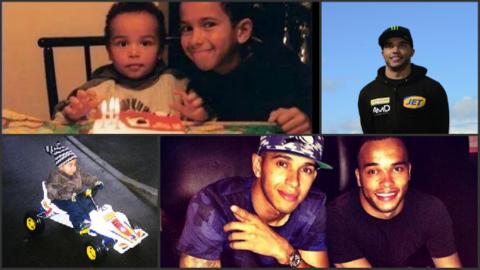 While Lewis Hamilton was starting out on the road to becoming a two-time Formula 1 world champion, younger brother Nic spent three years in his Stevenage bedroom playing racing games on his computer.
Getting behind a virtual wheel for Nic, who has a form of cerebral palsy, seemed like the only way he would be able to indulge the passion for motorsport he shared with his brother.
"It was practically my life for those three years," says Nic. "I loved playing games, loved simulation games and I thought if I cannot race in real life I would race on them."
The thing was, though, he was good at it. Really good.
And despite having a condition that causes difficulty walking, pain and saw him largely confined to a wheelchair as a child, it would ultimately provide the spark that saw Nic, now 23, make motorsport history last weekend - becoming the first disabled driver to compete in the British Touring Car Championship.
"If Lewis and I were not shooting each other on one game we would be racing each other on another," adds Nic. "He started teaching me quite a lot in terms of that sort of thing, gaming-wise.
"He then bought us both wicked gaming computers so that when he moved away we were always playing together online, racing each other and stuff.
"Then I started competing properly and it became a bit more serious - I became UK online champion in 2009 and it got to a point that when I was playing against Lewis I was always faster than him.
"Some people might call it sad, but for me it was a form of motorsport and actually the thing that started my whole career.
"That's how it became real - basically it was his idea saying: 'You need to get in a real car.'"
The real deal
Nic did indeed get in a real car, his dad Anthony buying him a driving experience in a road car on a circuit in 2010, with Lewis providing him with a personalised helmet.
"I think my dad was expecting me to pootle around and get it out of my system and jump off his back," says Nic.
Instead, though, he surpassed expectations, finishing one second faster than his instructor.
"We went back again a month later to see if it was a fluke and it wasn't and that was when we decided I should get into motorsport," he adds.
That set him off on the path to becoming a racing driver, first spending two seasons in the Renault Clio Cup from 2011 then competing in the 2013 European Touring Car Cup, before last weekend's BTCC debut.
It is a hugely impressive achievement, especially for someone who, when he was born, doctors feared would never walk.
Nic's condition affects the strength in his legs and he spent much of his childhood reliant on his wheelchair.
Walking long distances would make him tired and cause pain, but Nic's family were determined to make things as normal as possible for him.
"My parents did not want to wrap me up in cotton wool and made sure I did not become dependent," says Nic.
"They let me learn to fall over, to make mistakes and cry and go through all the processes of having to overcome a disability. It is a massive kudos to them to give me strength to overcome my condition."
With Lewis, seven years Nic's senior, competing in an increasing number of karting events, the Hamilton's decided to make it a family thing. They would often wake at 5am, climb into their campervan and head off to wherever Lewis was racing.
"Originally it started as a hobby, something we could do together and it brought us really close as a family," says Nic.
"Obviously Lewis had a talent and got better at it and that is when it started to turn into a career for him.
"We all decided that we needed to stay tight and we just became a team.
"Nowadays you don't really see Formula 1 drivers with all their family but you think of Hamilton and you think of all of us. That is how it has always been and hopefully that is how it will remain."
Nic, as many younger brothers do, looked up to his older sibling. He admits to "doing everything he did and how he did it" and it was perhaps inevitable that he too would want to get behind the wheel of a go-kart at some stage.
Initially, his dad Anthony was not so sure it was a good idea, but after a bit of pestering he finally relented.
"My dad borrowed a little cadet kart from a friend of his and we went to a car park in Stevenage where we thought there was nothing to hit," remembers Nic.
"Now the thing about the brake pedal in any road car or race car is that it is a lot stiffer than the accelerator. At the time my legs were not strong enough to hit the brake pedal, I was going full throttle down the car park and couldn't brake, so I ended up hitting the kerb and went down a drop and landed in some water.
"That day scared me and my parents so we thought: 'Nope, motorsport is not going to happen'."
For the next eight years, that was how it was. Motorsport was never more than a hobby, indulged online while he became increasingly reliant on the use of his wheelchair, to the point where his legs were almost redundant at the age of 16.
But those nights of beating Lewis at racing on computer games and winning online on a regular basis brought about the prospect of a career in motorsport that motivated Nic to work hard on strengthening his legs.
"If I did not have this goal my condition would not be as strong as it is," he says.
"I have had to train like an able-bodied person, so if I did not have that I don't know where I would be. I think my legs would be weak and I would be struggling a bit. Training has made me a lot stronger and made day-to-day life a bit easier."
In a slightly modified car - the clutch pedal is on the steering wheel while the brake and accelerator pedals have been widened - Nic impressed on his BTCC debut at Croft, finishing 25th in Sunday's first two races before improving to 22nd in the third.
Dominating the sport like his brother dominates F1 is not Nic's ambition. Instead, simply being able to make a career in something he has worked so hard to achieve is enough.
Lewis, this week preparing for the British Grand Prix, has previously described Nic as an inspiration.
"What he can do in a car, despite everything he has against him, is pretty special," said the reigning world champion.
It is a feeling reciprocated by Nic.
"He was a massive inspiration for me and when I was getting older I started to realise the amount of talent the guy has and how good he is at what he does," adds Nic.
"That inspired me to be the best I could be, whatever that was - motorsport or whatever."
"I have just been me, growing up with Lewis. For him to see the struggles and strains I have gone through to get to this point, if he is inspired by me then that is nice."