Formula 1 gossip: Ricciardo, Hamilton, Button, Jorda
Last updated on .From the section Formula 1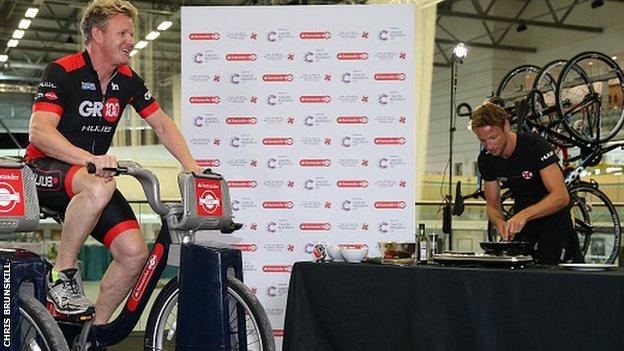 Sunday, 12 July
Red Bull driver Daniel Ricciardo has described speculation linking him with a move to Ferrari as a possible replacement for Kimi Raikkonen in 2016 as "a bit of a laugh". (F1i.com)
The Manor Marussia F1 team are still evaluating whether or not to introduce a new car during the 2015 season, according to founder John Booth. (NBCsports.com)
Michele Mouton, the four-time World Rally winner who now runs the FIA's Women in Motorsport Commission, says she is "not interested" in Carmen Jorda's position as development driver for the Lotus F1 Team.(Motorsport.com)
Jenson Button has urged people in Derby to watch Sunday's Jenson Button Trust Triathlon as the 2009 world champion prepares to line up shoulder-to-shoulder with hundreds of amateur and professional triathletes - including chef Gordon Ramsay. (Derby Telegraph)
Lewis Hamilton admits it is "hard for me to see" former employers McLaren struggling at the wrong end of the F1 grid in 2015. (www.crash.net)
Saturday, 11 July
The FIA has made changes to the new system that will be used to earn Formula 1 super licences from next season. The number of series that award points has been adjusted, as has how many each is worth. It was also announced that the winner of the Formula E Championship will be granted a super licence. (Autosport)
Formula 1's governing body has also approved the simplification of controversial power unit penalties, and has granted an additional engine to Honda. (Sky Sports)
The body of five-time Formula 1 world champion Juan Manuel Fangio, who died in 1995, will be exhumed next month following the orders of a judge in Argentina. A DNA sample will be taken to see if he was the father of Oscar Espinoza, who has opened legal proceedings. (Motorsport.com)
Manor team boss John Booth says he wants to return personnel numbers to full strength by the end of the season, as the team continues to recover from financial difficulties that saw its previous incarnation, Marussia F1, go into administration. F1i.com
Mercedes driver Nico Rosberg has been going "head-to-head" with golfer Martin Kaymer - first on the track and then on the golf course. "Find out what happened very soon!" the German team added on Twitter.
Friday, 10 July
Former Red Bull driver Mark Webber says successor and fellow Australian Daniel Ricciardo, 26, needs to weather the storm created by the team's poor performances this season before assessing his position next year. (Canberra Times)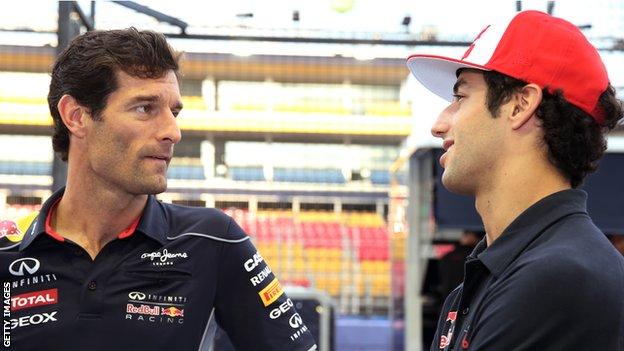 World champion Lewis Hamilton admits he would like to see drivers given greater control of their starting procedures on the grid. (Autosport)
F1 supremo Bernie Ecclestone once discussed a plan to buy Wimbledon for £600m in conjunction with Ion Tiriac, the former manager of three-time champion Boris Becker. (Daily Telegraph)
Sauber team principal Monisha Kaltenborn believes making F1 more competitive is more important than speeding up the cars. (Motorsport.com)
Honda hope to provide more engine power for McLaren in the second half of the season. (ESPN)
Thursday, 9 July
Mercedes boss Toto Wolff compared the qualities of drivers Lewis Hamilton and Nico Rosberg and says "Nico would be willpower and focus, Lewis would be instinct and race craft". (Formula 1)
Sauber driver Felipe Nasr says Mark Smith's appointment as technical director is a "smart" move that will help the team find good form again after falling away following a promising start to the season. (Autosport)
Ferrari driver Sebastian Vettel will compete at the Race of Champions at London's Olympic Stadium in November and could be joined by Hamilton and fellow British driver, McLaren's Jenson Button. (Daily Mail)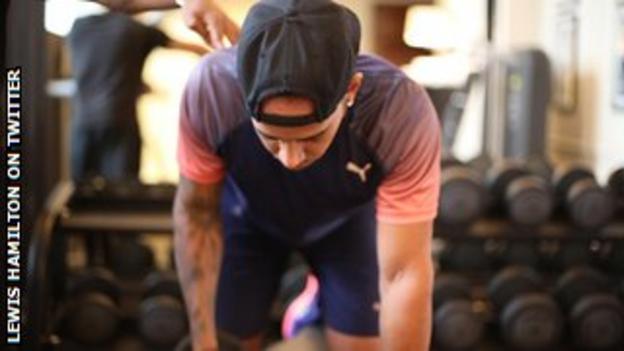 Fernando Alonso believes restrictions on testing and technical developments make Formula 1 races "boring". (Crash.net)
Current world champion Hamilton is at the top of the current drivers' standings and he appears determined to build on his lead. He tweeted #NoDaysOff along with a picture of him training in they gym.
Wednesday, 8 July
Mercedes world champion Lewis Hamilton would welcome changes to the format of the F1 race weekend. "I'd be happy for them to muddle it up in some way and make it more exciting from weekend to weekend," he said. (Crash.net)
Williams racer Valtteri Bottas says the Banbury-based team must review how it deals with team orders involving himself and team-mate Felipe Massa, following the British Grand Prix. (Autosport)
McLaren racing director Eric Boullier says the team are "massively" increasing the pressure on engine supplier Honda as they continue to struggle in F1. (Motorsport.com)
McLaren driver Fernando Alonso may not be enjoying the most enjoyable of seasons, but he still took time out to tweet a link of a video of himself lapping Silverstone in a simulator. Along with the message, he wrote: "I have a surprise for you. You want always to see some videos of the day, simulator work, etc! Here we are..."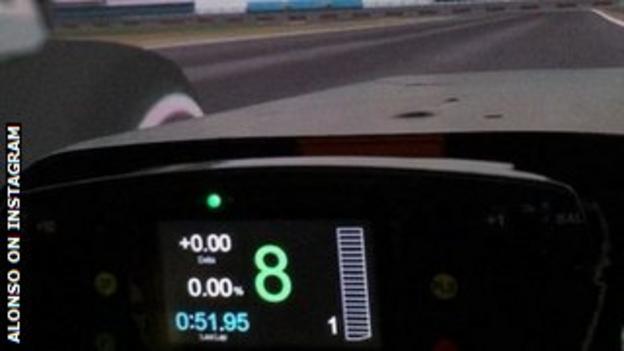 Tuesday, 7 July
McLaren have played down speculation about Jenson Button's future and insisted the Briton will stay with the team for 2016. (Sky Sports)
One day after finishing seventh at the British Grand Prix, Force India's Nico Hulkenberg posted a photograph of himself on Twitter relaxing at Wimbledon.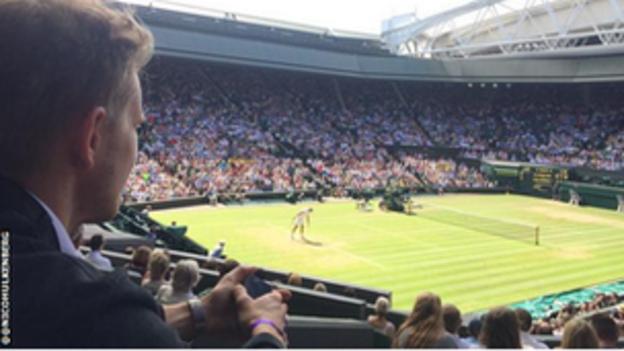 Lewis Hamilton, 17 points clear at the top of the championship nearing the half-way point, has warned his rivals that he is stronger during the second half of the season. (Daily Express)
What do winners of the British Grand Prix do to unwind? Go out on the town? Jet off on a short break? Hamilton posted a picture of his pet dogs on Twitter with the message: "My best buddies".
Kimi Raikkonen, who finished eighth, admits he decided to pit "too early" for intermediate tyres during the British Grand Prix and labels the call a "wrong choice". (F1i.com)
Sergio Perez says that Force India have "shown good progress and there is a lot of potential for the second half of the season". (Crash.net)
Monday, 6 July
Nico Rosberg, who trails leader Lewis Hamilton by 17 points, can still win the championship despite finishing runner-up to his Mercedes team-mate at the British Grand Prix, according to David Coulthard. (Daily Telegraph)
Mercedes tweeted on Monday that the atmosphere at their Northamptonshire headquarters is "electric" following a one-two at Silverstone. "Good morning #BestFans! How are we all? Just about recovered from yesterday's EPIC #BritishGP action? The atmosphere at Brackley is electric!"
Jenson Button may have raced his last British Grand Prix following his early exit at Silverstone. (Daily Express)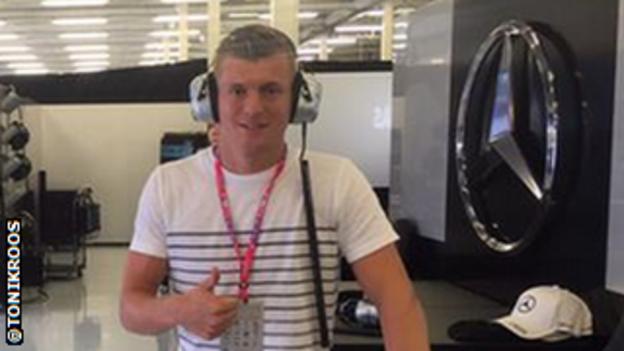 Real Madrid midfielder Toni Kroos was seen hanging out at the Mercedes den. "Simply amazing to join Team Mercedes at the Silverstone UK," the 25-year-old World Cup winner with Germany wrote on Instagram.
Sweden's Marcus Ericsson says "a pitstop or two too many" cost him a top-10 finish at Silverstone. Writing on Instagram, the 24-year-old added: "So close but still not enough. Had a good race and was running in the points for a long time."
Williams were left frustrated at their failure to build on a flying start by Felipe Massa and Valtteri Bottas. (Independent)
Mercedes boss Toto Wolff admits he was surprised by some of Williams' tactics during the British Grand Prix. (F1i.com)
Red Bull boss Christian Horner has told critics to lay off F1 chief Bernie Ecclestone and believes the sport is set to take a big step forward. (Daily Express)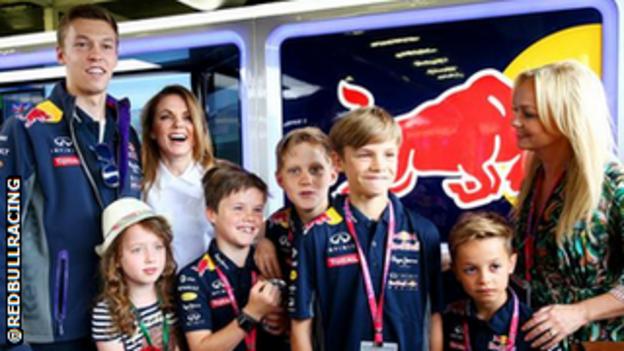 Former Spice Girls Geri Halliwell, Emma Bunton and Mel C plus plus ex-band mate Victoria Beckham's children Romeo and Cruz were among the special guests at Silverstone. (Daily Mail)
British Grand Prix winner Lewis Hamilton is backing Andy Murray to continue British sport's feel-good summer by winning Wimbledon. (Daily Star)
McLaren appear to have lowered their sights after Fernando Alonso's single point and Jenson Button's early withdrawal at Silverstone is deemed progress for a team on course for its lowest finish in 35 years. (Guardian)
Fernando Alonso says McLaren are still a long way from where they need to be despite scoring his first point of the season at the British Grand Prix. (ESPN)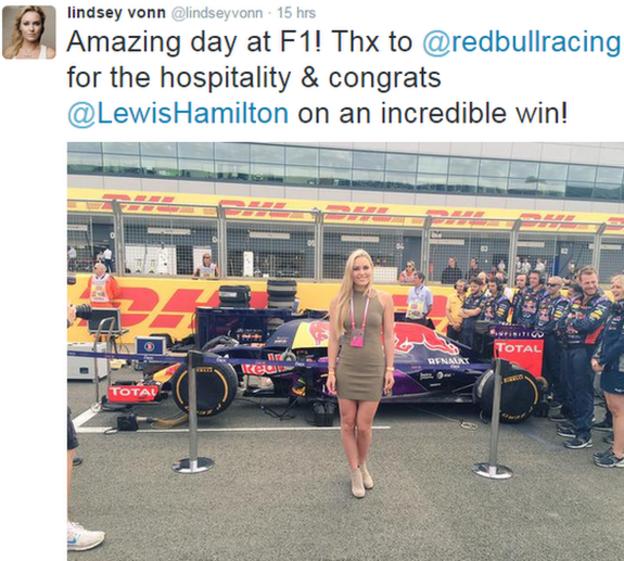 American World Cup alpine ski racer Lindsey Vonn was quick to pass on her congratulations on Twitter after witnessing Lewis Hamilton's win.
Singer Alesha Dixon has hit back at critics amid suggestions she sang the national anthem at the British Grand Prix in an American accent and changed the lyrics. (ITV)