Formula E will not become a Formula 1 rival - Christian Horner

By Andrew Benson
Chief F1 writer
Last updated on .From the section Formula 1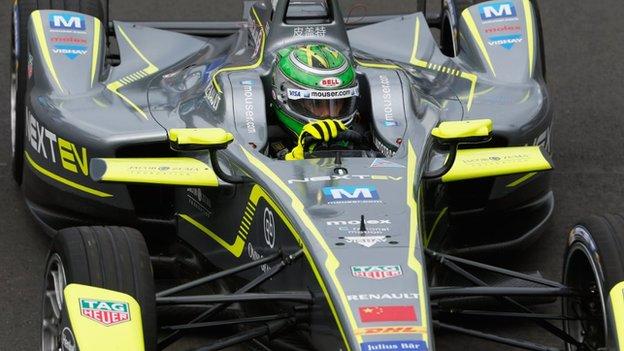 Red Bull team boss Christian Horner has rejected claims from Sir Richard Branson that the all-electric Formula E series could rival Formula 1.
Horner said: "Formula E has done well to get where they are, but you can't compare it in the same sentence to F1.
"It's positioned totally differently to Formula 1. The cars look slow."
Horner said the need to use two cars in a race was a big problem for Formula E.
"I watched the Formula E race on Sunday and it looks more of a competitor to GP3 than Formula 1," he said.
"The fact that you've got to change car halfway through the race - I'm not sure it's delivering a great message about sustainable energy if you're saying you can't get to the end of a grand prix or the end of a race without having to change cars."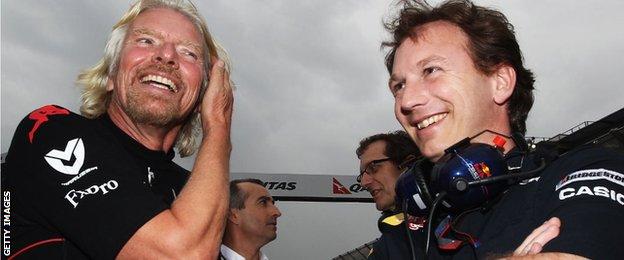 Horner and Red Bull have been vocal critics of the current state of F1, saying it is too dominated by the turbo hybrid engines introduced in 2014 and that the cars need to be harder to drive.
Horner will be part of a meeting of F1's strategy group of senior figures on Wednesday, when the six leading team bosses, commercial chief Bernie Ecclestone and Jean Todt, head of the sport's governing body, will try to finalise a direction for the sport in 2017.
Plans to reintroduce refuelling, announced a few weeks ago, are set to be abandoned, but the cars will be made wider and faster with bigger tyres.
"F1 is at a critical stage," Horner said. "Fundamentally, F1 is still a fantastic product, with an enormous fan base and appeal.
"I just think we are not putting on a particularly great show at the moment, the cars are too easy to drive, not spectacular enough."
Horner said: "It is an important meeting for the credibility of the group. The important thing is to discuss and decide on the strategic direction of the sport.
"It is not there to write or make regs, it is there to agree on what direction the sport should be heading in and we very much need to get back to the basics of what that group is for and get back on the same page."
He said he would be pushing for his proposal for an outside consultant to help write the new rules, a position which he has previously proposed former Mercedes team boss Ross Brawn fills.