British Grand Prix, Silverstone: Will Lewis Hamilton's clutch haunt him?

By Allan McNish
BBC F1 analyst
Last updated on .From the section Formula 1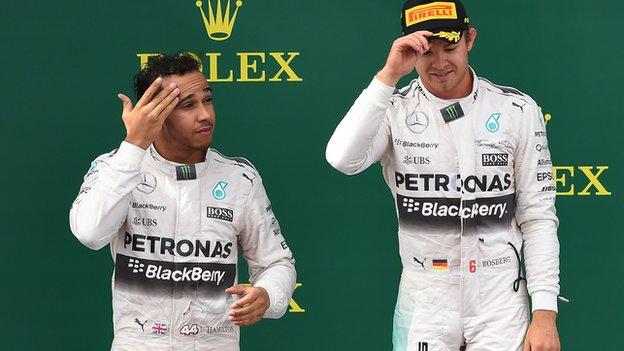 British Grand Prix on the BBC
Venue:
Silverstone
Dates:
3 July to 5 July
Coverage:
Live on BBC TV, Red Button, Radio 5 live, 5 live sports extra, online, mobile, the BBC Sport app and Connected TV.
Full details here
Nico Rosberg is on a high heading into this weekend's British Grand Prix - he has won three of the last four races and drove particularly well to take a very strong victory in Austria.
But Rosberg's hopes of winning the world title depend as much on Lewis Hamilton not performing as on himself.
Rosberg's record is not quite what it seems on paper. He has won three races to Hamilton's four this year, but what caught my attention was that Hamilton has led 60% of all race laps this year, more than double Rosberg's amount.
The German delivered in Austria and, apart from the last lap in qualifying, had the edge on Hamilton all weekend.
But he had Monaco handed to him on a plate after the team made a strategy error with Hamilton, and we never got to see how Spain would have panned out between them because Hamilton made a bad start and got stuck behind Sebastian Vettel's Ferrari for much of the race.
Nevertheless, a run like that is just what Rosberg needed in terms of confidence-building and momentum after Hamilton had, frankly, dominated him in the first four long-haul races in Australia, Malaysia, China and Bahrain.
It's interesting that this run has happened after Mercedes made some technical changes to the clutch after Bahrain.
Rosberg clearly felt at home with them straight away, but Hamilton has struggled to adapt as well, which is odd because, as far as we understand it, the change is to the clutch spring, which has returned to what was used last season.
The starts are a balance of man and machine and require a complicated procedure in which the driver activates electronic systems based on information on track grip and clutch slip from previous practice starts.
There are two clutch paddles on the steering wheel. The driver pulls one to find the bite point where the car would start to pull away, and the other to completely engage the clutch and stop the car moving.
The engine revs up to a pre-set level, and when the lights go out the driver fully releases the second and then holds the pedal controlling the bite point and then balances throttle and clutch release.
Obviously, if the driver is late reacting that also has an effect.
Starts are crucial to this fight, because the two drivers are so close, and whoever is in front in the race has priority in terms of strategy.
However, the fact remains that if Hamilton is at his best he will win - and there will be little Rosberg can do about it.
That's not necessarily the case the other way around, but Rosberg has proved that if Hamilton drops the ball in any way, he will be around the pick it up.
He is as close as he has ever been this season, so it is very much game on.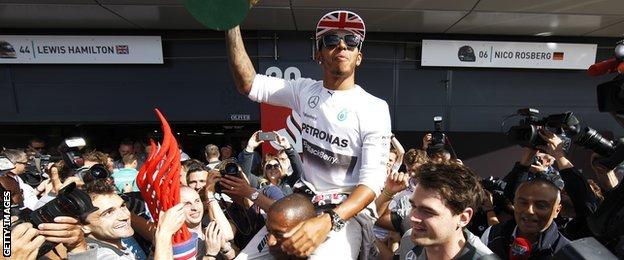 Ferrari flattering to deceive
Ferrari won impressively in Malaysia, but have not been able to keep up their challenge to Mercedes.
In fact, despite a major aerodynamic upgrade in Spain, and a big engine development introduced in Canada, they have dropped further behind.
Ferrari often look competitive in second practice on Friday, when the teams do their race preparations. But it has become increasingly clear that they must run in a different spec from Mercedes then, probably using less fuel.
Later in the race, Ferrari seem to become a bit more competitive with Mercedes than they are in the early laps, and that is when they get down to the fuel load they are running on Fridays.
That is one of the performance off-sets between the two teams. The other is that we know Mercedes do wind up their engine performance for qualifying and race.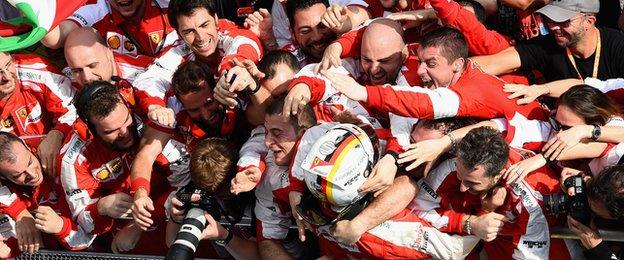 In Austria, Ferrari were quite confident they would be more competitive in qualifying and be able to split the two Mercedes.
So confident, in fact, that they calculated the performance benefit of one lap less fuel weight - about 3kg or just under 0.1secs - and did only one flying lap in final qualifying, as opposed to an extra lap of tyre warm-up as most other teams did.
It's very disappointing, because many people were hoping for more from Ferrari after some of their performances earlier in the season.
And I'm not sure they are going to be able to offer much of a fight to Mercedes in Silverstone, either.
The forecast for hot weather is good news for Ferrari and should ensure they can generate the required tyre temperatures, which is something they can struggle with.
But Silverstone is a real all-round test of a Formula 1 car. You need good high-speed downforce for the fast sections, good traction and low-speed performance for the twistier bits, and good engine performance for the straights.
And it's pretty clear the Mercedes has more downforce and Ferrari are struggling for traction a little, as they have for the past few years.
If they are to challenge, they need to split the Mercedes duo in qualifying.
Force India revival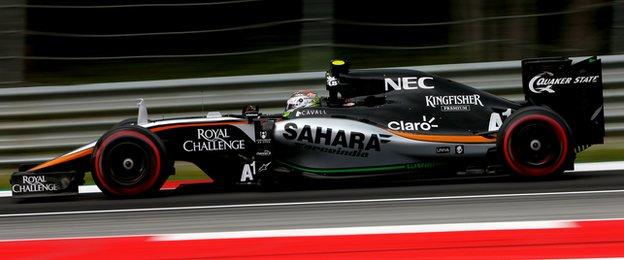 Behind the top teams, there is a fascinating battle brewing for fifth place in the constructors' championship, which is important for several different reasons.
Force India hold that place, after some strong performances in the last three races, but they are only 12 points ahead of Toro Rosso in eighth, with Lotus and Sauber in between.
Force India did very little development over the winter because they were switching the wind tunnels they used.
The car they have run so far this season is effectively last year's car with a front nose modified to meet the 2015 safety regulations.
An element of frustration was visible in Force India's drivers, Nico Hulkenberg and Sergio Perez, at the beginning of the season. They were taken aback by Sauber's jump in performance, which it turned out was largely to do with the improvements Ferrari made to their engine over the winter.
But the last two or three races have suited the characteristics of their car - it lacks overall downforce but it has good traction and good straight-line speed - and they have produced some strong results.
BBC Sport chief F1 writer Andrew Benson:
"Silverstone is one of the few truly iconic venues still surviving on a Formula 1 calendar increasingly dominated by antiseptic modern autodromes.
"Although comprehensively revised and updated for the 21st century, Silverstone is still recognisably the same place that hosted the very first F1 world championship race in 1950.
"And in the Becketts complex of sweepers and the ultra-fast Copse, it has some of the greatest corners on any race track anywhere in the world. To stand and watch there is to be awed by the capabilities of the cars and the skills and bravery of their drivers.
"The British crowd is as enthusiastic and knowledgeable as you will find and the ingredients add up to one of the best weekends of the season, no matter what the weather."
At Silverstone, they will be introducing a major upgrade to their car featuring a unique nose design and it will be interesting to see how it goes.
The nose is an area all teams are working on, trying to control the airflow so it is diverted around the front wheels and reaches the centre section of the car with as little disturbance as possible.
The trend has been to make the nose as short as possible, even if that means having a narrow central tip protruding to meet the minimum length requirements.
Force India have gone a different route. They have kept the longer nose, to circumvent the problems a short nose can give in passing the crash test, but have carved two ducts in it to allow the air to flow through.
Assuming it works as intended, the extra downforce they get from the new design will help them as they try to fend off their rivals in that fight for fifth.
Of all those teams, Lotus probably have the most potential to finish fifth, but they probably need their owners Genii Capital to pump in a bit more money to allow them to access it.
A bit more cash injected into the team would allow them to get more parts on the car and give them a better chance.
Failing that, Toro Rosso may well be Force India's biggest concern.
They are the team that keeps popping up in very good grid positions - such as seventh for Max Verstappen in Austria.
They have some reliability problems with the Renault engine, and they have struggled to match their qualifying form in races. But if they can get it together, Force India could have a problem.
Constructors' World Championship Standings

Team

Points

1. Mercedes

328

2. Ferrari

192

3. Williams

129

4. Red Bull

55

5. Force India

31

6. Lotus

29

7. Sauber

21

8. Toro Rosso

19

9. McLaren

4

10. Manor

0
The higher Force India finish, the more prize money they get - and that's important for a team that everyone knows has cash-flow problems.
But beyond the sporting and technical ramifications, there are also political ones.
Whoever finishes highest out of those four teams will get a seat in the rule-making strategy group next year.
Force India have it this year - having displaced Lotus, who were on it in 2014 - and they have been very vocal in expressing the problems facing the smaller teams.
But if Toro Rosso finish fifth, that would mean Red Bull would have two teams in the strategy group - and there would be potentially no voice representing the smaller teams in those meetings.
That would not be great in terms of getting the voices of the small teams heard around the table, at a time when the future of the sport is very much in people's minds.