Nico Rosberg: I must improve like Andy Murray to beat Hamilton
Last updated on .From the section Formula 1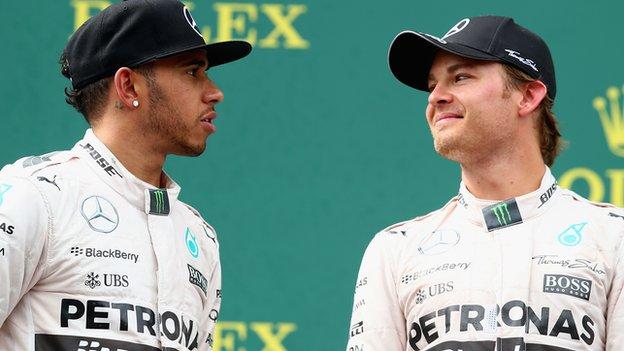 British Grand Prix on the BBC
Venue:
Silverstone
Dates:
3 July to 5 July
Coverage:
Live on BBC TV, Red Button, Radio 5 live, 5 live sports extra, online, mobile, the BBC Sport app and Connected TV.
Full details here
Nico Rosberg says he must raise his game "like Andy Murray" has in tennis to beat Mercedes' team-mate and world champion Lewis Hamilton.
Rosberg trails Hamilton by 10 points in the title race ahead of Sunday's British Grand Prix at Silverstone.
However, the German has won three out of the last four Formula 1 races.
"I just need to raise my game a little bit to make it happen. Just like Andy Murray, right? I just have to move up one notch," Rosberg told the Guardian.
He mentioned Murray after it was suggested to him that he was like the world number three Briton - one of the leading talents in his field, but up against three all-time greats.
While Murray is up against multiple Grand Slam winners Novak Djokovic, Roger Federer and Rafael Nadal, Rosberg competes with F1 world champions Hamilton, Fernando Alonso and Sebastian Vettel.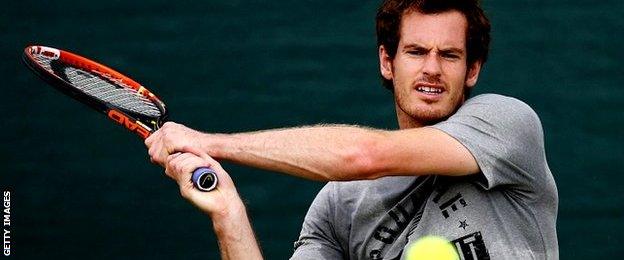 Rosberg said of the comparison: "That's not really a criticism, is it?" He added: "It's just up to me to do better."
Hamilton edged out Rosberg to take last year's world title and appeared set to dominate 2015 after winning three of the first four races, before the German triumphed in Spain,Monaco and Austria.
Rosberg, who says it is "very close... between the two of us", is confident of making it four wins out of five on Sunday by overcoming Hamilton at his home race.
"I don't feel unlucky that Lewis is my team-mate. It's an awesome challenge. That's why I race," he said.
"And I know that if I do a good weekend at Silverstone I can beat him. I just need to make that happen, like in Barcelona and Austria."
Rosberg, who was 30 last Saturday, is set to become a father in August as his wife Vivian is pregnant with a baby girl.
He says he was not sure how fatherhood would impact on his F1 career.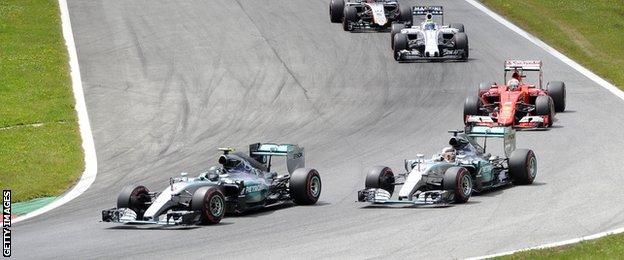 "There are fathers in F1. Kimi Raikkonen, Felipe Massa, Sebastian Vettel, Romain Grosjean. The fact is, I have no idea. I really don't know," he said.
"But I'm sure it can also make you a better racing driver, just because you see that winning races is not the most important thing and that you get more easy going, which is never a bad thing."
He added: "I also know that focus is extremely important. I notice that if I have a bit too much going on, left and right, it can influence my race driving performance. You have to be 100% present when you are doing it."
Rosberg and Hamilton were friends for more than 14 years after competing in karting together as children but their relationship has grown increasingly strained as they have battled on track.
Asked whether they could ever be close again, Rosberg replied: "Who knows? Maybe after we stop being team-mates. But while we are team-mates it's difficult because we are fighting each other for race wins.
"It's so competitive, such an extreme situation. It makes friendship tough."
BBC Sport chief F1 writer Andrew Benson:
"Silverstone is one of the few truly iconic venues still surviving on a Formula 1 calendar increasingly dominated by antiseptic modern autodromes.
"Although comprehensively revised and updated for the 21st century, Silverstone is still recognisably the same place that hosted the very first F1 world championship race in 1950.
"And in the Becketts complex of sweepers and the ultra-fast Copse, it has some of the greatest corners on any race track anywhere in the world. To stand and watch there is to be awed by the capabilities of the cars and the skills and bravery of their drivers.
"The British crowd is as enthusiastic and knowledgeable as you will find and the ingredients add up to one of the best weekends of the season, no matter what the weather."