British GP: McLaren brand hurt, says Eric Boullier

By Andrew Benson
Chief F1 writer at Silverstone
Last updated on .From the section Formula 1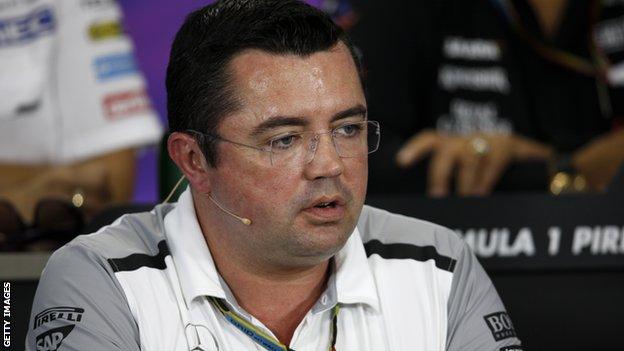 McLaren's uncompetitiveness is damaging the team and brand and they need it to improve sooner rather than later, its racing director Eric Boullier says.
New partner Honda has produced by far the worst engine in Formula 1 and their motorsport boss Yasuhisa Arai says it is a "long-term project".
McLaren are currently ninth of 10 teams in the constructors' championship.
"I keep telling Arai-san every day that we need to be successful as soon as possible," Boullier said.
"The damage is easy to understand. You establish the brand with your success and repeating it. McLaren has a number of wins and championships and has established its excellence.
"Commercially it does hurt because a lot of companies are interested in joining us but some people in their organisation question the lack of results, and I don't think we can wait for very long any more."
McLaren, whose drivers are former world champions Fernando Alonso and Jenson Button, face a prize-money shortfall of in the region of $50m next year if they cannot move up in the second half of the season.
And Boullier admitted that the major performance issue in the team was the Honda engine, which is believed to be at least 100bhp behind their rivals.
Between 80-90% of McLaren's lap-time shortfall to the pace-setting Mercedes is believed to come from the engine's lack of performance.
Boullier said: "The pain is real. There is nothing we can hide. You are asking the right questions. everything you ask has already been raised 100 times internally.
"We put pressure on Honda, they put pressure on us. Maybe more on them so far because we need to have more performance. Everybody knows this, they know this, we know this.
"It is true there is a timing issue because Honda is in F1 but its main business is selling cars. But we are in F1 to win races. We have to make sure the timing of both projects are aligned."
Arai said that Honda would not try to accelerate their development by poaching leading engineers from other manufacturers.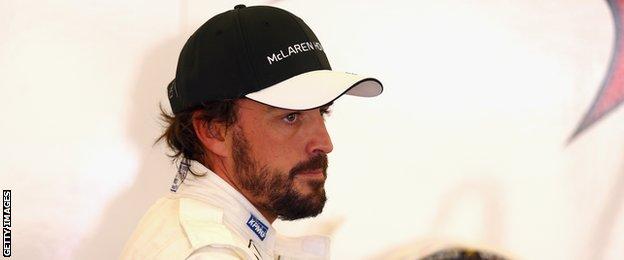 McLaren driver Alonso scored his first point of the year - and only the team's fifth in total - by finishing 10th in the British Grand Prix but he said the team "more or less got it for free" because of a late-race shower of rain.
Alonso admitted it was "good for morale", but added: "I can't say that finishing 10th is finishing well. We want to be world champions and that takes a huge amount of work and discipline from here until next year. The team is very focused.
"There will be make updates in the upcoming races, although maybe we won't see them because we will be penalised and will start from the back.
"But the goal is to finish the year on another level and that being in the points is the normal thing and not news."