David Coulthard column: Lewis Hamilton is pure box office

By David Coulthard
BBC F1 co-commentator and former F1 driver
Last updated on .From the section Formula 1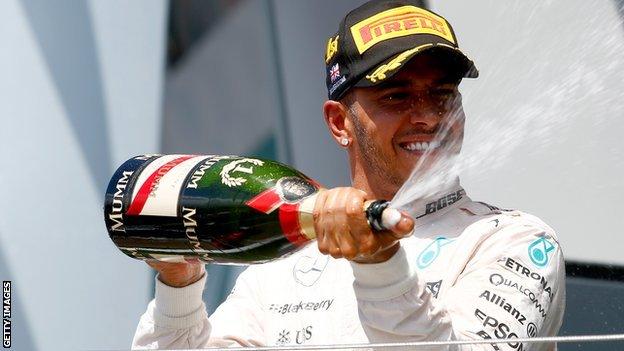 There was a Hollywood aspect to Lewis Hamilton's British Grand Prix victory on Sunday.
Everything you needed to take you on an emotional rollercoaster akin to the latest movie release was there on his journey around the 52 laps of Silverstone.
There was the bad start, then a re-start that looked like it had gone horribly wrong. Hamilton was stuck behind not one but two slower cars, hampered by the problem of not being able to get close enough to pass in the 'dirty' air.
When Hamilton finally got into the lead, the weather turned and there were conditions in which any driver can lose it at any moment.
It was an exciting race. As a broadcaster, of course, you remain objective. But a part of you was willing him to win because it was so obviously the 'right' result on the day, in front of a home crowd of 140,000, even if the 'right' result for the championship would have been anything but that.
All in all, it took us on a narrative journey that was more than a little reminiscent of the great days of Nigel Mansell at the British Grand Prix a quarter of a century ago.
It's hardly 'Rocky', because Hamilton has the best car. But it was the result nearly everyone within the track wanted because we are in the middle of this great summer of British sport, with Wimbledon going on, the Ashes just about to start and so on.
From that point of view, Hamilton has picked up where Mansell left off. Damon Hill had great support but he didn't have that populist appeal, the way of making an obvious connection between the fans and his journey to victory that Mansell had back then and Hamilton has now.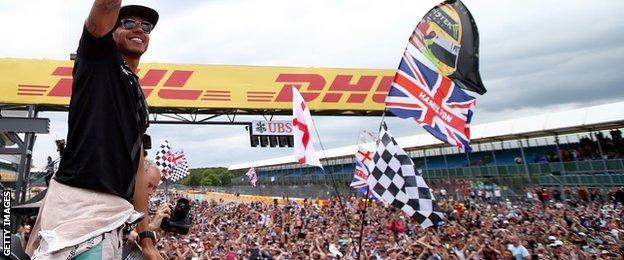 I talked to Nigel at the weekend about his constant reference to the crowd giving him half a second or a second a lap, and he still absolutely believes it.
Hamilton does not go that far, but his reaction to the crowd is along the same lines.
A cynic might question his claim that he was fighting back tears on the final lap of the race.
But what you can't deny is that on the slowing down lap, after he thanked and congratulated his Mercedes team, he then made a comment direct to the public, knowing fine and well that broadcast would go out.
That shows an understanding of the communications side of F1 beyond what's said when he is sitting in front of a camera pointing at him.
Not every driver will do that. Famously, for example, when Fernando Alonso was interviewed after winning his first world title and was asked did he have any messages he wanted to send to the Spanish people, he said: "No, they haven't helped me win this championship."
Alonso was 24 then, and I strongly suspect he would answer that question differently now. Regardless, Hamilton was clearly connecting with his people over the Silverstone weekend.
Whether that was signing autographs and then running back to the pits at the end of the driver parade, or his comments about the fans during the weekend and after that race, he really managed that very well.
He's doing that because he wants to do it and believes in it.
Dominant... but not dominant enough
It was Hamilton's fifth win of the year and by any measure he is dominating this season. Yet what's incredible is that he is still less than a win's worth of points clear at the top of the championship.
Silverstone provided yet another example of the fact that when Hamilton is behind other cars, or has something different to deal with, he has a quality very few other drivers have. You just know he is going to have a go, and that more likely than not he is going to pull it off.
That is what makes him exciting. He has that Senna/Mansell style, in the way that Nico Rosberg does not.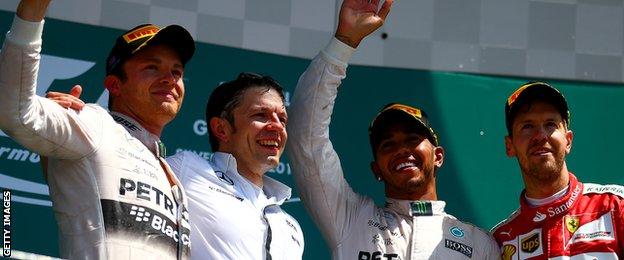 Rosberg drove very well in qualifying and the race, and being at the back of a four-car train is always going to be harder than being one place further forward.
But it remains that case than when Nico is in the right place, he will win and win well, but he is just coming up short in qualifying this year and in on-the-edge racing situations.
For example, it was interesting that when Hamilton got the chance to pass Williams's Valtteri Bottas on the first lap, he made it stick through Turns Four and Five. But when Rosberg was faced with a very similar situation after his first pit stop, he did not stay ahead - Bottas got back past.
Rosberg didn't put his car in a position to give Bottas no choice, whereas Hamilton did.
Rivals must take fight to Mercedes more often
All it took to turn what could have been a very uneventful race, had the Mercedes got away at the start, into an exciting one was the Williams beating Hamilton and Rosberg away at the start.
There were those taking a negative point of view afterwards and saying that the podium was the same as it has been at many races, with Hamilton heading home Rosberg and Ferrari's Sebastian Vettel.
Some people will say "same old, same old". But the journey to that win was fantastic.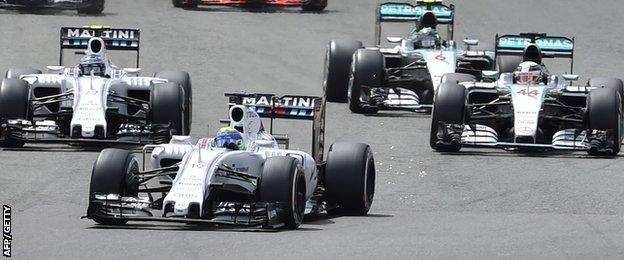 Of course, we cannot bank on a similar situation at other races this year, but what Silverstone did prove was that all it takes is for the field to be a wee bit closer and we will get some fantastic racing at the front.
The problem at the moment is that Mercedes have done a fantastic job and have the best car and engine in F1. They had a massive gap in qualifying - they were 0.8secs quicker than the fastest Williams and 1.1secs ahead of the fastest Ferrari.
Of course, it is beholden upon Mercedes' rivals to sort themselves out and catch up. But at the moment, with the rules the way they are, their hands are tied.
Ferrari's main shortcoming by far at the moment is the chassis, not the engine, which is pretty much equal to that of Mercedes.
But that is not the case with the Renault and Honda engines - which are badly holding back the two Red Bull teams and McLaren.
There is no question Mercedes have the best chassis. So even if all the engines were much more equal, they would still be winning. It would just not be by anywhere near as much.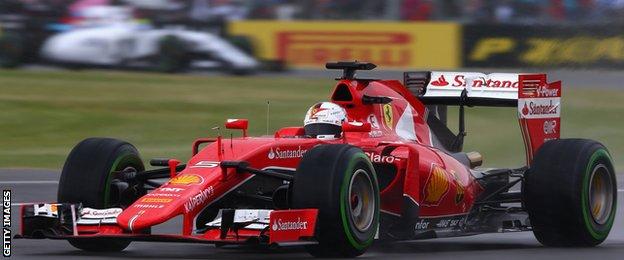 The problem is as follows: in the old days, if one team had a massive advantage, the others could develop freely to copy or combat it.
Now, engine manufacturers have quite severe restrictions imposed on them in terms of development.
These were relaxed a little for this year, with the 'token' system of a specific number of developments being allowed from year to year opened up to extend into the season. But, for now, that window has been closed again for 2016 and all developments will have to be done before the start of next season.
These rules were introduced with the best intentions - to keep costs down - but they are not doing F1 any favours.
It was good to hear over the Silverstone weekend that the sport's bosses are discussing allowing in-season engine development again in 2016. But that on its own does not go far enough.
Even though the aerodynamic rules are quite restrictive, there is still room to come up with long noses, short noses, blunt noses, pointed noses, slotted noses and whatever. But you can't do that with the engine, and therein lies the problem.
Instead, F1 should let the manufacturers go and spend a fortune to make their engines competitive. And if they can't, they will disappear like everyone else.
Having a set of rules that says the car has to sit inside various boxes makes complete sense. But the restrictions on engines do not.
David Coulthard was talking to BBC Sport's Andrew Benson