Jenson Button has no guarantees over 2016 McLaren seat

By Andrew Benson
Chief F1 writer
Last updated on .From the section Formula 1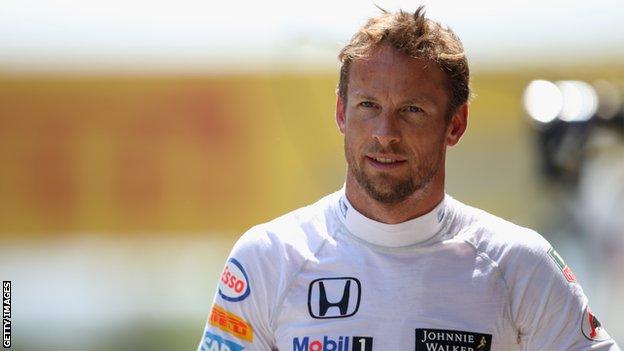 Let's get one thing clear: Jenson Button is not guaranteed a seat at McLaren in 2016.
McLaren chairman Ron Dennis said in a television interview at the British Grand Prix: "Jenson Button has a two-year contract with McLaren. We are not even thinking about drivers at the moment."
This has been interpreted in some quarters as confirmation that Button is staying next season. It is nothing of the sort.
The quote is at the same time both factually accurate and misleading - what Dennis, with some pride, regularly refers to as "being economical with the truth".
The facts are these: Button did indeed, in December last year, sign a two-year contract with McLaren, but it did not guarantee him two years in the car.
It was what is known as a "one-plus-one" contract - in other words, 2015, and then an option on McLaren's side to retain him for 2016 if they chose to do so.
They might well, but they have not decided yet. Which brings us to the second misleading aspect of Dennis's remarks.
Of course McLaren are thinking about drivers at the moment - it would be irresponsible to do anything else. In fact, they have been thinking about them for some time - since at least early May, as more than one leading member of the team has confirmed to this writer.
They are just nowhere near the point where they will make a decision.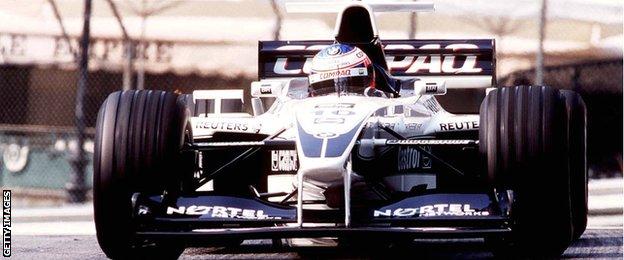 There is only one near-certainty about McLaren's driver line-up in 2016, and that is that Fernando Alonso will be leading it.
The Spaniard is in the first season of a three-year contract, worth $40m (£26.7m) a year.
Realistically, the only way Alonso will not be in a McLaren-Honda next year is if he decides that they will still be running around in 15th place in 2016 and he just cannot face it any longer. The way he is talking at the moment, despite the team's troubled start to the season, this is highly unlikely.
As to who will be Alonso's team-mate, McLaren have a choice of three drivers, on all of whom they have some form of contractual hold.
The incumbent
It is fair to say that when McLaren signed Button for this season they had very little intention of him staying into 2016. In fact, Dennis did not even want him for this year.
Sources close to the situation say Button is in the car because Dennis lost a power struggle with his fellow shareholder and long-time partner Mansour Ojjeh.
Dennis, who owns 25% of the McLaren Group's shares, wants to buy enough from the other shareholders to take overall control. Ojjeh also holds 25%. The Bahraini government's Mumtalakat investment fund holds the remaining 50%.
Dennis had initially decided to retain Button's 2014 team-mate Kevin Magnussen alongside Alonso for this season. But when Ojjeh said he wanted Button in the car, Dennis decided that, with the big picture in mind, it was a fight he did not want to pick. So he acquiesced.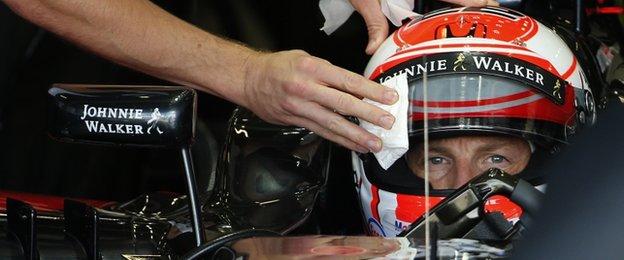 Just because there was no intention to keep Button beyond 2015 at the start of the season, though, does not necessarily mean that is the case now.
Halfway through the season, Button has shown predictably well against Alonso.
They have been very closely matched in qualifying - the Spaniard is three-two ahead in the races in which it is possible to make a fair comparison, in the context of a series of reliability problems at others.
In races, Alonso has, on balance, had a slightly bigger edge. But Button has continued to be what he is - a world-class driver, who might not have Alonso's consistency and adaptability, but who on his day is every bit as good as anyone out there.
Button is very good with the sponsors and the media. And he and Alonso make up arguably the strongest driver line-up on the grid.
McLaren's 2015 driver pairing

Fernando Alonso
Jenson Button

33

Age

34

Spanish

Nationality

British

2

World titles

1

243/32

Races/Wins

274/15

97

Podium finishes

50
So there is every chance that, with much bigger problems to deal with in the shape of the under-performance of the Honda engine, McLaren may feel that driver stability is a good thing.
On the other hand, while Button is earning this year only a quarter of Alonso's salary, he is expensive compared to the other two options, and McLaren are facing a prize money shortfall in the region of $50m if they cannot improve on their current ninth place in the championship.
Whether Button wants to stay is a different question. His frustration at the situation is occasionally bubbling close to the surface of his otherwise PR-perfect answers. He might decide that enough is enough and look for other options, whether in F1 or elsewhere.
And there is internal pressure to choose someone else, because they have two very good - and very young - alternatives.
Button's rivals for the seat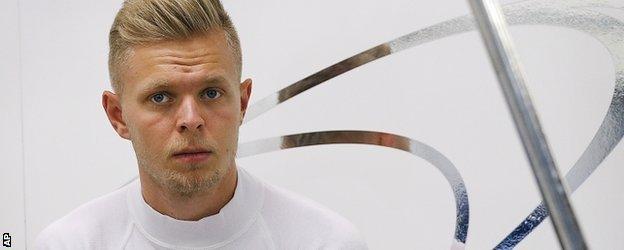 When Dennis backed down and plumped for Button, Magnussen was left in the lurch.
The 22-year-old Dane has admitted that being demoted to a role as the team's reserve driver was hard to take, and a one-off appearance as Alonso's replacement at the first race of the season in Australia following the Spaniard's pre-season testing accident was little consolation.
Magnussen wants to get back to racing and is hoping Dennis will pick him for 2016 instead.
This could happen - it may even have been the intention from the start - but there is no guarantee. And Magnussen, on whom McLaren have an option, has problems.
Firstly, he is not racing any more, so has no chance to remind his bosses of the impressive performances he put in during 2014 that convinced them of his potential and made them want to keep him in the first place.
Secondly, his rivals for the seat are both racing, and are therefore able to demonstrate their abilities every couple of weeks.
As well as Button, Magnussen faces competition from Stoffel Vandoorne, whose GP2 season is being funded by McLaren.
The 23-year-old Belgian is doing a stellar job in the final feeder category, comfortably leading the championship after four impressive wins in 10 races and several other strong points finishes.
Vandoorne's advantage is that he is regarded by many in the sport, including other drivers, as the brightest talent not currently in a grand prix car.
He raced against Magnussen in Formula Renault 3.5 in 2013. The Dane won the title, in his second season in the category. But Vandoorne pushed him close, winning only one fewer race, and in his first season.
If McLaren are to drop Button and pick a youngster, they could well plump for Vandoorne and not Magnussen.
It's an agonising choice and not just for the team. Because, on ability alone, clearly all three of them should be in F1 next season.
And in the case of all of them, whoever McLaren do not pick will be facing an uncertain future.